Seleste Pullover
From: $216.00
by Sari Nordlund 
The pullover is knitted seamlessly top-down starting at the neckband. The lace and bobble pattern is easy to memorize and the two-round bobbles are easy and quick to knit, without having to work any WS rounds. The sleeves and body are separated at underarm and knitted separately.
(Sari Nordlund)
Mustard is sold out again but will be back in late July. If you order now, your order will ship then. We can only produce limited quantities and this seems to be our most popular color.
The Knitting Yak Virtual Edition #2. View Here 
Each kit contains the yarn you will need to complete your project.
The pattern is not included.
You can purchase the pattern on Ravelry here.
NOTE: on our baby yak colors, we only dye on the natural basis we have, no bleaching or decoloring so depending on the shade of the natural fiber, each color will vary from season to season, making it darker or lighter. This is the beauty of working with natural fiber and so the shade of the sample you see photographed, not always correspond to the shade we have in stock or at your local LYS
Categories:
Kits & Bundles, Pullovers & Cardigans
Composition:
100% Baby Yak
Number of skeins:
8 (9, 10, 10, 11, 13, 14, 15, 17) skeins mYak Baby Yak Medium
Sizes 1 (2, 3, 4, 5, 6, 7, 8, 9)
Finished Measurements:
1 (2, 3, 4, 5, 6, 7, 8, 9)
Finished bust circumference: 81 (91, 101, 111, 121, 131, 141, 151, 161) cm / 32 (35.75, 39.75, 43.57, 47.75, 51.5, 55.5 59.5, 63.5) inches including the intended ease of 5-7.5 cm / 2-3 inches
Length from hem to underarm (adjustable): 30 (30, 30, 33, 33, 33, 35, 35, 35) cm / 11.75 (11.75, 11.75, 13, 13, 13, 13.75, 13.75, 13.75) inches
Yoke length: 23 (23, 23, 24, 24, 24, 25, 25, 26) cm / 9 (9, 9, 9.5, 9.5, 9.5, 9.75, 9.75, 10.25) inches
Sleeve length from cuff to underarm (adjustable): 44 (44, 44, 46, 46, 46, 48, 48, 48) cm / 17.25 (17.25, 17.25, 18, 18, 18, 19, 19, 19) inches
Upper arm circumference: 37 (38, 40, 42, 46, 51, 56, 59, 61) cm / 14.5 (15, 15.75, 16.5, 18, 20, 21.75, 23.25, 24) inches
Cuff circumference: 22 (22, 25, 25, 25, 25, 26, 26, 26) cm / 8.75 (8.75, 9.75, 9.75, 9.75, 9.75, 10.25, 10.25, 10.25) inches
Needles:
3.25 mm / US3 DPNs or a circular needle with a cable suitable for small circumference knitting for cuffs
3.25 mm / US3 circular needle with a cable length of 40 cm / 16 inches for the neckline
3.25 mm / US3 circular needle with a cable length of 80 cm / 32 inches for smaller sizes and 100 cm / 40 inches for larger sizes for the hem
4.0 mm / US6 DPNs or a circular needle with a cable suitable for small circumference knitting for sleeves
4.0 mm / US6 circular needle with a cable length of 80 cm / 32 inches for smaller sizes and 100 cm / 40 inches for larger sizes for the main part
Gauge:
19 sts and 27 rounds = 10 cm / 4 inches of Stockinette stitch in the round on larger needles, after blocking
Composition:
100% Baby Yak
Number of skeins:
8 (9, 10, 10, 11, 13, 14, 15, 17) skeins mYak Baby Yak Medium
Sizes 1 (2, 3, 4, 5, 6, 7, 8, 9)
Finished Measurements:
1 (2, 3, 4, 5, 6, 7, 8, 9)
Finished bust circumference: 81 (91, 101, 111, 121, 131, 141, 151, 161) cm / 32 (35.75, 39.75, 43.57, 47.75, 51.5, 55.5 59.5, 63.5) inches including the intended ease of 5-7.5 cm / 2-3 inches
Length from hem to underarm (adjustable): 30 (30, 30, 33, 33, 33, 35, 35, 35) cm / 11.75 (11.75, 11.75, 13, 13, 13, 13.75, 13.75, 13.75) inches
Yoke length: 23 (23, 23, 24, 24, 24, 25, 25, 26) cm / 9 (9, 9, 9.5, 9.5, 9.5, 9.75, 9.75, 10.25) inches
Sleeve length from cuff to underarm (adjustable): 44 (44, 44, 46, 46, 46, 48, 48, 48) cm / 17.25 (17.25, 17.25, 18, 18, 18, 19, 19, 19) inches
Upper arm circumference: 37 (38, 40, 42, 46, 51, 56, 59, 61) cm / 14.5 (15, 15.75, 16.5, 18, 20, 21.75, 23.25, 24) inches
Cuff circumference: 22 (22, 25, 25, 25, 25, 26, 26, 26) cm / 8.75 (8.75, 9.75, 9.75, 9.75, 9.75, 10.25, 10.25, 10.25) inches
Needles:
3.25 mm / US3 DPNs or a circular needle with a cable suitable for small circumference knitting for cuffs
3.25 mm / US3 circular needle with a cable length of 40 cm / 16 inches for the neckline
3.25 mm / US3 circular needle with a cable length of 80 cm / 32 inches for smaller sizes and 100 cm / 40 inches for larger sizes for the hem
4.0 mm / US6 DPNs or a circular needle with a cable suitable for small circumference knitting for sleeves
4.0 mm / US6 circular needle with a cable length of 80 cm / 32 inches for smaller sizes and 100 cm / 40 inches for larger sizes for the main part
Gauge:
19 sts and 27 rounds = 10 cm / 4 inches of Stockinette stitch in the round on larger needles, after blocking
Composition:
100% Baby Yak
Number of skeins:
8 (9, 10, 10, 11, 13, 14, 15, 17) skeins mYak Baby Yak Medium
Sizes 1 (2, 3, 4, 5, 6, 7, 8, 9)
Finished Measurements:
1 (2, 3, 4, 5, 6, 7, 8, 9)
Finished bust circumference: 81 (91, 101, 111, 121, 131, 141, 151, 161) cm / 32 (35.75, 39.75, 43.57, 47.75, 51.5, 55.5 59.5, 63.5) inches including the intended ease of 5-7.5 cm / 2-3 inches
Length from hem to underarm (adjustable): 30 (30, 30, 33, 33, 33, 35, 35, 35) cm / 11.75 (11.75, 11.75, 13, 13, 13, 13.75, 13.75, 13.75) inches
Yoke length: 23 (23, 23, 24, 24, 24, 25, 25, 26) cm / 9 (9, 9, 9.5, 9.5, 9.5, 9.75, 9.75, 10.25) inches
Sleeve length from cuff to underarm (adjustable): 44 (44, 44, 46, 46, 46, 48, 48, 48) cm / 17.25 (17.25, 17.25, 18, 18, 18, 19, 19, 19) inches
Upper arm circumference: 37 (38, 40, 42, 46, 51, 56, 59, 61) cm / 14.5 (15, 15.75, 16.5, 18, 20, 21.75, 23.25, 24) inches
Cuff circumference: 22 (22, 25, 25, 25, 25, 26, 26, 26) cm / 8.75 (8.75, 9.75, 9.75, 9.75, 9.75, 10.25, 10.25, 10.25) inches
Needles:
3.25 mm / US3 DPNs or a circular needle with a cable suitable for small circumference knitting for cuffs
3.25 mm / US3 circular needle with a cable length of 40 cm / 16 inches for the neckline
3.25 mm / US3 circular needle with a cable length of 80 cm / 32 inches for smaller sizes and 100 cm / 40 inches for larger sizes for the hem
4.0 mm / US6 DPNs or a circular needle with a cable suitable for small circumference knitting for sleeves
4.0 mm / US6 circular needle with a cable length of 80 cm / 32 inches for smaller sizes and 100 cm / 40 inches for larger sizes for the main part
Gauge:
19 sts and 27 rounds = 10 cm / 4 inches of Stockinette stitch in the round on larger needles, after blocking
Composition:
100% Baby Yak
Number of skeins:
8 (9, 10, 10, 11, 13, 14, 15, 17) skeins mYak Baby Yak Medium
Sizes 1 (2, 3, 4, 5, 6, 7, 8, 9)
Finished Measurements:
1 (2, 3, 4, 5, 6, 7, 8, 9)
Finished bust circumference: 81 (91, 101, 111, 121, 131, 141, 151, 161) cm / 32 (35.75, 39.75, 43.57, 47.75, 51.5, 55.5 59.5, 63.5) inches including the intended ease of 5-7.5 cm / 2-3 inches
Length from hem to underarm (adjustable): 30 (30, 30, 33, 33, 33, 35, 35, 35) cm / 11.75 (11.75, 11.75, 13, 13, 13, 13.75, 13.75, 13.75) inches
Yoke length: 23 (23, 23, 24, 24, 24, 25, 25, 26) cm / 9 (9, 9, 9.5, 9.5, 9.5, 9.75, 9.75, 10.25) inches
Sleeve length from cuff to underarm (adjustable): 44 (44, 44, 46, 46, 46, 48, 48, 48) cm / 17.25 (17.25, 17.25, 18, 18, 18, 19, 19, 19) inches
Upper arm circumference: 37 (38, 40, 42, 46, 51, 56, 59, 61) cm / 14.5 (15, 15.75, 16.5, 18, 20, 21.75, 23.25, 24) inches
Cuff circumference: 22 (22, 25, 25, 25, 25, 26, 26, 26) cm / 8.75 (8.75, 9.75, 9.75, 9.75, 9.75, 10.25, 10.25, 10.25) inches
Needles:
3.25 mm / US3 DPNs or a circular needle with a cable suitable for small circumference knitting for cuffs
3.25 mm / US3 circular needle with a cable length of 40 cm / 16 inches for the neckline
3.25 mm / US3 circular needle with a cable length of 80 cm / 32 inches for smaller sizes and 100 cm / 40 inches for larger sizes for the hem
4.0 mm / US6 DPNs or a circular needle with a cable suitable for small circumference knitting for sleeves
4.0 mm / US6 circular needle with a cable length of 80 cm / 32 inches for smaller sizes and 100 cm / 40 inches for larger sizes for the main part
Gauge:
19 sts and 27 rounds = 10 cm / 4 inches of Stockinette stitch in the round on larger needles, after blocking
Composition:
100% Baby Yak
Number of skeins:
8 (9, 10, 10, 11, 13, 14, 15, 17) skeins mYak Baby Yak Medium
Sizes 1 (2, 3, 4, 5, 6, 7, 8, 9)
Finished Measurements:
1 (2, 3, 4, 5, 6, 7, 8, 9)
Finished bust circumference: 81 (91, 101, 111, 121, 131, 141, 151, 161) cm / 32 (35.75, 39.75, 43.57, 47.75, 51.5, 55.5 59.5, 63.5) inches including the intended ease of 5-7.5 cm / 2-3 inches
Length from hem to underarm (adjustable): 30 (30, 30, 33, 33, 33, 35, 35, 35) cm / 11.75 (11.75, 11.75, 13, 13, 13, 13.75, 13.75, 13.75) inches
Yoke length: 23 (23, 23, 24, 24, 24, 25, 25, 26) cm / 9 (9, 9, 9.5, 9.5, 9.5, 9.75, 9.75, 10.25) inches
Sleeve length from cuff to underarm (adjustable): 44 (44, 44, 46, 46, 46, 48, 48, 48) cm / 17.25 (17.25, 17.25, 18, 18, 18, 19, 19, 19) inches
Upper arm circumference: 37 (38, 40, 42, 46, 51, 56, 59, 61) cm / 14.5 (15, 15.75, 16.5, 18, 20, 21.75, 23.25, 24) inches
Cuff circumference: 22 (22, 25, 25, 25, 25, 26, 26, 26) cm / 8.75 (8.75, 9.75, 9.75, 9.75, 9.75, 10.25, 10.25, 10.25) inches
Needles:
3.25 mm / US3 DPNs or a circular needle with a cable suitable for small circumference knitting for cuffs
3.25 mm / US3 circular needle with a cable length of 40 cm / 16 inches for the neckline
3.25 mm / US3 circular needle with a cable length of 80 cm / 32 inches for smaller sizes and 100 cm / 40 inches for larger sizes for the hem
4.0 mm / US6 DPNs or a circular needle with a cable suitable for small circumference knitting for sleeves
4.0 mm / US6 circular needle with a cable length of 80 cm / 32 inches for smaller sizes and 100 cm / 40 inches for larger sizes for the main part
Gauge:
19 sts and 27 rounds = 10 cm / 4 inches of Stockinette stitch in the round on larger needles, after blocking
Composition:
100% Baby Yak
Number of skeins:
8 (9, 10, 10, 11, 13, 14, 15, 17) skeins mYak Baby Yak Medium
Sizes 1 (2, 3, 4, 5, 6, 7, 8, 9)
Finished Measurements:
1 (2, 3, 4, 5, 6, 7, 8, 9)
Finished bust circumference: 81 (91, 101, 111, 121, 131, 141, 151, 161) cm / 32 (35.75, 39.75, 43.57, 47.75, 51.5, 55.5 59.5, 63.5) inches including the intended ease of 5-7.5 cm / 2-3 inches
Length from hem to underarm (adjustable): 30 (30, 30, 33, 33, 33, 35, 35, 35) cm / 11.75 (11.75, 11.75, 13, 13, 13, 13.75, 13.75, 13.75) inches
Yoke length: 23 (23, 23, 24, 24, 24, 25, 25, 26) cm / 9 (9, 9, 9.5, 9.5, 9.5, 9.75, 9.75, 10.25) inches
Sleeve length from cuff to underarm (adjustable): 44 (44, 44, 46, 46, 46, 48, 48, 48) cm / 17.25 (17.25, 17.25, 18, 18, 18, 19, 19, 19) inches
Upper arm circumference: 37 (38, 40, 42, 46, 51, 56, 59, 61) cm / 14.5 (15, 15.75, 16.5, 18, 20, 21.75, 23.25, 24) inches
Cuff circumference: 22 (22, 25, 25, 25, 25, 26, 26, 26) cm / 8.75 (8.75, 9.75, 9.75, 9.75, 9.75, 10.25, 10.25, 10.25) inches
Needles:
3.25 mm / US3 DPNs or a circular needle with a cable suitable for small circumference knitting for cuffs
3.25 mm / US3 circular needle with a cable length of 40 cm / 16 inches for the neckline
3.25 mm / US3 circular needle with a cable length of 80 cm / 32 inches for smaller sizes and 100 cm / 40 inches for larger sizes for the hem
4.0 mm / US6 DPNs or a circular needle with a cable suitable for small circumference knitting for sleeves
4.0 mm / US6 circular needle with a cable length of 80 cm / 32 inches for smaller sizes and 100 cm / 40 inches for larger sizes for the main part
Gauge:
19 sts and 27 rounds = 10 cm / 4 inches of Stockinette stitch in the round on larger needles, after blocking
Composition:
100% Baby Yak
Number of skeins:
8 (9, 10, 10, 11, 13, 14, 15, 17) skeins mYak Baby Yak Medium
Sizes 1 (2, 3, 4, 5, 6, 7, 8, 9)
Finished Measurements:
1 (2, 3, 4, 5, 6, 7, 8, 9)
Finished bust circumference: 81 (91, 101, 111, 121, 131, 141, 151, 161) cm / 32 (35.75, 39.75, 43.57, 47.75, 51.5, 55.5 59.5, 63.5) inches including the intended ease of 5-7.5 cm / 2-3 inches
Length from hem to underarm (adjustable): 30 (30, 30, 33, 33, 33, 35, 35, 35) cm / 11.75 (11.75, 11.75, 13, 13, 13, 13.75, 13.75, 13.75) inches
Yoke length: 23 (23, 23, 24, 24, 24, 25, 25, 26) cm / 9 (9, 9, 9.5, 9.5, 9.5, 9.75, 9.75, 10.25) inches
Sleeve length from cuff to underarm (adjustable): 44 (44, 44, 46, 46, 46, 48, 48, 48) cm / 17.25 (17.25, 17.25, 18, 18, 18, 19, 19, 19) inches
Upper arm circumference: 37 (38, 40, 42, 46, 51, 56, 59, 61) cm / 14.5 (15, 15.75, 16.5, 18, 20, 21.75, 23.25, 24) inches
Cuff circumference: 22 (22, 25, 25, 25, 25, 26, 26, 26) cm / 8.75 (8.75, 9.75, 9.75, 9.75, 9.75, 10.25, 10.25, 10.25) inches
Needles:
3.25 mm / US3 DPNs or a circular needle with a cable suitable for small circumference knitting for cuffs
3.25 mm / US3 circular needle with a cable length of 40 cm / 16 inches for the neckline
3.25 mm / US3 circular needle with a cable length of 80 cm / 32 inches for smaller sizes and 100 cm / 40 inches for larger sizes for the hem
4.0 mm / US6 DPNs or a circular needle with a cable suitable for small circumference knitting for sleeves
4.0 mm / US6 circular needle with a cable length of 80 cm / 32 inches for smaller sizes and 100 cm / 40 inches for larger sizes for the main part
Gauge:
19 sts and 27 rounds = 10 cm / 4 inches of Stockinette stitch in the round on larger needles, after blocking
Composition:
100% Baby Yak
Number of skeins:
8 (9, 10, 10, 11, 13, 14, 15, 17) skeins mYak Baby Yak Medium
Sizes 1 (2, 3, 4, 5, 6, 7, 8, 9)
Finished Measurements:
1 (2, 3, 4, 5, 6, 7, 8, 9)
Finished bust circumference: 81 (91, 101, 111, 121, 131, 141, 151, 161) cm / 32 (35.75, 39.75, 43.57, 47.75, 51.5, 55.5 59.5, 63.5) inches including the intended ease of 5-7.5 cm / 2-3 inches
Length from hem to underarm (adjustable): 30 (30, 30, 33, 33, 33, 35, 35, 35) cm / 11.75 (11.75, 11.75, 13, 13, 13, 13.75, 13.75, 13.75) inches
Yoke length: 23 (23, 23, 24, 24, 24, 25, 25, 26) cm / 9 (9, 9, 9.5, 9.5, 9.5, 9.75, 9.75, 10.25) inches
Sleeve length from cuff to underarm (adjustable): 44 (44, 44, 46, 46, 46, 48, 48, 48) cm / 17.25 (17.25, 17.25, 18, 18, 18, 19, 19, 19) inches
Upper arm circumference: 37 (38, 40, 42, 46, 51, 56, 59, 61) cm / 14.5 (15, 15.75, 16.5, 18, 20, 21.75, 23.25, 24) inches
Cuff circumference: 22 (22, 25, 25, 25, 25, 26, 26, 26) cm / 8.75 (8.75, 9.75, 9.75, 9.75, 9.75, 10.25, 10.25, 10.25) inches
Needles:
3.25 mm / US3 DPNs or a circular needle with a cable suitable for small circumference knitting for cuffs
3.25 mm / US3 circular needle with a cable length of 40 cm / 16 inches for the neckline
3.25 mm / US3 circular needle with a cable length of 80 cm / 32 inches for smaller sizes and 100 cm / 40 inches for larger sizes for the hem
4.0 mm / US6 DPNs or a circular needle with a cable suitable for small circumference knitting for sleeves
4.0 mm / US6 circular needle with a cable length of 80 cm / 32 inches for smaller sizes and 100 cm / 40 inches for larger sizes for the main part
Gauge:
19 sts and 27 rounds = 10 cm / 4 inches of Stockinette stitch in the round on larger needles, after blocking
Composition:
100% Baby Yak
Number of skeins:
8 (9, 10, 10, 11, 13, 14, 15, 17) skeins mYak Baby Yak Medium
Sizes 1 (2, 3, 4, 5, 6, 7, 8, 9)
Finished Measurements:
1 (2, 3, 4, 5, 6, 7, 8, 9)
Finished bust circumference: 81 (91, 101, 111, 121, 131, 141, 151, 161) cm / 32 (35.75, 39.75, 43.57, 47.75, 51.5, 55.5 59.5, 63.5) inches including the intended ease of 5-7.5 cm / 2-3 inches
Length from hem to underarm (adjustable): 30 (30, 30, 33, 33, 33, 35, 35, 35) cm / 11.75 (11.75, 11.75, 13, 13, 13, 13.75, 13.75, 13.75) inches
Yoke length: 23 (23, 23, 24, 24, 24, 25, 25, 26) cm / 9 (9, 9, 9.5, 9.5, 9.5, 9.75, 9.75, 10.25) inches
Sleeve length from cuff to underarm (adjustable): 44 (44, 44, 46, 46, 46, 48, 48, 48) cm / 17.25 (17.25, 17.25, 18, 18, 18, 19, 19, 19) inches
Upper arm circumference: 37 (38, 40, 42, 46, 51, 56, 59, 61) cm / 14.5 (15, 15.75, 16.5, 18, 20, 21.75, 23.25, 24) inches
Cuff circumference: 22 (22, 25, 25, 25, 25, 26, 26, 26) cm / 8.75 (8.75, 9.75, 9.75, 9.75, 9.75, 10.25, 10.25, 10.25) inches
Needles:
3.25 mm / US3 DPNs or a circular needle with a cable suitable for small circumference knitting for cuffs
3.25 mm / US3 circular needle with a cable length of 40 cm / 16 inches for the neckline
3.25 mm / US3 circular needle with a cable length of 80 cm / 32 inches for smaller sizes and 100 cm / 40 inches for larger sizes for the hem
4.0 mm / US6 DPNs or a circular needle with a cable suitable for small circumference knitting for sleeves
4.0 mm / US6 circular needle with a cable length of 80 cm / 32 inches for smaller sizes and 100 cm / 40 inches for larger sizes for the main part
Gauge:
19 sts and 27 rounds = 10 cm / 4 inches of Stockinette stitch in the round on larger needles, after blocking
Composition:
100% Baby Yak
Number of skeins:
8 (9, 10, 10, 11, 13, 14, 15, 17) skeins mYak Baby Yak Medium
Sizes 1 (2, 3, 4, 5, 6, 7, 8, 9)
Finished Measurements:
1 (2, 3, 4, 5, 6, 7, 8, 9)
Finished bust circumference: 81 (91, 101, 111, 121, 131, 141, 151, 161) cm / 32 (35.75, 39.75, 43.57, 47.75, 51.5, 55.5 59.5, 63.5) inches including the intended ease of 5-7.5 cm / 2-3 inches
Length from hem to underarm (adjustable): 30 (30, 30, 33, 33, 33, 35, 35, 35) cm / 11.75 (11.75, 11.75, 13, 13, 13, 13.75, 13.75, 13.75) inches
Yoke length: 23 (23, 23, 24, 24, 24, 25, 25, 26) cm / 9 (9, 9, 9.5, 9.5, 9.5, 9.75, 9.75, 10.25) inches
Sleeve length from cuff to underarm (adjustable): 44 (44, 44, 46, 46, 46, 48, 48, 48) cm / 17.25 (17.25, 17.25, 18, 18, 18, 19, 19, 19) inches
Upper arm circumference: 37 (38, 40, 42, 46, 51, 56, 59, 61) cm / 14.5 (15, 15.75, 16.5, 18, 20, 21.75, 23.25, 24) inches
Cuff circumference: 22 (22, 25, 25, 25, 25, 26, 26, 26) cm / 8.75 (8.75, 9.75, 9.75, 9.75, 9.75, 10.25, 10.25, 10.25) inches
Needles:
3.25 mm / US3 DPNs or a circular needle with a cable suitable for small circumference knitting for cuffs
3.25 mm / US3 circular needle with a cable length of 40 cm / 16 inches for the neckline
3.25 mm / US3 circular needle with a cable length of 80 cm / 32 inches for smaller sizes and 100 cm / 40 inches for larger sizes for the hem
4.0 mm / US6 DPNs or a circular needle with a cable suitable for small circumference knitting for sleeves
4.0 mm / US6 circular needle with a cable length of 80 cm / 32 inches for smaller sizes and 100 cm / 40 inches for larger sizes for the main part
Gauge:
19 sts and 27 rounds = 10 cm / 4 inches of Stockinette stitch in the round on larger needles, after blocking
Composition:
100% Baby Yak
Number of skeins:
8 (9, 10, 10, 11, 13, 14, 15, 17) skeins mYak Baby Yak Medium
Sizes 1 (2, 3, 4, 5, 6, 7, 8, 9)
Finished Measurements:
1 (2, 3, 4, 5, 6, 7, 8, 9)
Finished bust circumference: 81 (91, 101, 111, 121, 131, 141, 151, 161) cm / 32 (35.75, 39.75, 43.57, 47.75, 51.5, 55.5 59.5, 63.5) inches including the intended ease of 5-7.5 cm / 2-3 inches
Length from hem to underarm (adjustable): 30 (30, 30, 33, 33, 33, 35, 35, 35) cm / 11.75 (11.75, 11.75, 13, 13, 13, 13.75, 13.75, 13.75) inches
Yoke length: 23 (23, 23, 24, 24, 24, 25, 25, 26) cm / 9 (9, 9, 9.5, 9.5, 9.5, 9.75, 9.75, 10.25) inches
Sleeve length from cuff to underarm (adjustable): 44 (44, 44, 46, 46, 46, 48, 48, 48) cm / 17.25 (17.25, 17.25, 18, 18, 18, 19, 19, 19) inches
Upper arm circumference: 37 (38, 40, 42, 46, 51, 56, 59, 61) cm / 14.5 (15, 15.75, 16.5, 18, 20, 21.75, 23.25, 24) inches
Cuff circumference: 22 (22, 25, 25, 25, 25, 26, 26, 26) cm / 8.75 (8.75, 9.75, 9.75, 9.75, 9.75, 10.25, 10.25, 10.25) inches
Needles:
3.25 mm / US3 DPNs or a circular needle with a cable suitable for small circumference knitting for cuffs
3.25 mm / US3 circular needle with a cable length of 40 cm / 16 inches for the neckline
3.25 mm / US3 circular needle with a cable length of 80 cm / 32 inches for smaller sizes and 100 cm / 40 inches for larger sizes for the hem
4.0 mm / US6 DPNs or a circular needle with a cable suitable for small circumference knitting for sleeves
4.0 mm / US6 circular needle with a cable length of 80 cm / 32 inches for smaller sizes and 100 cm / 40 inches for larger sizes for the main part
Gauge:
19 sts and 27 rounds = 10 cm / 4 inches of Stockinette stitch in the round on larger needles, after blocking
Composition:
100% Baby Yak
Number of skeins:
8 (9, 10, 10, 11, 13, 14, 15, 17) skeins mYak Baby Yak Medium
Sizes 1 (2, 3, 4, 5, 6, 7, 8, 9)
Finished Measurements:
1 (2, 3, 4, 5, 6, 7, 8, 9)
Finished bust circumference: 81 (91, 101, 111, 121, 131, 141, 151, 161) cm / 32 (35.75, 39.75, 43.57, 47.75, 51.5, 55.5 59.5, 63.5) inches including the intended ease of 5-7.5 cm / 2-3 inches
Length from hem to underarm (adjustable): 30 (30, 30, 33, 33, 33, 35, 35, 35) cm / 11.75 (11.75, 11.75, 13, 13, 13, 13.75, 13.75, 13.75) inches
Yoke length: 23 (23, 23, 24, 24, 24, 25, 25, 26) cm / 9 (9, 9, 9.5, 9.5, 9.5, 9.75, 9.75, 10.25) inches
Sleeve length from cuff to underarm (adjustable): 44 (44, 44, 46, 46, 46, 48, 48, 48) cm / 17.25 (17.25, 17.25, 18, 18, 18, 19, 19, 19) inches
Upper arm circumference: 37 (38, 40, 42, 46, 51, 56, 59, 61) cm / 14.5 (15, 15.75, 16.5, 18, 20, 21.75, 23.25, 24) inches
Cuff circumference: 22 (22, 25, 25, 25, 25, 26, 26, 26) cm / 8.75 (8.75, 9.75, 9.75, 9.75, 9.75, 10.25, 10.25, 10.25) inches
Needles:
3.25 mm / US3 DPNs or a circular needle with a cable suitable for small circumference knitting for cuffs
3.25 mm / US3 circular needle with a cable length of 40 cm / 16 inches for the neckline
3.25 mm / US3 circular needle with a cable length of 80 cm / 32 inches for smaller sizes and 100 cm / 40 inches for larger sizes for the hem
4.0 mm / US6 DPNs or a circular needle with a cable suitable for small circumference knitting for sleeves
4.0 mm / US6 circular needle with a cable length of 80 cm / 32 inches for smaller sizes and 100 cm / 40 inches for larger sizes for the main part
Gauge:
19 sts and 27 rounds = 10 cm / 4 inches of Stockinette stitch in the round on larger needles, after blocking
Composition:
100% Baby Yak
Number of skeins:
8 (9, 10, 10, 11, 13, 14, 15, 17) skeins mYak Baby Yak Medium
Sizes 1 (2, 3, 4, 5, 6, 7, 8, 9)
Finished Measurements:
1 (2, 3, 4, 5, 6, 7, 8, 9)
Finished bust circumference: 81 (91, 101, 111, 121, 131, 141, 151, 161) cm / 32 (35.75, 39.75, 43.57, 47.75, 51.5, 55.5 59.5, 63.5) inches including the intended ease of 5-7.5 cm / 2-3 inches
Length from hem to underarm (adjustable): 30 (30, 30, 33, 33, 33, 35, 35, 35) cm / 11.75 (11.75, 11.75, 13, 13, 13, 13.75, 13.75, 13.75) inches
Yoke length: 23 (23, 23, 24, 24, 24, 25, 25, 26) cm / 9 (9, 9, 9.5, 9.5, 9.5, 9.75, 9.75, 10.25) inches
Sleeve length from cuff to underarm (adjustable): 44 (44, 44, 46, 46, 46, 48, 48, 48) cm / 17.25 (17.25, 17.25, 18, 18, 18, 19, 19, 19) inches
Upper arm circumference: 37 (38, 40, 42, 46, 51, 56, 59, 61) cm / 14.5 (15, 15.75, 16.5, 18, 20, 21.75, 23.25, 24) inches
Cuff circumference: 22 (22, 25, 25, 25, 25, 26, 26, 26) cm / 8.75 (8.75, 9.75, 9.75, 9.75, 9.75, 10.25, 10.25, 10.25) inches
Needles:
3.25 mm / US3 DPNs or a circular needle with a cable suitable for small circumference knitting for cuffs
3.25 mm / US3 circular needle with a cable length of 40 cm / 16 inches for the neckline
3.25 mm / US3 circular needle with a cable length of 80 cm / 32 inches for smaller sizes and 100 cm / 40 inches for larger sizes for the hem
4.0 mm / US6 DPNs or a circular needle with a cable suitable for small circumference knitting for sleeves
4.0 mm / US6 circular needle with a cable length of 80 cm / 32 inches for smaller sizes and 100 cm / 40 inches for larger sizes for the main part
Gauge:
19 sts and 27 rounds = 10 cm / 4 inches of Stockinette stitch in the round on larger needles, after blocking
Composition:
100% Baby Yak
Number of skeins:
8 (9, 10, 10, 11, 13, 14, 15, 17) skeins mYak Baby Yak Medium
Sizes 1 (2, 3, 4, 5, 6, 7, 8, 9)
Finished Measurements:
1 (2, 3, 4, 5, 6, 7, 8, 9)
Finished bust circumference: 81 (91, 101, 111, 121, 131, 141, 151, 161) cm / 32 (35.75, 39.75, 43.57, 47.75, 51.5, 55.5 59.5, 63.5) inches including the intended ease of 5-7.5 cm / 2-3 inches
Length from hem to underarm (adjustable): 30 (30, 30, 33, 33, 33, 35, 35, 35) cm / 11.75 (11.75, 11.75, 13, 13, 13, 13.75, 13.75, 13.75) inches
Yoke length: 23 (23, 23, 24, 24, 24, 25, 25, 26) cm / 9 (9, 9, 9.5, 9.5, 9.5, 9.75, 9.75, 10.25) inches
Sleeve length from cuff to underarm (adjustable): 44 (44, 44, 46, 46, 46, 48, 48, 48) cm / 17.25 (17.25, 17.25, 18, 18, 18, 19, 19, 19) inches
Upper arm circumference: 37 (38, 40, 42, 46, 51, 56, 59, 61) cm / 14.5 (15, 15.75, 16.5, 18, 20, 21.75, 23.25, 24) inches
Cuff circumference: 22 (22, 25, 25, 25, 25, 26, 26, 26) cm / 8.75 (8.75, 9.75, 9.75, 9.75, 9.75, 10.25, 10.25, 10.25) inches
Needles:
3.25 mm / US3 DPNs or a circular needle with a cable suitable for small circumference knitting for cuffs
3.25 mm / US3 circular needle with a cable length of 40 cm / 16 inches for the neckline
3.25 mm / US3 circular needle with a cable length of 80 cm / 32 inches for smaller sizes and 100 cm / 40 inches for larger sizes for the hem
4.0 mm / US6 DPNs or a circular needle with a cable suitable for small circumference knitting for sleeves
4.0 mm / US6 circular needle with a cable length of 80 cm / 32 inches for smaller sizes and 100 cm / 40 inches for larger sizes for the main part
Gauge:
19 sts and 27 rounds = 10 cm / 4 inches of Stockinette stitch in the round on larger needles, after blocking
Composition:
100% Baby Yak
Number of skeins:
8 (9, 10, 10, 11, 13, 14, 15, 17) skeins mYak Baby Yak Medium
Sizes 1 (2, 3, 4, 5, 6, 7, 8, 9)
Finished Measurements:
1 (2, 3, 4, 5, 6, 7, 8, 9)
Finished bust circumference: 81 (91, 101, 111, 121, 131, 141, 151, 161) cm / 32 (35.75, 39.75, 43.57, 47.75, 51.5, 55.5 59.5, 63.5) inches including the intended ease of 5-7.5 cm / 2-3 inches
Length from hem to underarm (adjustable): 30 (30, 30, 33, 33, 33, 35, 35, 35) cm / 11.75 (11.75, 11.75, 13, 13, 13, 13.75, 13.75, 13.75) inches
Yoke length: 23 (23, 23, 24, 24, 24, 25, 25, 26) cm / 9 (9, 9, 9.5, 9.5, 9.5, 9.75, 9.75, 10.25) inches
Sleeve length from cuff to underarm (adjustable): 44 (44, 44, 46, 46, 46, 48, 48, 48) cm / 17.25 (17.25, 17.25, 18, 18, 18, 19, 19, 19) inches
Upper arm circumference: 37 (38, 40, 42, 46, 51, 56, 59, 61) cm / 14.5 (15, 15.75, 16.5, 18, 20, 21.75, 23.25, 24) inches
Cuff circumference: 22 (22, 25, 25, 25, 25, 26, 26, 26) cm / 8.75 (8.75, 9.75, 9.75, 9.75, 9.75, 10.25, 10.25, 10.25) inches
Needles:
3.25 mm / US3 DPNs or a circular needle with a cable suitable for small circumference knitting for cuffs
3.25 mm / US3 circular needle with a cable length of 40 cm / 16 inches for the neckline
3.25 mm / US3 circular needle with a cable length of 80 cm / 32 inches for smaller sizes and 100 cm / 40 inches for larger sizes for the hem
4.0 mm / US6 DPNs or a circular needle with a cable suitable for small circumference knitting for sleeves
4.0 mm / US6 circular needle with a cable length of 80 cm / 32 inches for smaller sizes and 100 cm / 40 inches for larger sizes for the main part
Gauge:
19 sts and 27 rounds = 10 cm / 4 inches of Stockinette stitch in the round on larger needles, after blocking
Composition:
100% Baby Yak
Number of skeins:
8 (9, 10, 10, 11, 13, 14, 15, 17) skeins mYak Baby Yak Medium
Sizes 1 (2, 3, 4, 5, 6, 7, 8, 9)
Finished Measurements:
1 (2, 3, 4, 5, 6, 7, 8, 9)
Finished bust circumference: 81 (91, 101, 111, 121, 131, 141, 151, 161) cm / 32 (35.75, 39.75, 43.57, 47.75, 51.5, 55.5 59.5, 63.5) inches including the intended ease of 5-7.5 cm / 2-3 inches
Length from hem to underarm (adjustable): 30 (30, 30, 33, 33, 33, 35, 35, 35) cm / 11.75 (11.75, 11.75, 13, 13, 13, 13.75, 13.75, 13.75) inches
Yoke length: 23 (23, 23, 24, 24, 24, 25, 25, 26) cm / 9 (9, 9, 9.5, 9.5, 9.5, 9.75, 9.75, 10.25) inches
Sleeve length from cuff to underarm (adjustable): 44 (44, 44, 46, 46, 46, 48, 48, 48) cm / 17.25 (17.25, 17.25, 18, 18, 18, 19, 19, 19) inches
Upper arm circumference: 37 (38, 40, 42, 46, 51, 56, 59, 61) cm / 14.5 (15, 15.75, 16.5, 18, 20, 21.75, 23.25, 24) inches
Cuff circumference: 22 (22, 25, 25, 25, 25, 26, 26, 26) cm / 8.75 (8.75, 9.75, 9.75, 9.75, 9.75, 10.25, 10.25, 10.25) inches
Needles:
3.25 mm / US3 DPNs or a circular needle with a cable suitable for small circumference knitting for cuffs
3.25 mm / US3 circular needle with a cable length of 40 cm / 16 inches for the neckline
3.25 mm / US3 circular needle with a cable length of 80 cm / 32 inches for smaller sizes and 100 cm / 40 inches for larger sizes for the hem
4.0 mm / US6 DPNs or a circular needle with a cable suitable for small circumference knitting for sleeves
4.0 mm / US6 circular needle with a cable length of 80 cm / 32 inches for smaller sizes and 100 cm / 40 inches for larger sizes for the main part
Gauge:
19 sts and 27 rounds = 10 cm / 4 inches of Stockinette stitch in the round on larger needles, after blocking
Composition:
100% Baby Yak
Number of skeins:
8 (9, 10, 10, 11, 13, 14, 15, 17) skeins mYak Baby Yak Medium
Sizes 1 (2, 3, 4, 5, 6, 7, 8, 9)
Finished Measurements:
1 (2, 3, 4, 5, 6, 7, 8, 9)
Finished bust circumference: 81 (91, 101, 111, 121, 131, 141, 151, 161) cm / 32 (35.75, 39.75, 43.57, 47.75, 51.5, 55.5 59.5, 63.5) inches including the intended ease of 5-7.5 cm / 2-3 inches
Length from hem to underarm (adjustable): 30 (30, 30, 33, 33, 33, 35, 35, 35) cm / 11.75 (11.75, 11.75, 13, 13, 13, 13.75, 13.75, 13.75) inches
Yoke length: 23 (23, 23, 24, 24, 24, 25, 25, 26) cm / 9 (9, 9, 9.5, 9.5, 9.5, 9.75, 9.75, 10.25) inches
Sleeve length from cuff to underarm (adjustable): 44 (44, 44, 46, 46, 46, 48, 48, 48) cm / 17.25 (17.25, 17.25, 18, 18, 18, 19, 19, 19) inches
Upper arm circumference: 37 (38, 40, 42, 46, 51, 56, 59, 61) cm / 14.5 (15, 15.75, 16.5, 18, 20, 21.75, 23.25, 24) inches
Cuff circumference: 22 (22, 25, 25, 25, 25, 26, 26, 26) cm / 8.75 (8.75, 9.75, 9.75, 9.75, 9.75, 10.25, 10.25, 10.25) inches
Needles:
3.25 mm / US3 DPNs or a circular needle with a cable suitable for small circumference knitting for cuffs
3.25 mm / US3 circular needle with a cable length of 40 cm / 16 inches for the neckline
3.25 mm / US3 circular needle with a cable length of 80 cm / 32 inches for smaller sizes and 100 cm / 40 inches for larger sizes for the hem
4.0 mm / US6 DPNs or a circular needle with a cable suitable for small circumference knitting for sleeves
4.0 mm / US6 circular needle with a cable length of 80 cm / 32 inches for smaller sizes and 100 cm / 40 inches for larger sizes for the main part
Gauge:
19 sts and 27 rounds = 10 cm / 4 inches of Stockinette stitch in the round on larger needles, after blocking
Composition:
100% Baby Yak
Number of skeins:
8 (9, 10, 10, 11, 13, 14, 15, 17) skeins mYak Baby Yak Medium
Sizes 1 (2, 3, 4, 5, 6, 7, 8, 9)
Finished Measurements:
1 (2, 3, 4, 5, 6, 7, 8, 9)
Finished bust circumference: 81 (91, 101, 111, 121, 131, 141, 151, 161) cm / 32 (35.75, 39.75, 43.57, 47.75, 51.5, 55.5 59.5, 63.5) inches including the intended ease of 5-7.5 cm / 2-3 inches
Length from hem to underarm (adjustable): 30 (30, 30, 33, 33, 33, 35, 35, 35) cm / 11.75 (11.75, 11.75, 13, 13, 13, 13.75, 13.75, 13.75) inches
Yoke length: 23 (23, 23, 24, 24, 24, 25, 25, 26) cm / 9 (9, 9, 9.5, 9.5, 9.5, 9.75, 9.75, 10.25) inches
Sleeve length from cuff to underarm (adjustable): 44 (44, 44, 46, 46, 46, 48, 48, 48) cm / 17.25 (17.25, 17.25, 18, 18, 18, 19, 19, 19) inches
Upper arm circumference: 37 (38, 40, 42, 46, 51, 56, 59, 61) cm / 14.5 (15, 15.75, 16.5, 18, 20, 21.75, 23.25, 24) inches
Cuff circumference: 22 (22, 25, 25, 25, 25, 26, 26, 26) cm / 8.75 (8.75, 9.75, 9.75, 9.75, 9.75, 10.25, 10.25, 10.25) inches
Needles:
3.25 mm / US3 DPNs or a circular needle with a cable suitable for small circumference knitting for cuffs
3.25 mm / US3 circular needle with a cable length of 40 cm / 16 inches for the neckline
3.25 mm / US3 circular needle with a cable length of 80 cm / 32 inches for smaller sizes and 100 cm / 40 inches for larger sizes for the hem
4.0 mm / US6 DPNs or a circular needle with a cable suitable for small circumference knitting for sleeves
4.0 mm / US6 circular needle with a cable length of 80 cm / 32 inches for smaller sizes and 100 cm / 40 inches for larger sizes for the main part
Gauge:
19 sts and 27 rounds = 10 cm / 4 inches of Stockinette stitch in the round on larger needles, after blocking
Composition:
100% Baby Yak
Number of skeins:
8 (9, 10, 10, 11, 13, 14, 15, 17) skeins mYak Baby Yak Medium
Sizes 1 (2, 3, 4, 5, 6, 7, 8, 9)
Finished Measurements:
1 (2, 3, 4, 5, 6, 7, 8, 9)
Finished bust circumference: 81 (91, 101, 111, 121, 131, 141, 151, 161) cm / 32 (35.75, 39.75, 43.57, 47.75, 51.5, 55.5 59.5, 63.5) inches including the intended ease of 5-7.5 cm / 2-3 inches
Length from hem to underarm (adjustable): 30 (30, 30, 33, 33, 33, 35, 35, 35) cm / 11.75 (11.75, 11.75, 13, 13, 13, 13.75, 13.75, 13.75) inches
Yoke length: 23 (23, 23, 24, 24, 24, 25, 25, 26) cm / 9 (9, 9, 9.5, 9.5, 9.5, 9.75, 9.75, 10.25) inches
Sleeve length from cuff to underarm (adjustable): 44 (44, 44, 46, 46, 46, 48, 48, 48) cm / 17.25 (17.25, 17.25, 18, 18, 18, 19, 19, 19) inches
Upper arm circumference: 37 (38, 40, 42, 46, 51, 56, 59, 61) cm / 14.5 (15, 15.75, 16.5, 18, 20, 21.75, 23.25, 24) inches
Cuff circumference: 22 (22, 25, 25, 25, 25, 26, 26, 26) cm / 8.75 (8.75, 9.75, 9.75, 9.75, 9.75, 10.25, 10.25, 10.25) inches
Needles:
3.25 mm / US3 DPNs or a circular needle with a cable suitable for small circumference knitting for cuffs
3.25 mm / US3 circular needle with a cable length of 40 cm / 16 inches for the neckline
3.25 mm / US3 circular needle with a cable length of 80 cm / 32 inches for smaller sizes and 100 cm / 40 inches for larger sizes for the hem
4.0 mm / US6 DPNs or a circular needle with a cable suitable for small circumference knitting for sleeves
4.0 mm / US6 circular needle with a cable length of 80 cm / 32 inches for smaller sizes and 100 cm / 40 inches for larger sizes for the main part
Gauge:
19 sts and 27 rounds = 10 cm / 4 inches of Stockinette stitch in the round on larger needles, after blocking
Composition:
100% Baby Yak
Number of skeins:
8 (9, 10, 10, 11, 13, 14, 15, 17) skeins mYak Baby Yak Medium
Sizes 1 (2, 3, 4, 5, 6, 7, 8, 9)
Finished Measurements:
1 (2, 3, 4, 5, 6, 7, 8, 9)
Finished bust circumference: 81 (91, 101, 111, 121, 131, 141, 151, 161) cm / 32 (35.75, 39.75, 43.57, 47.75, 51.5, 55.5 59.5, 63.5) inches including the intended ease of 5-7.5 cm / 2-3 inches
Length from hem to underarm (adjustable): 30 (30, 30, 33, 33, 33, 35, 35, 35) cm / 11.75 (11.75, 11.75, 13, 13, 13, 13.75, 13.75, 13.75) inches
Yoke length: 23 (23, 23, 24, 24, 24, 25, 25, 26) cm / 9 (9, 9, 9.5, 9.5, 9.5, 9.75, 9.75, 10.25) inches
Sleeve length from cuff to underarm (adjustable): 44 (44, 44, 46, 46, 46, 48, 48, 48) cm / 17.25 (17.25, 17.25, 18, 18, 18, 19, 19, 19) inches
Upper arm circumference: 37 (38, 40, 42, 46, 51, 56, 59, 61) cm / 14.5 (15, 15.75, 16.5, 18, 20, 21.75, 23.25, 24) inches
Cuff circumference: 22 (22, 25, 25, 25, 25, 26, 26, 26) cm / 8.75 (8.75, 9.75, 9.75, 9.75, 9.75, 10.25, 10.25, 10.25) inches
Needles:
3.25 mm / US3 DPNs or a circular needle with a cable suitable for small circumference knitting for cuffs
3.25 mm / US3 circular needle with a cable length of 40 cm / 16 inches for the neckline
3.25 mm / US3 circular needle with a cable length of 80 cm / 32 inches for smaller sizes and 100 cm / 40 inches for larger sizes for the hem
4.0 mm / US6 DPNs or a circular needle with a cable suitable for small circumference knitting for sleeves
4.0 mm / US6 circular needle with a cable length of 80 cm / 32 inches for smaller sizes and 100 cm / 40 inches for larger sizes for the main part
Gauge:
19 sts and 27 rounds = 10 cm / 4 inches of Stockinette stitch in the round on larger needles, after blocking
Composition:
100% Baby Yak
Number of skeins:
8 (9, 10, 10, 11, 13, 14, 15, 17) skeins mYak Baby Yak Medium
Sizes 1 (2, 3, 4, 5, 6, 7, 8, 9)
Finished Measurements:
1 (2, 3, 4, 5, 6, 7, 8, 9)
Finished bust circumference: 81 (91, 101, 111, 121, 131, 141, 151, 161) cm / 32 (35.75, 39.75, 43.57, 47.75, 51.5, 55.5 59.5, 63.5) inches including the intended ease of 5-7.5 cm / 2-3 inches
Length from hem to underarm (adjustable): 30 (30, 30, 33, 33, 33, 35, 35, 35) cm / 11.75 (11.75, 11.75, 13, 13, 13, 13.75, 13.75, 13.75) inches
Yoke length: 23 (23, 23, 24, 24, 24, 25, 25, 26) cm / 9 (9, 9, 9.5, 9.5, 9.5, 9.75, 9.75, 10.25) inches
Sleeve length from cuff to underarm (adjustable): 44 (44, 44, 46, 46, 46, 48, 48, 48) cm / 17.25 (17.25, 17.25, 18, 18, 18, 19, 19, 19) inches
Upper arm circumference: 37 (38, 40, 42, 46, 51, 56, 59, 61) cm / 14.5 (15, 15.75, 16.5, 18, 20, 21.75, 23.25, 24) inches
Cuff circumference: 22 (22, 25, 25, 25, 25, 26, 26, 26) cm / 8.75 (8.75, 9.75, 9.75, 9.75, 9.75, 10.25, 10.25, 10.25) inches
Needles:
3.25 mm / US3 DPNs or a circular needle with a cable suitable for small circumference knitting for cuffs
3.25 mm / US3 circular needle with a cable length of 40 cm / 16 inches for the neckline
3.25 mm / US3 circular needle with a cable length of 80 cm / 32 inches for smaller sizes and 100 cm / 40 inches for larger sizes for the hem
4.0 mm / US6 DPNs or a circular needle with a cable suitable for small circumference knitting for sleeves
4.0 mm / US6 circular needle with a cable length of 80 cm / 32 inches for smaller sizes and 100 cm / 40 inches for larger sizes for the main part
Gauge:
19 sts and 27 rounds = 10 cm / 4 inches of Stockinette stitch in the round on larger needles, after blocking
Composition:
100% Baby Yak
Number of skeins:
8 (9, 10, 10, 11, 13, 14, 15, 17) skeins mYak Baby Yak Medium
Sizes 1 (2, 3, 4, 5, 6, 7, 8, 9)
Finished Measurements:
1 (2, 3, 4, 5, 6, 7, 8, 9)
Finished bust circumference: 81 (91, 101, 111, 121, 131, 141, 151, 161) cm / 32 (35.75, 39.75, 43.57, 47.75, 51.5, 55.5 59.5, 63.5) inches including the intended ease of 5-7.5 cm / 2-3 inches
Length from hem to underarm (adjustable): 30 (30, 30, 33, 33, 33, 35, 35, 35) cm / 11.75 (11.75, 11.75, 13, 13, 13, 13.75, 13.75, 13.75) inches
Yoke length: 23 (23, 23, 24, 24, 24, 25, 25, 26) cm / 9 (9, 9, 9.5, 9.5, 9.5, 9.75, 9.75, 10.25) inches
Sleeve length from cuff to underarm (adjustable): 44 (44, 44, 46, 46, 46, 48, 48, 48) cm / 17.25 (17.25, 17.25, 18, 18, 18, 19, 19, 19) inches
Upper arm circumference: 37 (38, 40, 42, 46, 51, 56, 59, 61) cm / 14.5 (15, 15.75, 16.5, 18, 20, 21.75, 23.25, 24) inches
Cuff circumference: 22 (22, 25, 25, 25, 25, 26, 26, 26) cm / 8.75 (8.75, 9.75, 9.75, 9.75, 9.75, 10.25, 10.25, 10.25) inches
Needles:
3.25 mm / US3 DPNs or a circular needle with a cable suitable for small circumference knitting for cuffs
3.25 mm / US3 circular needle with a cable length of 40 cm / 16 inches for the neckline
3.25 mm / US3 circular needle with a cable length of 80 cm / 32 inches for smaller sizes and 100 cm / 40 inches for larger sizes for the hem
4.0 mm / US6 DPNs or a circular needle with a cable suitable for small circumference knitting for sleeves
4.0 mm / US6 circular needle with a cable length of 80 cm / 32 inches for smaller sizes and 100 cm / 40 inches for larger sizes for the main part
Gauge:
19 sts and 27 rounds = 10 cm / 4 inches of Stockinette stitch in the round on larger needles, after blocking
Composition:
100% Baby Yak
Number of skeins:
8 (9, 10, 10, 11, 13, 14, 15, 17) skeins mYak Baby Yak Medium
Sizes 1 (2, 3, 4, 5, 6, 7, 8, 9)
Finished Measurements:
1 (2, 3, 4, 5, 6, 7, 8, 9)
Finished bust circumference: 81 (91, 101, 111, 121, 131, 141, 151, 161) cm / 32 (35.75, 39.75, 43.57, 47.75, 51.5, 55.5 59.5, 63.5) inches including the intended ease of 5-7.5 cm / 2-3 inches
Length from hem to underarm (adjustable): 30 (30, 30, 33, 33, 33, 35, 35, 35) cm / 11.75 (11.75, 11.75, 13, 13, 13, 13.75, 13.75, 13.75) inches
Yoke length: 23 (23, 23, 24, 24, 24, 25, 25, 26) cm / 9 (9, 9, 9.5, 9.5, 9.5, 9.75, 9.75, 10.25) inches
Sleeve length from cuff to underarm (adjustable): 44 (44, 44, 46, 46, 46, 48, 48, 48) cm / 17.25 (17.25, 17.25, 18, 18, 18, 19, 19, 19) inches
Upper arm circumference: 37 (38, 40, 42, 46, 51, 56, 59, 61) cm / 14.5 (15, 15.75, 16.5, 18, 20, 21.75, 23.25, 24) inches
Cuff circumference: 22 (22, 25, 25, 25, 25, 26, 26, 26) cm / 8.75 (8.75, 9.75, 9.75, 9.75, 9.75, 10.25, 10.25, 10.25) inches
Needles:
3.25 mm / US3 DPNs or a circular needle with a cable suitable for small circumference knitting for cuffs
3.25 mm / US3 circular needle with a cable length of 40 cm / 16 inches for the neckline
3.25 mm / US3 circular needle with a cable length of 80 cm / 32 inches for smaller sizes and 100 cm / 40 inches for larger sizes for the hem
4.0 mm / US6 DPNs or a circular needle with a cable suitable for small circumference knitting for sleeves
4.0 mm / US6 circular needle with a cable length of 80 cm / 32 inches for smaller sizes and 100 cm / 40 inches for larger sizes for the main part
Gauge:
19 sts and 27 rounds = 10 cm / 4 inches of Stockinette stitch in the round on larger needles, after blocking
Composition:
100% Baby Yak
Number of skeins:
8 (9, 10, 10, 11, 13, 14, 15, 17) skeins mYak Baby Yak Medium
Sizes 1 (2, 3, 4, 5, 6, 7, 8, 9)
Finished Measurements:
1 (2, 3, 4, 5, 6, 7, 8, 9)
Finished bust circumference: 81 (91, 101, 111, 121, 131, 141, 151, 161) cm / 32 (35.75, 39.75, 43.57, 47.75, 51.5, 55.5 59.5, 63.5) inches including the intended ease of 5-7.5 cm / 2-3 inches
Length from hem to underarm (adjustable): 30 (30, 30, 33, 33, 33, 35, 35, 35) cm / 11.75 (11.75, 11.75, 13, 13, 13, 13.75, 13.75, 13.75) inches
Yoke length: 23 (23, 23, 24, 24, 24, 25, 25, 26) cm / 9 (9, 9, 9.5, 9.5, 9.5, 9.75, 9.75, 10.25) inches
Sleeve length from cuff to underarm (adjustable): 44 (44, 44, 46, 46, 46, 48, 48, 48) cm / 17.25 (17.25, 17.25, 18, 18, 18, 19, 19, 19) inches
Upper arm circumference: 37 (38, 40, 42, 46, 51, 56, 59, 61) cm / 14.5 (15, 15.75, 16.5, 18, 20, 21.75, 23.25, 24) inches
Cuff circumference: 22 (22, 25, 25, 25, 25, 26, 26, 26) cm / 8.75 (8.75, 9.75, 9.75, 9.75, 9.75, 10.25, 10.25, 10.25) inches
Needles:
3.25 mm / US3 DPNs or a circular needle with a cable suitable for small circumference knitting for cuffs
3.25 mm / US3 circular needle with a cable length of 40 cm / 16 inches for the neckline
3.25 mm / US3 circular needle with a cable length of 80 cm / 32 inches for smaller sizes and 100 cm / 40 inches for larger sizes for the hem
4.0 mm / US6 DPNs or a circular needle with a cable suitable for small circumference knitting for sleeves
4.0 mm / US6 circular needle with a cable length of 80 cm / 32 inches for smaller sizes and 100 cm / 40 inches for larger sizes for the main part
Gauge:
19 sts and 27 rounds = 10 cm / 4 inches of Stockinette stitch in the round on larger needles, after blocking
Composition:
100% Baby Yak
Number of skeins:
8 (9, 10, 10, 11, 13, 14, 15, 17) skeins mYak Baby Yak Medium
Sizes 1 (2, 3, 4, 5, 6, 7, 8, 9)
Finished Measurements:
1 (2, 3, 4, 5, 6, 7, 8, 9)
Finished bust circumference: 81 (91, 101, 111, 121, 131, 141, 151, 161) cm / 32 (35.75, 39.75, 43.57, 47.75, 51.5, 55.5 59.5, 63.5) inches including the intended ease of 5-7.5 cm / 2-3 inches
Length from hem to underarm (adjustable): 30 (30, 30, 33, 33, 33, 35, 35, 35) cm / 11.75 (11.75, 11.75, 13, 13, 13, 13.75, 13.75, 13.75) inches
Yoke length: 23 (23, 23, 24, 24, 24, 25, 25, 26) cm / 9 (9, 9, 9.5, 9.5, 9.5, 9.75, 9.75, 10.25) inches
Sleeve length from cuff to underarm (adjustable): 44 (44, 44, 46, 46, 46, 48, 48, 48) cm / 17.25 (17.25, 17.25, 18, 18, 18, 19, 19, 19) inches
Upper arm circumference: 37 (38, 40, 42, 46, 51, 56, 59, 61) cm / 14.5 (15, 15.75, 16.5, 18, 20, 21.75, 23.25, 24) inches
Cuff circumference: 22 (22, 25, 25, 25, 25, 26, 26, 26) cm / 8.75 (8.75, 9.75, 9.75, 9.75, 9.75, 10.25, 10.25, 10.25) inches
Needles:
3.25 mm / US3 DPNs or a circular needle with a cable suitable for small circumference knitting for cuffs
3.25 mm / US3 circular needle with a cable length of 40 cm / 16 inches for the neckline
3.25 mm / US3 circular needle with a cable length of 80 cm / 32 inches for smaller sizes and 100 cm / 40 inches for larger sizes for the hem
4.0 mm / US6 DPNs or a circular needle with a cable suitable for small circumference knitting for sleeves
4.0 mm / US6 circular needle with a cable length of 80 cm / 32 inches for smaller sizes and 100 cm / 40 inches for larger sizes for the main part
Gauge:
19 sts and 27 rounds = 10 cm / 4 inches of Stockinette stitch in the round on larger needles, after blocking
Composition:
100% Baby Yak
Number of skeins:
8 (9, 10, 10, 11, 13, 14, 15, 17) skeins mYak Baby Yak Medium
Sizes 1 (2, 3, 4, 5, 6, 7, 8, 9)
Finished Measurements:
1 (2, 3, 4, 5, 6, 7, 8, 9)
Finished bust circumference: 81 (91, 101, 111, 121, 131, 141, 151, 161) cm / 32 (35.75, 39.75, 43.57, 47.75, 51.5, 55.5 59.5, 63.5) inches including the intended ease of 5-7.5 cm / 2-3 inches
Length from hem to underarm (adjustable): 30 (30, 30, 33, 33, 33, 35, 35, 35) cm / 11.75 (11.75, 11.75, 13, 13, 13, 13.75, 13.75, 13.75) inches
Yoke length: 23 (23, 23, 24, 24, 24, 25, 25, 26) cm / 9 (9, 9, 9.5, 9.5, 9.5, 9.75, 9.75, 10.25) inches
Sleeve length from cuff to underarm (adjustable): 44 (44, 44, 46, 46, 46, 48, 48, 48) cm / 17.25 (17.25, 17.25, 18, 18, 18, 19, 19, 19) inches
Upper arm circumference: 37 (38, 40, 42, 46, 51, 56, 59, 61) cm / 14.5 (15, 15.75, 16.5, 18, 20, 21.75, 23.25, 24) inches
Cuff circumference: 22 (22, 25, 25, 25, 25, 26, 26, 26) cm / 8.75 (8.75, 9.75, 9.75, 9.75, 9.75, 10.25, 10.25, 10.25) inches
Needles:
3.25 mm / US3 DPNs or a circular needle with a cable suitable for small circumference knitting for cuffs
3.25 mm / US3 circular needle with a cable length of 40 cm / 16 inches for the neckline
3.25 mm / US3 circular needle with a cable length of 80 cm / 32 inches for smaller sizes and 100 cm / 40 inches for larger sizes for the hem
4.0 mm / US6 DPNs or a circular needle with a cable suitable for small circumference knitting for sleeves
4.0 mm / US6 circular needle with a cable length of 80 cm / 32 inches for smaller sizes and 100 cm / 40 inches for larger sizes for the main part
Gauge:
19 sts and 27 rounds = 10 cm / 4 inches of Stockinette stitch in the round on larger needles, after blocking
Composition:
100% Baby Yak
Number of skeins:
8 (9, 10, 10, 11, 13, 14, 15, 17) skeins mYak Baby Yak Medium
Sizes 1 (2, 3, 4, 5, 6, 7, 8, 9)
Finished Measurements:
1 (2, 3, 4, 5, 6, 7, 8, 9)
Finished bust circumference: 81 (91, 101, 111, 121, 131, 141, 151, 161) cm / 32 (35.75, 39.75, 43.57, 47.75, 51.5, 55.5 59.5, 63.5) inches including the intended ease of 5-7.5 cm / 2-3 inches
Length from hem to underarm (adjustable): 30 (30, 30, 33, 33, 33, 35, 35, 35) cm / 11.75 (11.75, 11.75, 13, 13, 13, 13.75, 13.75, 13.75) inches
Yoke length: 23 (23, 23, 24, 24, 24, 25, 25, 26) cm / 9 (9, 9, 9.5, 9.5, 9.5, 9.75, 9.75, 10.25) inches
Sleeve length from cuff to underarm (adjustable): 44 (44, 44, 46, 46, 46, 48, 48, 48) cm / 17.25 (17.25, 17.25, 18, 18, 18, 19, 19, 19) inches
Upper arm circumference: 37 (38, 40, 42, 46, 51, 56, 59, 61) cm / 14.5 (15, 15.75, 16.5, 18, 20, 21.75, 23.25, 24) inches
Cuff circumference: 22 (22, 25, 25, 25, 25, 26, 26, 26) cm / 8.75 (8.75, 9.75, 9.75, 9.75, 9.75, 10.25, 10.25, 10.25) inches
Needles:
3.25 mm / US3 DPNs or a circular needle with a cable suitable for small circumference knitting for cuffs
3.25 mm / US3 circular needle with a cable length of 40 cm / 16 inches for the neckline
3.25 mm / US3 circular needle with a cable length of 80 cm / 32 inches for smaller sizes and 100 cm / 40 inches for larger sizes for the hem
4.0 mm / US6 DPNs or a circular needle with a cable suitable for small circumference knitting for sleeves
4.0 mm / US6 circular needle with a cable length of 80 cm / 32 inches for smaller sizes and 100 cm / 40 inches for larger sizes for the main part
Gauge:
19 sts and 27 rounds = 10 cm / 4 inches of Stockinette stitch in the round on larger needles, after blocking
Composition:
100% Baby Yak
Number of skeins:
8 (9, 10, 10, 11, 13, 14, 15, 17) skeins mYak Baby Yak Medium
Sizes 1 (2, 3, 4, 5, 6, 7, 8, 9)
Finished Measurements:
1 (2, 3, 4, 5, 6, 7, 8, 9)
Finished bust circumference: 81 (91, 101, 111, 121, 131, 141, 151, 161) cm / 32 (35.75, 39.75, 43.57, 47.75, 51.5, 55.5 59.5, 63.5) inches including the intended ease of 5-7.5 cm / 2-3 inches
Length from hem to underarm (adjustable): 30 (30, 30, 33, 33, 33, 35, 35, 35) cm / 11.75 (11.75, 11.75, 13, 13, 13, 13.75, 13.75, 13.75) inches
Yoke length: 23 (23, 23, 24, 24, 24, 25, 25, 26) cm / 9 (9, 9, 9.5, 9.5, 9.5, 9.75, 9.75, 10.25) inches
Sleeve length from cuff to underarm (adjustable): 44 (44, 44, 46, 46, 46, 48, 48, 48) cm / 17.25 (17.25, 17.25, 18, 18, 18, 19, 19, 19) inches
Upper arm circumference: 37 (38, 40, 42, 46, 51, 56, 59, 61) cm / 14.5 (15, 15.75, 16.5, 18, 20, 21.75, 23.25, 24) inches
Cuff circumference: 22 (22, 25, 25, 25, 25, 26, 26, 26) cm / 8.75 (8.75, 9.75, 9.75, 9.75, 9.75, 10.25, 10.25, 10.25) inches
Needles:
3.25 mm / US3 DPNs or a circular needle with a cable suitable for small circumference knitting for cuffs
3.25 mm / US3 circular needle with a cable length of 40 cm / 16 inches for the neckline
3.25 mm / US3 circular needle with a cable length of 80 cm / 32 inches for smaller sizes and 100 cm / 40 inches for larger sizes for the hem
4.0 mm / US6 DPNs or a circular needle with a cable suitable for small circumference knitting for sleeves
4.0 mm / US6 circular needle with a cable length of 80 cm / 32 inches for smaller sizes and 100 cm / 40 inches for larger sizes for the main part
Gauge:
19 sts and 27 rounds = 10 cm / 4 inches of Stockinette stitch in the round on larger needles, after blocking
Composition:
100% Baby Yak
Number of skeins:
8 (9, 10, 10, 11, 13, 14, 15, 17) skeins mYak Baby Yak Medium
Sizes 1 (2, 3, 4, 5, 6, 7, 8, 9)
Finished Measurements:
1 (2, 3, 4, 5, 6, 7, 8, 9)
Finished bust circumference: 81 (91, 101, 111, 121, 131, 141, 151, 161) cm / 32 (35.75, 39.75, 43.57, 47.75, 51.5, 55.5 59.5, 63.5) inches including the intended ease of 5-7.5 cm / 2-3 inches
Length from hem to underarm (adjustable): 30 (30, 30, 33, 33, 33, 35, 35, 35) cm / 11.75 (11.75, 11.75, 13, 13, 13, 13.75, 13.75, 13.75) inches
Yoke length: 23 (23, 23, 24, 24, 24, 25, 25, 26) cm / 9 (9, 9, 9.5, 9.5, 9.5, 9.75, 9.75, 10.25) inches
Sleeve length from cuff to underarm (adjustable): 44 (44, 44, 46, 46, 46, 48, 48, 48) cm / 17.25 (17.25, 17.25, 18, 18, 18, 19, 19, 19) inches
Upper arm circumference: 37 (38, 40, 42, 46, 51, 56, 59, 61) cm / 14.5 (15, 15.75, 16.5, 18, 20, 21.75, 23.25, 24) inches
Cuff circumference: 22 (22, 25, 25, 25, 25, 26, 26, 26) cm / 8.75 (8.75, 9.75, 9.75, 9.75, 9.75, 10.25, 10.25, 10.25) inches
Needles:
3.25 mm / US3 DPNs or a circular needle with a cable suitable for small circumference knitting for cuffs
3.25 mm / US3 circular needle with a cable length of 40 cm / 16 inches for the neckline
3.25 mm / US3 circular needle with a cable length of 80 cm / 32 inches for smaller sizes and 100 cm / 40 inches for larger sizes for the hem
4.0 mm / US6 DPNs or a circular needle with a cable suitable for small circumference knitting for sleeves
4.0 mm / US6 circular needle with a cable length of 80 cm / 32 inches for smaller sizes and 100 cm / 40 inches for larger sizes for the main part
Gauge:
19 sts and 27 rounds = 10 cm / 4 inches of Stockinette stitch in the round on larger needles, after blocking
Composition:
100% Baby Yak
Number of skeins:
8 (9, 10, 10, 11, 13, 14, 15, 17) skeins mYak Baby Yak Medium
Sizes 1 (2, 3, 4, 5, 6, 7, 8, 9)
Finished Measurements:
1 (2, 3, 4, 5, 6, 7, 8, 9)
Finished bust circumference: 81 (91, 101, 111, 121, 131, 141, 151, 161) cm / 32 (35.75, 39.75, 43.57, 47.75, 51.5, 55.5 59.5, 63.5) inches including the intended ease of 5-7.5 cm / 2-3 inches
Length from hem to underarm (adjustable): 30 (30, 30, 33, 33, 33, 35, 35, 35) cm / 11.75 (11.75, 11.75, 13, 13, 13, 13.75, 13.75, 13.75) inches
Yoke length: 23 (23, 23, 24, 24, 24, 25, 25, 26) cm / 9 (9, 9, 9.5, 9.5, 9.5, 9.75, 9.75, 10.25) inches
Sleeve length from cuff to underarm (adjustable): 44 (44, 44, 46, 46, 46, 48, 48, 48) cm / 17.25 (17.25, 17.25, 18, 18, 18, 19, 19, 19) inches
Upper arm circumference: 37 (38, 40, 42, 46, 51, 56, 59, 61) cm / 14.5 (15, 15.75, 16.5, 18, 20, 21.75, 23.25, 24) inches
Cuff circumference: 22 (22, 25, 25, 25, 25, 26, 26, 26) cm / 8.75 (8.75, 9.75, 9.75, 9.75, 9.75, 10.25, 10.25, 10.25) inches
Needles:
3.25 mm / US3 DPNs or a circular needle with a cable suitable for small circumference knitting for cuffs
3.25 mm / US3 circular needle with a cable length of 40 cm / 16 inches for the neckline
3.25 mm / US3 circular needle with a cable length of 80 cm / 32 inches for smaller sizes and 100 cm / 40 inches for larger sizes for the hem
4.0 mm / US6 DPNs or a circular needle with a cable suitable for small circumference knitting for sleeves
4.0 mm / US6 circular needle with a cable length of 80 cm / 32 inches for smaller sizes and 100 cm / 40 inches for larger sizes for the main part
Gauge:
19 sts and 27 rounds = 10 cm / 4 inches of Stockinette stitch in the round on larger needles, after blocking
Composition:
100% Baby Yak
Number of skeins:
8 (9, 10, 10, 11, 13, 14, 15, 17) skeins mYak Baby Yak Medium
Sizes 1 (2, 3, 4, 5, 6, 7, 8, 9)
Finished Measurements:
1 (2, 3, 4, 5, 6, 7, 8, 9)
Finished bust circumference: 81 (91, 101, 111, 121, 131, 141, 151, 161) cm / 32 (35.75, 39.75, 43.57, 47.75, 51.5, 55.5 59.5, 63.5) inches including the intended ease of 5-7.5 cm / 2-3 inches
Length from hem to underarm (adjustable): 30 (30, 30, 33, 33, 33, 35, 35, 35) cm / 11.75 (11.75, 11.75, 13, 13, 13, 13.75, 13.75, 13.75) inches
Yoke length: 23 (23, 23, 24, 24, 24, 25, 25, 26) cm / 9 (9, 9, 9.5, 9.5, 9.5, 9.75, 9.75, 10.25) inches
Sleeve length from cuff to underarm (adjustable): 44 (44, 44, 46, 46, 46, 48, 48, 48) cm / 17.25 (17.25, 17.25, 18, 18, 18, 19, 19, 19) inches
Upper arm circumference: 37 (38, 40, 42, 46, 51, 56, 59, 61) cm / 14.5 (15, 15.75, 16.5, 18, 20, 21.75, 23.25, 24) inches
Cuff circumference: 22 (22, 25, 25, 25, 25, 26, 26, 26) cm / 8.75 (8.75, 9.75, 9.75, 9.75, 9.75, 10.25, 10.25, 10.25) inches
Needles:
3.25 mm / US3 DPNs or a circular needle with a cable suitable for small circumference knitting for cuffs
3.25 mm / US3 circular needle with a cable length of 40 cm / 16 inches for the neckline
3.25 mm / US3 circular needle with a cable length of 80 cm / 32 inches for smaller sizes and 100 cm / 40 inches for larger sizes for the hem
4.0 mm / US6 DPNs or a circular needle with a cable suitable for small circumference knitting for sleeves
4.0 mm / US6 circular needle with a cable length of 80 cm / 32 inches for smaller sizes and 100 cm / 40 inches for larger sizes for the main part
Gauge:
19 sts and 27 rounds = 10 cm / 4 inches of Stockinette stitch in the round on larger needles, after blocking
Composition:
100% Baby Yak
Number of skeins:
8 (9, 10, 10, 11, 13, 14, 15, 17) skeins mYak Baby Yak Medium
Sizes 1 (2, 3, 4, 5, 6, 7, 8, 9)
Finished Measurements:
1 (2, 3, 4, 5, 6, 7, 8, 9)
Finished bust circumference: 81 (91, 101, 111, 121, 131, 141, 151, 161) cm / 32 (35.75, 39.75, 43.57, 47.75, 51.5, 55.5 59.5, 63.5) inches including the intended ease of 5-7.5 cm / 2-3 inches
Length from hem to underarm (adjustable): 30 (30, 30, 33, 33, 33, 35, 35, 35) cm / 11.75 (11.75, 11.75, 13, 13, 13, 13.75, 13.75, 13.75) inches
Yoke length: 23 (23, 23, 24, 24, 24, 25, 25, 26) cm / 9 (9, 9, 9.5, 9.5, 9.5, 9.75, 9.75, 10.25) inches
Sleeve length from cuff to underarm (adjustable): 44 (44, 44, 46, 46, 46, 48, 48, 48) cm / 17.25 (17.25, 17.25, 18, 18, 18, 19, 19, 19) inches
Upper arm circumference: 37 (38, 40, 42, 46, 51, 56, 59, 61) cm / 14.5 (15, 15.75, 16.5, 18, 20, 21.75, 23.25, 24) inches
Cuff circumference: 22 (22, 25, 25, 25, 25, 26, 26, 26) cm / 8.75 (8.75, 9.75, 9.75, 9.75, 9.75, 10.25, 10.25, 10.25) inches
Needles:
3.25 mm / US3 DPNs or a circular needle with a cable suitable for small circumference knitting for cuffs
3.25 mm / US3 circular needle with a cable length of 40 cm / 16 inches for the neckline
3.25 mm / US3 circular needle with a cable length of 80 cm / 32 inches for smaller sizes and 100 cm / 40 inches for larger sizes for the hem
4.0 mm / US6 DPNs or a circular needle with a cable suitable for small circumference knitting for sleeves
4.0 mm / US6 circular needle with a cable length of 80 cm / 32 inches for smaller sizes and 100 cm / 40 inches for larger sizes for the main part
Gauge:
19 sts and 27 rounds = 10 cm / 4 inches of Stockinette stitch in the round on larger needles, after blocking
Composition:
100% Baby Yak
Number of skeins:
8 (9, 10, 10, 11, 13, 14, 15, 17) skeins mYak Baby Yak Medium
Sizes 1 (2, 3, 4, 5, 6, 7, 8, 9)
Finished Measurements:
1 (2, 3, 4, 5, 6, 7, 8, 9)
Finished bust circumference: 81 (91, 101, 111, 121, 131, 141, 151, 161) cm / 32 (35.75, 39.75, 43.57, 47.75, 51.5, 55.5 59.5, 63.5) inches including the intended ease of 5-7.5 cm / 2-3 inches
Length from hem to underarm (adjustable): 30 (30, 30, 33, 33, 33, 35, 35, 35) cm / 11.75 (11.75, 11.75, 13, 13, 13, 13.75, 13.75, 13.75) inches
Yoke length: 23 (23, 23, 24, 24, 24, 25, 25, 26) cm / 9 (9, 9, 9.5, 9.5, 9.5, 9.75, 9.75, 10.25) inches
Sleeve length from cuff to underarm (adjustable): 44 (44, 44, 46, 46, 46, 48, 48, 48) cm / 17.25 (17.25, 17.25, 18, 18, 18, 19, 19, 19) inches
Upper arm circumference: 37 (38, 40, 42, 46, 51, 56, 59, 61) cm / 14.5 (15, 15.75, 16.5, 18, 20, 21.75, 23.25, 24) inches
Cuff circumference: 22 (22, 25, 25, 25, 25, 26, 26, 26) cm / 8.75 (8.75, 9.75, 9.75, 9.75, 9.75, 10.25, 10.25, 10.25) inches
Needles:
3.25 mm / US3 DPNs or a circular needle with a cable suitable for small circumference knitting for cuffs
3.25 mm / US3 circular needle with a cable length of 40 cm / 16 inches for the neckline
3.25 mm / US3 circular needle with a cable length of 80 cm / 32 inches for smaller sizes and 100 cm / 40 inches for larger sizes for the hem
4.0 mm / US6 DPNs or a circular needle with a cable suitable for small circumference knitting for sleeves
4.0 mm / US6 circular needle with a cable length of 80 cm / 32 inches for smaller sizes and 100 cm / 40 inches for larger sizes for the main part
Gauge:
19 sts and 27 rounds = 10 cm / 4 inches of Stockinette stitch in the round on larger needles, after blocking
Composition:
100% Baby Yak
Number of skeins:
8 (9, 10, 10, 11, 13, 14, 15, 17) skeins mYak Baby Yak Medium
Sizes 1 (2, 3, 4, 5, 6, 7, 8, 9)
Finished Measurements:
1 (2, 3, 4, 5, 6, 7, 8, 9)
Finished bust circumference: 81 (91, 101, 111, 121, 131, 141, 151, 161) cm / 32 (35.75, 39.75, 43.57, 47.75, 51.5, 55.5 59.5, 63.5) inches including the intended ease of 5-7.5 cm / 2-3 inches
Length from hem to underarm (adjustable): 30 (30, 30, 33, 33, 33, 35, 35, 35) cm / 11.75 (11.75, 11.75, 13, 13, 13, 13.75, 13.75, 13.75) inches
Yoke length: 23 (23, 23, 24, 24, 24, 25, 25, 26) cm / 9 (9, 9, 9.5, 9.5, 9.5, 9.75, 9.75, 10.25) inches
Sleeve length from cuff to underarm (adjustable): 44 (44, 44, 46, 46, 46, 48, 48, 48) cm / 17.25 (17.25, 17.25, 18, 18, 18, 19, 19, 19) inches
Upper arm circumference: 37 (38, 40, 42, 46, 51, 56, 59, 61) cm / 14.5 (15, 15.75, 16.5, 18, 20, 21.75, 23.25, 24) inches
Cuff circumference: 22 (22, 25, 25, 25, 25, 26, 26, 26) cm / 8.75 (8.75, 9.75, 9.75, 9.75, 9.75, 10.25, 10.25, 10.25) inches
Needles:
3.25 mm / US3 DPNs or a circular needle with a cable suitable for small circumference knitting for cuffs
3.25 mm / US3 circular needle with a cable length of 40 cm / 16 inches for the neckline
3.25 mm / US3 circular needle with a cable length of 80 cm / 32 inches for smaller sizes and 100 cm / 40 inches for larger sizes for the hem
4.0 mm / US6 DPNs or a circular needle with a cable suitable for small circumference knitting for sleeves
4.0 mm / US6 circular needle with a cable length of 80 cm / 32 inches for smaller sizes and 100 cm / 40 inches for larger sizes for the main part
Gauge:
19 sts and 27 rounds = 10 cm / 4 inches of Stockinette stitch in the round on larger needles, after blocking
Composition:
100% Baby Yak
Number of skeins:
8 (9, 10, 10, 11, 13, 14, 15, 17) skeins mYak Baby Yak Medium
Sizes 1 (2, 3, 4, 5, 6, 7, 8, 9)
Finished Measurements:
1 (2, 3, 4, 5, 6, 7, 8, 9)
Finished bust circumference: 81 (91, 101, 111, 121, 131, 141, 151, 161) cm / 32 (35.75, 39.75, 43.57, 47.75, 51.5, 55.5 59.5, 63.5) inches including the intended ease of 5-7.5 cm / 2-3 inches
Length from hem to underarm (adjustable): 30 (30, 30, 33, 33, 33, 35, 35, 35) cm / 11.75 (11.75, 11.75, 13, 13, 13, 13.75, 13.75, 13.75) inches
Yoke length: 23 (23, 23, 24, 24, 24, 25, 25, 26) cm / 9 (9, 9, 9.5, 9.5, 9.5, 9.75, 9.75, 10.25) inches
Sleeve length from cuff to underarm (adjustable): 44 (44, 44, 46, 46, 46, 48, 48, 48) cm / 17.25 (17.25, 17.25, 18, 18, 18, 19, 19, 19) inches
Upper arm circumference: 37 (38, 40, 42, 46, 51, 56, 59, 61) cm / 14.5 (15, 15.75, 16.5, 18, 20, 21.75, 23.25, 24) inches
Cuff circumference: 22 (22, 25, 25, 25, 25, 26, 26, 26) cm / 8.75 (8.75, 9.75, 9.75, 9.75, 9.75, 10.25, 10.25, 10.25) inches
Needles:
3.25 mm / US3 DPNs or a circular needle with a cable suitable for small circumference knitting for cuffs
3.25 mm / US3 circular needle with a cable length of 40 cm / 16 inches for the neckline
3.25 mm / US3 circular needle with a cable length of 80 cm / 32 inches for smaller sizes and 100 cm / 40 inches for larger sizes for the hem
4.0 mm / US6 DPNs or a circular needle with a cable suitable for small circumference knitting for sleeves
4.0 mm / US6 circular needle with a cable length of 80 cm / 32 inches for smaller sizes and 100 cm / 40 inches for larger sizes for the main part
Gauge:
19 sts and 27 rounds = 10 cm / 4 inches of Stockinette stitch in the round on larger needles, after blocking
Composition:
100% Baby Yak
Number of skeins:
8 (9, 10, 10, 11, 13, 14, 15, 17) skeins mYak Baby Yak Medium
Sizes 1 (2, 3, 4, 5, 6, 7, 8, 9)
Finished Measurements:
1 (2, 3, 4, 5, 6, 7, 8, 9)
Finished bust circumference: 81 (91, 101, 111, 121, 131, 141, 151, 161) cm / 32 (35.75, 39.75, 43.57, 47.75, 51.5, 55.5 59.5, 63.5) inches including the intended ease of 5-7.5 cm / 2-3 inches
Length from hem to underarm (adjustable): 30 (30, 30, 33, 33, 33, 35, 35, 35) cm / 11.75 (11.75, 11.75, 13, 13, 13, 13.75, 13.75, 13.75) inches
Yoke length: 23 (23, 23, 24, 24, 24, 25, 25, 26) cm / 9 (9, 9, 9.5, 9.5, 9.5, 9.75, 9.75, 10.25) inches
Sleeve length from cuff to underarm (adjustable): 44 (44, 44, 46, 46, 46, 48, 48, 48) cm / 17.25 (17.25, 17.25, 18, 18, 18, 19, 19, 19) inches
Upper arm circumference: 37 (38, 40, 42, 46, 51, 56, 59, 61) cm / 14.5 (15, 15.75, 16.5, 18, 20, 21.75, 23.25, 24) inches
Cuff circumference: 22 (22, 25, 25, 25, 25, 26, 26, 26) cm / 8.75 (8.75, 9.75, 9.75, 9.75, 9.75, 10.25, 10.25, 10.25) inches
Needles:
3.25 mm / US3 DPNs or a circular needle with a cable suitable for small circumference knitting for cuffs
3.25 mm / US3 circular needle with a cable length of 40 cm / 16 inches for the neckline
3.25 mm / US3 circular needle with a cable length of 80 cm / 32 inches for smaller sizes and 100 cm / 40 inches for larger sizes for the hem
4.0 mm / US6 DPNs or a circular needle with a cable suitable for small circumference knitting for sleeves
4.0 mm / US6 circular needle with a cable length of 80 cm / 32 inches for smaller sizes and 100 cm / 40 inches for larger sizes for the main part
Gauge:
19 sts and 27 rounds = 10 cm / 4 inches of Stockinette stitch in the round on larger needles, after blocking
Composition:
100% Baby Yak
Number of skeins:
8 (9, 10, 10, 11, 13, 14, 15, 17) skeins mYak Baby Yak Medium
Sizes 1 (2, 3, 4, 5, 6, 7, 8, 9)
Finished Measurements:
1 (2, 3, 4, 5, 6, 7, 8, 9)
Finished bust circumference: 81 (91, 101, 111, 121, 131, 141, 151, 161) cm / 32 (35.75, 39.75, 43.57, 47.75, 51.5, 55.5 59.5, 63.5) inches including the intended ease of 5-7.5 cm / 2-3 inches
Length from hem to underarm (adjustable): 30 (30, 30, 33, 33, 33, 35, 35, 35) cm / 11.75 (11.75, 11.75, 13, 13, 13, 13.75, 13.75, 13.75) inches
Yoke length: 23 (23, 23, 24, 24, 24, 25, 25, 26) cm / 9 (9, 9, 9.5, 9.5, 9.5, 9.75, 9.75, 10.25) inches
Sleeve length from cuff to underarm (adjustable): 44 (44, 44, 46, 46, 46, 48, 48, 48) cm / 17.25 (17.25, 17.25, 18, 18, 18, 19, 19, 19) inches
Upper arm circumference: 37 (38, 40, 42, 46, 51, 56, 59, 61) cm / 14.5 (15, 15.75, 16.5, 18, 20, 21.75, 23.25, 24) inches
Cuff circumference: 22 (22, 25, 25, 25, 25, 26, 26, 26) cm / 8.75 (8.75, 9.75, 9.75, 9.75, 9.75, 10.25, 10.25, 10.25) inches
Needles:
3.25 mm / US3 DPNs or a circular needle with a cable suitable for small circumference knitting for cuffs
3.25 mm / US3 circular needle with a cable length of 40 cm / 16 inches for the neckline
3.25 mm / US3 circular needle with a cable length of 80 cm / 32 inches for smaller sizes and 100 cm / 40 inches for larger sizes for the hem
4.0 mm / US6 DPNs or a circular needle with a cable suitable for small circumference knitting for sleeves
4.0 mm / US6 circular needle with a cable length of 80 cm / 32 inches for smaller sizes and 100 cm / 40 inches for larger sizes for the main part
Gauge:
19 sts and 27 rounds = 10 cm / 4 inches of Stockinette stitch in the round on larger needles, after blocking
Composition:
100% Baby Yak
Number of skeins:
8 (9, 10, 10, 11, 13, 14, 15, 17) skeins mYak Baby Yak Medium
Sizes 1 (2, 3, 4, 5, 6, 7, 8, 9)
Finished Measurements:
1 (2, 3, 4, 5, 6, 7, 8, 9)
Finished bust circumference: 81 (91, 101, 111, 121, 131, 141, 151, 161) cm / 32 (35.75, 39.75, 43.57, 47.75, 51.5, 55.5 59.5, 63.5) inches including the intended ease of 5-7.5 cm / 2-3 inches
Length from hem to underarm (adjustable): 30 (30, 30, 33, 33, 33, 35, 35, 35) cm / 11.75 (11.75, 11.75, 13, 13, 13, 13.75, 13.75, 13.75) inches
Yoke length: 23 (23, 23, 24, 24, 24, 25, 25, 26) cm / 9 (9, 9, 9.5, 9.5, 9.5, 9.75, 9.75, 10.25) inches
Sleeve length from cuff to underarm (adjustable): 44 (44, 44, 46, 46, 46, 48, 48, 48) cm / 17.25 (17.25, 17.25, 18, 18, 18, 19, 19, 19) inches
Upper arm circumference: 37 (38, 40, 42, 46, 51, 56, 59, 61) cm / 14.5 (15, 15.75, 16.5, 18, 20, 21.75, 23.25, 24) inches
Cuff circumference: 22 (22, 25, 25, 25, 25, 26, 26, 26) cm / 8.75 (8.75, 9.75, 9.75, 9.75, 9.75, 10.25, 10.25, 10.25) inches
Needles:
3.25 mm / US3 DPNs or a circular needle with a cable suitable for small circumference knitting for cuffs
3.25 mm / US3 circular needle with a cable length of 40 cm / 16 inches for the neckline
3.25 mm / US3 circular needle with a cable length of 80 cm / 32 inches for smaller sizes and 100 cm / 40 inches for larger sizes for the hem
4.0 mm / US6 DPNs or a circular needle with a cable suitable for small circumference knitting for sleeves
4.0 mm / US6 circular needle with a cable length of 80 cm / 32 inches for smaller sizes and 100 cm / 40 inches for larger sizes for the main part
Gauge:
19 sts and 27 rounds = 10 cm / 4 inches of Stockinette stitch in the round on larger needles, after blocking
Composition:
100% Baby Yak
Number of skeins:
8 (9, 10, 10, 11, 13, 14, 15, 17) skeins mYak Baby Yak Medium
Sizes 1 (2, 3, 4, 5, 6, 7, 8, 9)
Finished Measurements:
1 (2, 3, 4, 5, 6, 7, 8, 9)
Finished bust circumference: 81 (91, 101, 111, 121, 131, 141, 151, 161) cm / 32 (35.75, 39.75, 43.57, 47.75, 51.5, 55.5 59.5, 63.5) inches including the intended ease of 5-7.5 cm / 2-3 inches
Length from hem to underarm (adjustable): 30 (30, 30, 33, 33, 33, 35, 35, 35) cm / 11.75 (11.75, 11.75, 13, 13, 13, 13.75, 13.75, 13.75) inches
Yoke length: 23 (23, 23, 24, 24, 24, 25, 25, 26) cm / 9 (9, 9, 9.5, 9.5, 9.5, 9.75, 9.75, 10.25) inches
Sleeve length from cuff to underarm (adjustable): 44 (44, 44, 46, 46, 46, 48, 48, 48) cm / 17.25 (17.25, 17.25, 18, 18, 18, 19, 19, 19) inches
Upper arm circumference: 37 (38, 40, 42, 46, 51, 56, 59, 61) cm / 14.5 (15, 15.75, 16.5, 18, 20, 21.75, 23.25, 24) inches
Cuff circumference: 22 (22, 25, 25, 25, 25, 26, 26, 26) cm / 8.75 (8.75, 9.75, 9.75, 9.75, 9.75, 10.25, 10.25, 10.25) inches
Needles:
3.25 mm / US3 DPNs or a circular needle with a cable suitable for small circumference knitting for cuffs
3.25 mm / US3 circular needle with a cable length of 40 cm / 16 inches for the neckline
3.25 mm / US3 circular needle with a cable length of 80 cm / 32 inches for smaller sizes and 100 cm / 40 inches for larger sizes for the hem
4.0 mm / US6 DPNs or a circular needle with a cable suitable for small circumference knitting for sleeves
4.0 mm / US6 circular needle with a cable length of 80 cm / 32 inches for smaller sizes and 100 cm / 40 inches for larger sizes for the main part
Gauge:
19 sts and 27 rounds = 10 cm / 4 inches of Stockinette stitch in the round on larger needles, after blocking
Composition:
100% Baby Yak
Number of skeins:
8 (9, 10, 10, 11, 13, 14, 15, 17) skeins mYak Baby Yak Medium
Sizes 1 (2, 3, 4, 5, 6, 7, 8, 9)
Finished Measurements:
1 (2, 3, 4, 5, 6, 7, 8, 9)
Finished bust circumference: 81 (91, 101, 111, 121, 131, 141, 151, 161) cm / 32 (35.75, 39.75, 43.57, 47.75, 51.5, 55.5 59.5, 63.5) inches including the intended ease of 5-7.5 cm / 2-3 inches
Length from hem to underarm (adjustable): 30 (30, 30, 33, 33, 33, 35, 35, 35) cm / 11.75 (11.75, 11.75, 13, 13, 13, 13.75, 13.75, 13.75) inches
Yoke length: 23 (23, 23, 24, 24, 24, 25, 25, 26) cm / 9 (9, 9, 9.5, 9.5, 9.5, 9.75, 9.75, 10.25) inches
Sleeve length from cuff to underarm (adjustable): 44 (44, 44, 46, 46, 46, 48, 48, 48) cm / 17.25 (17.25, 17.25, 18, 18, 18, 19, 19, 19) inches
Upper arm circumference: 37 (38, 40, 42, 46, 51, 56, 59, 61) cm / 14.5 (15, 15.75, 16.5, 18, 20, 21.75, 23.25, 24) inches
Cuff circumference: 22 (22, 25, 25, 25, 25, 26, 26, 26) cm / 8.75 (8.75, 9.75, 9.75, 9.75, 9.75, 10.25, 10.25, 10.25) inches
Needles:
3.25 mm / US3 DPNs or a circular needle with a cable suitable for small circumference knitting for cuffs
3.25 mm / US3 circular needle with a cable length of 40 cm / 16 inches for the neckline
3.25 mm / US3 circular needle with a cable length of 80 cm / 32 inches for smaller sizes and 100 cm / 40 inches for larger sizes for the hem
4.0 mm / US6 DPNs or a circular needle with a cable suitable for small circumference knitting for sleeves
4.0 mm / US6 circular needle with a cable length of 80 cm / 32 inches for smaller sizes and 100 cm / 40 inches for larger sizes for the main part
Gauge:
19 sts and 27 rounds = 10 cm / 4 inches of Stockinette stitch in the round on larger needles, after blocking
Composition:
100% Baby Yak
Number of skeins:
8 (9, 10, 10, 11, 13, 14, 15, 17) skeins mYak Baby Yak Medium
Sizes 1 (2, 3, 4, 5, 6, 7, 8, 9)
Finished Measurements:
1 (2, 3, 4, 5, 6, 7, 8, 9)
Finished bust circumference: 81 (91, 101, 111, 121, 131, 141, 151, 161) cm / 32 (35.75, 39.75, 43.57, 47.75, 51.5, 55.5 59.5, 63.5) inches including the intended ease of 5-7.5 cm / 2-3 inches
Length from hem to underarm (adjustable): 30 (30, 30, 33, 33, 33, 35, 35, 35) cm / 11.75 (11.75, 11.75, 13, 13, 13, 13.75, 13.75, 13.75) inches
Yoke length: 23 (23, 23, 24, 24, 24, 25, 25, 26) cm / 9 (9, 9, 9.5, 9.5, 9.5, 9.75, 9.75, 10.25) inches
Sleeve length from cuff to underarm (adjustable): 44 (44, 44, 46, 46, 46, 48, 48, 48) cm / 17.25 (17.25, 17.25, 18, 18, 18, 19, 19, 19) inches
Upper arm circumference: 37 (38, 40, 42, 46, 51, 56, 59, 61) cm / 14.5 (15, 15.75, 16.5, 18, 20, 21.75, 23.25, 24) inches
Cuff circumference: 22 (22, 25, 25, 25, 25, 26, 26, 26) cm / 8.75 (8.75, 9.75, 9.75, 9.75, 9.75, 10.25, 10.25, 10.25) inches
Needles:
3.25 mm / US3 DPNs or a circular needle with a cable suitable for small circumference knitting for cuffs
3.25 mm / US3 circular needle with a cable length of 40 cm / 16 inches for the neckline
3.25 mm / US3 circular needle with a cable length of 80 cm / 32 inches for smaller sizes and 100 cm / 40 inches for larger sizes for the hem
4.0 mm / US6 DPNs or a circular needle with a cable suitable for small circumference knitting for sleeves
4.0 mm / US6 circular needle with a cable length of 80 cm / 32 inches for smaller sizes and 100 cm / 40 inches for larger sizes for the main part
Gauge:
19 sts and 27 rounds = 10 cm / 4 inches of Stockinette stitch in the round on larger needles, after blocking
Composition:
100% Baby Yak
Number of skeins:
8 (9, 10, 10, 11, 13, 14, 15, 17) skeins mYak Baby Yak Medium
Sizes 1 (2, 3, 4, 5, 6, 7, 8, 9)
Finished Measurements:
1 (2, 3, 4, 5, 6, 7, 8, 9)
Finished bust circumference: 81 (91, 101, 111, 121, 131, 141, 151, 161) cm / 32 (35.75, 39.75, 43.57, 47.75, 51.5, 55.5 59.5, 63.5) inches including the intended ease of 5-7.5 cm / 2-3 inches
Length from hem to underarm (adjustable): 30 (30, 30, 33, 33, 33, 35, 35, 35) cm / 11.75 (11.75, 11.75, 13, 13, 13, 13.75, 13.75, 13.75) inches
Yoke length: 23 (23, 23, 24, 24, 24, 25, 25, 26) cm / 9 (9, 9, 9.5, 9.5, 9.5, 9.75, 9.75, 10.25) inches
Sleeve length from cuff to underarm (adjustable): 44 (44, 44, 46, 46, 46, 48, 48, 48) cm / 17.25 (17.25, 17.25, 18, 18, 18, 19, 19, 19) inches
Upper arm circumference: 37 (38, 40, 42, 46, 51, 56, 59, 61) cm / 14.5 (15, 15.75, 16.5, 18, 20, 21.75, 23.25, 24) inches
Cuff circumference: 22 (22, 25, 25, 25, 25, 26, 26, 26) cm / 8.75 (8.75, 9.75, 9.75, 9.75, 9.75, 10.25, 10.25, 10.25) inches
Needles:
3.25 mm / US3 DPNs or a circular needle with a cable suitable for small circumference knitting for cuffs
3.25 mm / US3 circular needle with a cable length of 40 cm / 16 inches for the neckline
3.25 mm / US3 circular needle with a cable length of 80 cm / 32 inches for smaller sizes and 100 cm / 40 inches for larger sizes for the hem
4.0 mm / US6 DPNs or a circular needle with a cable suitable for small circumference knitting for sleeves
4.0 mm / US6 circular needle with a cable length of 80 cm / 32 inches for smaller sizes and 100 cm / 40 inches for larger sizes for the main part
Gauge:
19 sts and 27 rounds = 10 cm / 4 inches of Stockinette stitch in the round on larger needles, after blocking
Composition:
100% Baby Yak
Number of skeins:
8 (9, 10, 10, 11, 13, 14, 15, 17) skeins mYak Baby Yak Medium
Sizes 1 (2, 3, 4, 5, 6, 7, 8, 9)
Finished Measurements:
1 (2, 3, 4, 5, 6, 7, 8, 9)
Finished bust circumference: 81 (91, 101, 111, 121, 131, 141, 151, 161) cm / 32 (35.75, 39.75, 43.57, 47.75, 51.5, 55.5 59.5, 63.5) inches including the intended ease of 5-7.5 cm / 2-3 inches
Length from hem to underarm (adjustable): 30 (30, 30, 33, 33, 33, 35, 35, 35) cm / 11.75 (11.75, 11.75, 13, 13, 13, 13.75, 13.75, 13.75) inches
Yoke length: 23 (23, 23, 24, 24, 24, 25, 25, 26) cm / 9 (9, 9, 9.5, 9.5, 9.5, 9.75, 9.75, 10.25) inches
Sleeve length from cuff to underarm (adjustable): 44 (44, 44, 46, 46, 46, 48, 48, 48) cm / 17.25 (17.25, 17.25, 18, 18, 18, 19, 19, 19) inches
Upper arm circumference: 37 (38, 40, 42, 46, 51, 56, 59, 61) cm / 14.5 (15, 15.75, 16.5, 18, 20, 21.75, 23.25, 24) inches
Cuff circumference: 22 (22, 25, 25, 25, 25, 26, 26, 26) cm / 8.75 (8.75, 9.75, 9.75, 9.75, 9.75, 10.25, 10.25, 10.25) inches
Needles:
3.25 mm / US3 DPNs or a circular needle with a cable suitable for small circumference knitting for cuffs
3.25 mm / US3 circular needle with a cable length of 40 cm / 16 inches for the neckline
3.25 mm / US3 circular needle with a cable length of 80 cm / 32 inches for smaller sizes and 100 cm / 40 inches for larger sizes for the hem
4.0 mm / US6 DPNs or a circular needle with a cable suitable for small circumference knitting for sleeves
4.0 mm / US6 circular needle with a cable length of 80 cm / 32 inches for smaller sizes and 100 cm / 40 inches for larger sizes for the main part
Gauge:
19 sts and 27 rounds = 10 cm / 4 inches of Stockinette stitch in the round on larger needles, after blocking
Composition:
100% Baby Yak
Number of skeins:
8 (9, 10, 10, 11, 13, 14, 15, 17) skeins mYak Baby Yak Medium
Sizes 1 (2, 3, 4, 5, 6, 7, 8, 9)
Finished Measurements:
1 (2, 3, 4, 5, 6, 7, 8, 9)
Finished bust circumference: 81 (91, 101, 111, 121, 131, 141, 151, 161) cm / 32 (35.75, 39.75, 43.57, 47.75, 51.5, 55.5 59.5, 63.5) inches including the intended ease of 5-7.5 cm / 2-3 inches
Length from hem to underarm (adjustable): 30 (30, 30, 33, 33, 33, 35, 35, 35) cm / 11.75 (11.75, 11.75, 13, 13, 13, 13.75, 13.75, 13.75) inches
Yoke length: 23 (23, 23, 24, 24, 24, 25, 25, 26) cm / 9 (9, 9, 9.5, 9.5, 9.5, 9.75, 9.75, 10.25) inches
Sleeve length from cuff to underarm (adjustable): 44 (44, 44, 46, 46, 46, 48, 48, 48) cm / 17.25 (17.25, 17.25, 18, 18, 18, 19, 19, 19) inches
Upper arm circumference: 37 (38, 40, 42, 46, 51, 56, 59, 61) cm / 14.5 (15, 15.75, 16.5, 18, 20, 21.75, 23.25, 24) inches
Cuff circumference: 22 (22, 25, 25, 25, 25, 26, 26, 26) cm / 8.75 (8.75, 9.75, 9.75, 9.75, 9.75, 10.25, 10.25, 10.25) inches
Needles:
3.25 mm / US3 DPNs or a circular needle with a cable suitable for small circumference knitting for cuffs
3.25 mm / US3 circular needle with a cable length of 40 cm / 16 inches for the neckline
3.25 mm / US3 circular needle with a cable length of 80 cm / 32 inches for smaller sizes and 100 cm / 40 inches for larger sizes for the hem
4.0 mm / US6 DPNs or a circular needle with a cable suitable for small circumference knitting for sleeves
4.0 mm / US6 circular needle with a cable length of 80 cm / 32 inches for smaller sizes and 100 cm / 40 inches for larger sizes for the main part
Gauge:
19 sts and 27 rounds = 10 cm / 4 inches of Stockinette stitch in the round on larger needles, after blocking
Composition:
100% Baby Yak
Number of skeins:
8 (9, 10, 10, 11, 13, 14, 15, 17) skeins mYak Baby Yak Medium
Sizes 1 (2, 3, 4, 5, 6, 7, 8, 9)
Finished Measurements:
1 (2, 3, 4, 5, 6, 7, 8, 9)
Finished bust circumference: 81 (91, 101, 111, 121, 131, 141, 151, 161) cm / 32 (35.75, 39.75, 43.57, 47.75, 51.5, 55.5 59.5, 63.5) inches including the intended ease of 5-7.5 cm / 2-3 inches
Length from hem to underarm (adjustable): 30 (30, 30, 33, 33, 33, 35, 35, 35) cm / 11.75 (11.75, 11.75, 13, 13, 13, 13.75, 13.75, 13.75) inches
Yoke length: 23 (23, 23, 24, 24, 24, 25, 25, 26) cm / 9 (9, 9, 9.5, 9.5, 9.5, 9.75, 9.75, 10.25) inches
Sleeve length from cuff to underarm (adjustable): 44 (44, 44, 46, 46, 46, 48, 48, 48) cm / 17.25 (17.25, 17.25, 18, 18, 18, 19, 19, 19) inches
Upper arm circumference: 37 (38, 40, 42, 46, 51, 56, 59, 61) cm / 14.5 (15, 15.75, 16.5, 18, 20, 21.75, 23.25, 24) inches
Cuff circumference: 22 (22, 25, 25, 25, 25, 26, 26, 26) cm / 8.75 (8.75, 9.75, 9.75, 9.75, 9.75, 10.25, 10.25, 10.25) inches
Needles:
3.25 mm / US3 DPNs or a circular needle with a cable suitable for small circumference knitting for cuffs
3.25 mm / US3 circular needle with a cable length of 40 cm / 16 inches for the neckline
3.25 mm / US3 circular needle with a cable length of 80 cm / 32 inches for smaller sizes and 100 cm / 40 inches for larger sizes for the hem
4.0 mm / US6 DPNs or a circular needle with a cable suitable for small circumference knitting for sleeves
4.0 mm / US6 circular needle with a cable length of 80 cm / 32 inches for smaller sizes and 100 cm / 40 inches for larger sizes for the main part
Gauge:
19 sts and 27 rounds = 10 cm / 4 inches of Stockinette stitch in the round on larger needles, after blocking
Composition:
100% Baby Yak
Number of skeins:
8 (9, 10, 10, 11, 13, 14, 15, 17) skeins mYak Baby Yak Medium
Sizes 1 (2, 3, 4, 5, 6, 7, 8, 9)
Finished Measurements:
1 (2, 3, 4, 5, 6, 7, 8, 9)
Finished bust circumference: 81 (91, 101, 111, 121, 131, 141, 151, 161) cm / 32 (35.75, 39.75, 43.57, 47.75, 51.5, 55.5 59.5, 63.5) inches including the intended ease of 5-7.5 cm / 2-3 inches
Length from hem to underarm (adjustable): 30 (30, 30, 33, 33, 33, 35, 35, 35) cm / 11.75 (11.75, 11.75, 13, 13, 13, 13.75, 13.75, 13.75) inches
Yoke length: 23 (23, 23, 24, 24, 24, 25, 25, 26) cm / 9 (9, 9, 9.5, 9.5, 9.5, 9.75, 9.75, 10.25) inches
Sleeve length from cuff to underarm (adjustable): 44 (44, 44, 46, 46, 46, 48, 48, 48) cm / 17.25 (17.25, 17.25, 18, 18, 18, 19, 19, 19) inches
Upper arm circumference: 37 (38, 40, 42, 46, 51, 56, 59, 61) cm / 14.5 (15, 15.75, 16.5, 18, 20, 21.75, 23.25, 24) inches
Cuff circumference: 22 (22, 25, 25, 25, 25, 26, 26, 26) cm / 8.75 (8.75, 9.75, 9.75, 9.75, 9.75, 10.25, 10.25, 10.25) inches
Needles:
3.25 mm / US3 DPNs or a circular needle with a cable suitable for small circumference knitting for cuffs
3.25 mm / US3 circular needle with a cable length of 40 cm / 16 inches for the neckline
3.25 mm / US3 circular needle with a cable length of 80 cm / 32 inches for smaller sizes and 100 cm / 40 inches for larger sizes for the hem
4.0 mm / US6 DPNs or a circular needle with a cable suitable for small circumference knitting for sleeves
4.0 mm / US6 circular needle with a cable length of 80 cm / 32 inches for smaller sizes and 100 cm / 40 inches for larger sizes for the main part
Gauge:
19 sts and 27 rounds = 10 cm / 4 inches of Stockinette stitch in the round on larger needles, after blocking
Composition:
100% Baby Yak
Number of skeins:
8 (9, 10, 10, 11, 13, 14, 15, 17) skeins mYak Baby Yak Medium
Sizes 1 (2, 3, 4, 5, 6, 7, 8, 9)
Finished Measurements:
1 (2, 3, 4, 5, 6, 7, 8, 9)
Finished bust circumference: 81 (91, 101, 111, 121, 131, 141, 151, 161) cm / 32 (35.75, 39.75, 43.57, 47.75, 51.5, 55.5 59.5, 63.5) inches including the intended ease of 5-7.5 cm / 2-3 inches
Length from hem to underarm (adjustable): 30 (30, 30, 33, 33, 33, 35, 35, 35) cm / 11.75 (11.75, 11.75, 13, 13, 13, 13.75, 13.75, 13.75) inches
Yoke length: 23 (23, 23, 24, 24, 24, 25, 25, 26) cm / 9 (9, 9, 9.5, 9.5, 9.5, 9.75, 9.75, 10.25) inches
Sleeve length from cuff to underarm (adjustable): 44 (44, 44, 46, 46, 46, 48, 48, 48) cm / 17.25 (17.25, 17.25, 18, 18, 18, 19, 19, 19) inches
Upper arm circumference: 37 (38, 40, 42, 46, 51, 56, 59, 61) cm / 14.5 (15, 15.75, 16.5, 18, 20, 21.75, 23.25, 24) inches
Cuff circumference: 22 (22, 25, 25, 25, 25, 26, 26, 26) cm / 8.75 (8.75, 9.75, 9.75, 9.75, 9.75, 10.25, 10.25, 10.25) inches
Needles:
3.25 mm / US3 DPNs or a circular needle with a cable suitable for small circumference knitting for cuffs
3.25 mm / US3 circular needle with a cable length of 40 cm / 16 inches for the neckline
3.25 mm / US3 circular needle with a cable length of 80 cm / 32 inches for smaller sizes and 100 cm / 40 inches for larger sizes for the hem
4.0 mm / US6 DPNs or a circular needle with a cable suitable for small circumference knitting for sleeves
4.0 mm / US6 circular needle with a cable length of 80 cm / 32 inches for smaller sizes and 100 cm / 40 inches for larger sizes for the main part
Gauge:
19 sts and 27 rounds = 10 cm / 4 inches of Stockinette stitch in the round on larger needles, after blocking
Composition:
100% Baby Yak
Number of skeins:
8 (9, 10, 10, 11, 13, 14, 15, 17) skeins mYak Baby Yak Medium
Sizes 1 (2, 3, 4, 5, 6, 7, 8, 9)
Finished Measurements:
1 (2, 3, 4, 5, 6, 7, 8, 9)
Finished bust circumference: 81 (91, 101, 111, 121, 131, 141, 151, 161) cm / 32 (35.75, 39.75, 43.57, 47.75, 51.5, 55.5 59.5, 63.5) inches including the intended ease of 5-7.5 cm / 2-3 inches
Length from hem to underarm (adjustable): 30 (30, 30, 33, 33, 33, 35, 35, 35) cm / 11.75 (11.75, 11.75, 13, 13, 13, 13.75, 13.75, 13.75) inches
Yoke length: 23 (23, 23, 24, 24, 24, 25, 25, 26) cm / 9 (9, 9, 9.5, 9.5, 9.5, 9.75, 9.75, 10.25) inches
Sleeve length from cuff to underarm (adjustable): 44 (44, 44, 46, 46, 46, 48, 48, 48) cm / 17.25 (17.25, 17.25, 18, 18, 18, 19, 19, 19) inches
Upper arm circumference: 37 (38, 40, 42, 46, 51, 56, 59, 61) cm / 14.5 (15, 15.75, 16.5, 18, 20, 21.75, 23.25, 24) inches
Cuff circumference: 22 (22, 25, 25, 25, 25, 26, 26, 26) cm / 8.75 (8.75, 9.75, 9.75, 9.75, 9.75, 10.25, 10.25, 10.25) inches
Needles:
3.25 mm / US3 DPNs or a circular needle with a cable suitable for small circumference knitting for cuffs
3.25 mm / US3 circular needle with a cable length of 40 cm / 16 inches for the neckline
3.25 mm / US3 circular needle with a cable length of 80 cm / 32 inches for smaller sizes and 100 cm / 40 inches for larger sizes for the hem
4.0 mm / US6 DPNs or a circular needle with a cable suitable for small circumference knitting for sleeves
4.0 mm / US6 circular needle with a cable length of 80 cm / 32 inches for smaller sizes and 100 cm / 40 inches for larger sizes for the main part
Gauge:
19 sts and 27 rounds = 10 cm / 4 inches of Stockinette stitch in the round on larger needles, after blocking
Composition:
100% Baby Yak
Number of skeins:
8 (9, 10, 10, 11, 13, 14, 15, 17) skeins mYak Baby Yak Medium
Sizes 1 (2, 3, 4, 5, 6, 7, 8, 9)
Finished Measurements:
1 (2, 3, 4, 5, 6, 7, 8, 9)
Finished bust circumference: 81 (91, 101, 111, 121, 131, 141, 151, 161) cm / 32 (35.75, 39.75, 43.57, 47.75, 51.5, 55.5 59.5, 63.5) inches including the intended ease of 5-7.5 cm / 2-3 inches
Length from hem to underarm (adjustable): 30 (30, 30, 33, 33, 33, 35, 35, 35) cm / 11.75 (11.75, 11.75, 13, 13, 13, 13.75, 13.75, 13.75) inches
Yoke length: 23 (23, 23, 24, 24, 24, 25, 25, 26) cm / 9 (9, 9, 9.5, 9.5, 9.5, 9.75, 9.75, 10.25) inches
Sleeve length from cuff to underarm (adjustable): 44 (44, 44, 46, 46, 46, 48, 48, 48) cm / 17.25 (17.25, 17.25, 18, 18, 18, 19, 19, 19) inches
Upper arm circumference: 37 (38, 40, 42, 46, 51, 56, 59, 61) cm / 14.5 (15, 15.75, 16.5, 18, 20, 21.75, 23.25, 24) inches
Cuff circumference: 22 (22, 25, 25, 25, 25, 26, 26, 26) cm / 8.75 (8.75, 9.75, 9.75, 9.75, 9.75, 10.25, 10.25, 10.25) inches
Needles:
3.25 mm / US3 DPNs or a circular needle with a cable suitable for small circumference knitting for cuffs
3.25 mm / US3 circular needle with a cable length of 40 cm / 16 inches for the neckline
3.25 mm / US3 circular needle with a cable length of 80 cm / 32 inches for smaller sizes and 100 cm / 40 inches for larger sizes for the hem
4.0 mm / US6 DPNs or a circular needle with a cable suitable for small circumference knitting for sleeves
4.0 mm / US6 circular needle with a cable length of 80 cm / 32 inches for smaller sizes and 100 cm / 40 inches for larger sizes for the main part
Gauge:
19 sts and 27 rounds = 10 cm / 4 inches of Stockinette stitch in the round on larger needles, after blocking
Composition:
100% Baby Yak
Number of skeins:
8 (9, 10, 10, 11, 13, 14, 15, 17) skeins mYak Baby Yak Medium
Sizes 1 (2, 3, 4, 5, 6, 7, 8, 9)
Finished Measurements:
1 (2, 3, 4, 5, 6, 7, 8, 9)
Finished bust circumference: 81 (91, 101, 111, 121, 131, 141, 151, 161) cm / 32 (35.75, 39.75, 43.57, 47.75, 51.5, 55.5 59.5, 63.5) inches including the intended ease of 5-7.5 cm / 2-3 inches
Length from hem to underarm (adjustable): 30 (30, 30, 33, 33, 33, 35, 35, 35) cm / 11.75 (11.75, 11.75, 13, 13, 13, 13.75, 13.75, 13.75) inches
Yoke length: 23 (23, 23, 24, 24, 24, 25, 25, 26) cm / 9 (9, 9, 9.5, 9.5, 9.5, 9.75, 9.75, 10.25) inches
Sleeve length from cuff to underarm (adjustable): 44 (44, 44, 46, 46, 46, 48, 48, 48) cm / 17.25 (17.25, 17.25, 18, 18, 18, 19, 19, 19) inches
Upper arm circumference: 37 (38, 40, 42, 46, 51, 56, 59, 61) cm / 14.5 (15, 15.75, 16.5, 18, 20, 21.75, 23.25, 24) inches
Cuff circumference: 22 (22, 25, 25, 25, 25, 26, 26, 26) cm / 8.75 (8.75, 9.75, 9.75, 9.75, 9.75, 10.25, 10.25, 10.25) inches
Needles:
3.25 mm / US3 DPNs or a circular needle with a cable suitable for small circumference knitting for cuffs
3.25 mm / US3 circular needle with a cable length of 40 cm / 16 inches for the neckline
3.25 mm / US3 circular needle with a cable length of 80 cm / 32 inches for smaller sizes and 100 cm / 40 inches for larger sizes for the hem
4.0 mm / US6 DPNs or a circular needle with a cable suitable for small circumference knitting for sleeves
4.0 mm / US6 circular needle with a cable length of 80 cm / 32 inches for smaller sizes and 100 cm / 40 inches for larger sizes for the main part
Gauge:
19 sts and 27 rounds = 10 cm / 4 inches of Stockinette stitch in the round on larger needles, after blocking
Composition:
100% Baby Yak
Number of skeins:
8 (9, 10, 10, 11, 13, 14, 15, 17) skeins mYak Baby Yak Medium
Sizes 1 (2, 3, 4, 5, 6, 7, 8, 9)
Finished Measurements:
1 (2, 3, 4, 5, 6, 7, 8, 9)
Finished bust circumference: 81 (91, 101, 111, 121, 131, 141, 151, 161) cm / 32 (35.75, 39.75, 43.57, 47.75, 51.5, 55.5 59.5, 63.5) inches including the intended ease of 5-7.5 cm / 2-3 inches
Length from hem to underarm (adjustable): 30 (30, 30, 33, 33, 33, 35, 35, 35) cm / 11.75 (11.75, 11.75, 13, 13, 13, 13.75, 13.75, 13.75) inches
Yoke length: 23 (23, 23, 24, 24, 24, 25, 25, 26) cm / 9 (9, 9, 9.5, 9.5, 9.5, 9.75, 9.75, 10.25) inches
Sleeve length from cuff to underarm (adjustable): 44 (44, 44, 46, 46, 46, 48, 48, 48) cm / 17.25 (17.25, 17.25, 18, 18, 18, 19, 19, 19) inches
Upper arm circumference: 37 (38, 40, 42, 46, 51, 56, 59, 61) cm / 14.5 (15, 15.75, 16.5, 18, 20, 21.75, 23.25, 24) inches
Cuff circumference: 22 (22, 25, 25, 25, 25, 26, 26, 26) cm / 8.75 (8.75, 9.75, 9.75, 9.75, 9.75, 10.25, 10.25, 10.25) inches
Needles:
3.25 mm / US3 DPNs or a circular needle with a cable suitable for small circumference knitting for cuffs
3.25 mm / US3 circular needle with a cable length of 40 cm / 16 inches for the neckline
3.25 mm / US3 circular needle with a cable length of 80 cm / 32 inches for smaller sizes and 100 cm / 40 inches for larger sizes for the hem
4.0 mm / US6 DPNs or a circular needle with a cable suitable for small circumference knitting for sleeves
4.0 mm / US6 circular needle with a cable length of 80 cm / 32 inches for smaller sizes and 100 cm / 40 inches for larger sizes for the main part
Gauge:
19 sts and 27 rounds = 10 cm / 4 inches of Stockinette stitch in the round on larger needles, after blocking
Composition:
100% Baby Yak
Number of skeins:
8 (9, 10, 10, 11, 13, 14, 15, 17) skeins mYak Baby Yak Medium
Sizes 1 (2, 3, 4, 5, 6, 7, 8, 9)
Finished Measurements:
1 (2, 3, 4, 5, 6, 7, 8, 9)
Finished bust circumference: 81 (91, 101, 111, 121, 131, 141, 151, 161) cm / 32 (35.75, 39.75, 43.57, 47.75, 51.5, 55.5 59.5, 63.5) inches including the intended ease of 5-7.5 cm / 2-3 inches
Length from hem to underarm (adjustable): 30 (30, 30, 33, 33, 33, 35, 35, 35) cm / 11.75 (11.75, 11.75, 13, 13, 13, 13.75, 13.75, 13.75) inches
Yoke length: 23 (23, 23, 24, 24, 24, 25, 25, 26) cm / 9 (9, 9, 9.5, 9.5, 9.5, 9.75, 9.75, 10.25) inches
Sleeve length from cuff to underarm (adjustable): 44 (44, 44, 46, 46, 46, 48, 48, 48) cm / 17.25 (17.25, 17.25, 18, 18, 18, 19, 19, 19) inches
Upper arm circumference: 37 (38, 40, 42, 46, 51, 56, 59, 61) cm / 14.5 (15, 15.75, 16.5, 18, 20, 21.75, 23.25, 24) inches
Cuff circumference: 22 (22, 25, 25, 25, 25, 26, 26, 26) cm / 8.75 (8.75, 9.75, 9.75, 9.75, 9.75, 10.25, 10.25, 10.25) inches
Needles:
3.25 mm / US3 DPNs or a circular needle with a cable suitable for small circumference knitting for cuffs
3.25 mm / US3 circular needle with a cable length of 40 cm / 16 inches for the neckline
3.25 mm / US3 circular needle with a cable length of 80 cm / 32 inches for smaller sizes and 100 cm / 40 inches for larger sizes for the hem
4.0 mm / US6 DPNs or a circular needle with a cable suitable for small circumference knitting for sleeves
4.0 mm / US6 circular needle with a cable length of 80 cm / 32 inches for smaller sizes and 100 cm / 40 inches for larger sizes for the main part
Gauge:
19 sts and 27 rounds = 10 cm / 4 inches of Stockinette stitch in the round on larger needles, after blocking
Composition:
100% Baby Yak
Number of skeins:
8 (9, 10, 10, 11, 13, 14, 15, 17) skeins mYak Baby Yak Medium
Sizes 1 (2, 3, 4, 5, 6, 7, 8, 9)
Finished Measurements:
1 (2, 3, 4, 5, 6, 7, 8, 9)
Finished bust circumference: 81 (91, 101, 111, 121, 131, 141, 151, 161) cm / 32 (35.75, 39.75, 43.57, 47.75, 51.5, 55.5 59.5, 63.5) inches including the intended ease of 5-7.5 cm / 2-3 inches
Length from hem to underarm (adjustable): 30 (30, 30, 33, 33, 33, 35, 35, 35) cm / 11.75 (11.75, 11.75, 13, 13, 13, 13.75, 13.75, 13.75) inches
Yoke length: 23 (23, 23, 24, 24, 24, 25, 25, 26) cm / 9 (9, 9, 9.5, 9.5, 9.5, 9.75, 9.75, 10.25) inches
Sleeve length from cuff to underarm (adjustable): 44 (44, 44, 46, 46, 46, 48, 48, 48) cm / 17.25 (17.25, 17.25, 18, 18, 18, 19, 19, 19) inches
Upper arm circumference: 37 (38, 40, 42, 46, 51, 56, 59, 61) cm / 14.5 (15, 15.75, 16.5, 18, 20, 21.75, 23.25, 24) inches
Cuff circumference: 22 (22, 25, 25, 25, 25, 26, 26, 26) cm / 8.75 (8.75, 9.75, 9.75, 9.75, 9.75, 10.25, 10.25, 10.25) inches
Needles:
3.25 mm / US3 DPNs or a circular needle with a cable suitable for small circumference knitting for cuffs
3.25 mm / US3 circular needle with a cable length of 40 cm / 16 inches for the neckline
3.25 mm / US3 circular needle with a cable length of 80 cm / 32 inches for smaller sizes and 100 cm / 40 inches for larger sizes for the hem
4.0 mm / US6 DPNs or a circular needle with a cable suitable for small circumference knitting for sleeves
4.0 mm / US6 circular needle with a cable length of 80 cm / 32 inches for smaller sizes and 100 cm / 40 inches for larger sizes for the main part
Gauge:
19 sts and 27 rounds = 10 cm / 4 inches of Stockinette stitch in the round on larger needles, after blocking
Composition:
100% Baby Yak
Number of skeins:
8 (9, 10, 10, 11, 13, 14, 15, 17) skeins mYak Baby Yak Medium
Sizes 1 (2, 3, 4, 5, 6, 7, 8, 9)
Finished Measurements:
1 (2, 3, 4, 5, 6, 7, 8, 9)
Finished bust circumference: 81 (91, 101, 111, 121, 131, 141, 151, 161) cm / 32 (35.75, 39.75, 43.57, 47.75, 51.5, 55.5 59.5, 63.5) inches including the intended ease of 5-7.5 cm / 2-3 inches
Length from hem to underarm (adjustable): 30 (30, 30, 33, 33, 33, 35, 35, 35) cm / 11.75 (11.75, 11.75, 13, 13, 13, 13.75, 13.75, 13.75) inches
Yoke length: 23 (23, 23, 24, 24, 24, 25, 25, 26) cm / 9 (9, 9, 9.5, 9.5, 9.5, 9.75, 9.75, 10.25) inches
Sleeve length from cuff to underarm (adjustable): 44 (44, 44, 46, 46, 46, 48, 48, 48) cm / 17.25 (17.25, 17.25, 18, 18, 18, 19, 19, 19) inches
Upper arm circumference: 37 (38, 40, 42, 46, 51, 56, 59, 61) cm / 14.5 (15, 15.75, 16.5, 18, 20, 21.75, 23.25, 24) inches
Cuff circumference: 22 (22, 25, 25, 25, 25, 26, 26, 26) cm / 8.75 (8.75, 9.75, 9.75, 9.75, 9.75, 10.25, 10.25, 10.25) inches
Needles:
3.25 mm / US3 DPNs or a circular needle with a cable suitable for small circumference knitting for cuffs
3.25 mm / US3 circular needle with a cable length of 40 cm / 16 inches for the neckline
3.25 mm / US3 circular needle with a cable length of 80 cm / 32 inches for smaller sizes and 100 cm / 40 inches for larger sizes for the hem
4.0 mm / US6 DPNs or a circular needle with a cable suitable for small circumference knitting for sleeves
4.0 mm / US6 circular needle with a cable length of 80 cm / 32 inches for smaller sizes and 100 cm / 40 inches for larger sizes for the main part
Gauge:
19 sts and 27 rounds = 10 cm / 4 inches of Stockinette stitch in the round on larger needles, after blocking
Composition:
100% Baby Yak
Number of skeins:
8 (9, 10, 10, 11, 13, 14, 15, 17) skeins mYak Baby Yak Medium
Sizes 1 (2, 3, 4, 5, 6, 7, 8, 9)
Finished Measurements:
1 (2, 3, 4, 5, 6, 7, 8, 9)
Finished bust circumference: 81 (91, 101, 111, 121, 131, 141, 151, 161) cm / 32 (35.75, 39.75, 43.57, 47.75, 51.5, 55.5 59.5, 63.5) inches including the intended ease of 5-7.5 cm / 2-3 inches
Length from hem to underarm (adjustable): 30 (30, 30, 33, 33, 33, 35, 35, 35) cm / 11.75 (11.75, 11.75, 13, 13, 13, 13.75, 13.75, 13.75) inches
Yoke length: 23 (23, 23, 24, 24, 24, 25, 25, 26) cm / 9 (9, 9, 9.5, 9.5, 9.5, 9.75, 9.75, 10.25) inches
Sleeve length from cuff to underarm (adjustable): 44 (44, 44, 46, 46, 46, 48, 48, 48) cm / 17.25 (17.25, 17.25, 18, 18, 18, 19, 19, 19) inches
Upper arm circumference: 37 (38, 40, 42, 46, 51, 56, 59, 61) cm / 14.5 (15, 15.75, 16.5, 18, 20, 21.75, 23.25, 24) inches
Cuff circumference: 22 (22, 25, 25, 25, 25, 26, 26, 26) cm / 8.75 (8.75, 9.75, 9.75, 9.75, 9.75, 10.25, 10.25, 10.25) inches
Needles:
3.25 mm / US3 DPNs or a circular needle with a cable suitable for small circumference knitting for cuffs
3.25 mm / US3 circular needle with a cable length of 40 cm / 16 inches for the neckline
3.25 mm / US3 circular needle with a cable length of 80 cm / 32 inches for smaller sizes and 100 cm / 40 inches for larger sizes for the hem
4.0 mm / US6 DPNs or a circular needle with a cable suitable for small circumference knitting for sleeves
4.0 mm / US6 circular needle with a cable length of 80 cm / 32 inches for smaller sizes and 100 cm / 40 inches for larger sizes for the main part
Gauge:
19 sts and 27 rounds = 10 cm / 4 inches of Stockinette stitch in the round on larger needles, after blocking
Composition:
100% Baby Yak
Number of skeins:
8 (9, 10, 10, 11, 13, 14, 15, 17) skeins mYak Baby Yak Medium
Sizes 1 (2, 3, 4, 5, 6, 7, 8, 9)
Finished Measurements:
1 (2, 3, 4, 5, 6, 7, 8, 9)
Finished bust circumference: 81 (91, 101, 111, 121, 131, 141, 151, 161) cm / 32 (35.75, 39.75, 43.57, 47.75, 51.5, 55.5 59.5, 63.5) inches including the intended ease of 5-7.5 cm / 2-3 inches
Length from hem to underarm (adjustable): 30 (30, 30, 33, 33, 33, 35, 35, 35) cm / 11.75 (11.75, 11.75, 13, 13, 13, 13.75, 13.75, 13.75) inches
Yoke length: 23 (23, 23, 24, 24, 24, 25, 25, 26) cm / 9 (9, 9, 9.5, 9.5, 9.5, 9.75, 9.75, 10.25) inches
Sleeve length from cuff to underarm (adjustable): 44 (44, 44, 46, 46, 46, 48, 48, 48) cm / 17.25 (17.25, 17.25, 18, 18, 18, 19, 19, 19) inches
Upper arm circumference: 37 (38, 40, 42, 46, 51, 56, 59, 61) cm / 14.5 (15, 15.75, 16.5, 18, 20, 21.75, 23.25, 24) inches
Cuff circumference: 22 (22, 25, 25, 25, 25, 26, 26, 26) cm / 8.75 (8.75, 9.75, 9.75, 9.75, 9.75, 10.25, 10.25, 10.25) inches
Needles:
3.25 mm / US3 DPNs or a circular needle with a cable suitable for small circumference knitting for cuffs
3.25 mm / US3 circular needle with a cable length of 40 cm / 16 inches for the neckline
3.25 mm / US3 circular needle with a cable length of 80 cm / 32 inches for smaller sizes and 100 cm / 40 inches for larger sizes for the hem
4.0 mm / US6 DPNs or a circular needle with a cable suitable for small circumference knitting for sleeves
4.0 mm / US6 circular needle with a cable length of 80 cm / 32 inches for smaller sizes and 100 cm / 40 inches for larger sizes for the main part
Gauge:
19 sts and 27 rounds = 10 cm / 4 inches of Stockinette stitch in the round on larger needles, after blocking
Composition:
100% Baby Yak
Number of skeins:
8 (9, 10, 10, 11, 13, 14, 15, 17) skeins mYak Baby Yak Medium
Sizes 1 (2, 3, 4, 5, 6, 7, 8, 9)
Finished Measurements:
1 (2, 3, 4, 5, 6, 7, 8, 9)
Finished bust circumference: 81 (91, 101, 111, 121, 131, 141, 151, 161) cm / 32 (35.75, 39.75, 43.57, 47.75, 51.5, 55.5 59.5, 63.5) inches including the intended ease of 5-7.5 cm / 2-3 inches
Length from hem to underarm (adjustable): 30 (30, 30, 33, 33, 33, 35, 35, 35) cm / 11.75 (11.75, 11.75, 13, 13, 13, 13.75, 13.75, 13.75) inches
Yoke length: 23 (23, 23, 24, 24, 24, 25, 25, 26) cm / 9 (9, 9, 9.5, 9.5, 9.5, 9.75, 9.75, 10.25) inches
Sleeve length from cuff to underarm (adjustable): 44 (44, 44, 46, 46, 46, 48, 48, 48) cm / 17.25 (17.25, 17.25, 18, 18, 18, 19, 19, 19) inches
Upper arm circumference: 37 (38, 40, 42, 46, 51, 56, 59, 61) cm / 14.5 (15, 15.75, 16.5, 18, 20, 21.75, 23.25, 24) inches
Cuff circumference: 22 (22, 25, 25, 25, 25, 26, 26, 26) cm / 8.75 (8.75, 9.75, 9.75, 9.75, 9.75, 10.25, 10.25, 10.25) inches
Needles:
3.25 mm / US3 DPNs or a circular needle with a cable suitable for small circumference knitting for cuffs
3.25 mm / US3 circular needle with a cable length of 40 cm / 16 inches for the neckline
3.25 mm / US3 circular needle with a cable length of 80 cm / 32 inches for smaller sizes and 100 cm / 40 inches for larger sizes for the hem
4.0 mm / US6 DPNs or a circular needle with a cable suitable for small circumference knitting for sleeves
4.0 mm / US6 circular needle with a cable length of 80 cm / 32 inches for smaller sizes and 100 cm / 40 inches for larger sizes for the main part
Gauge:
19 sts and 27 rounds = 10 cm / 4 inches of Stockinette stitch in the round on larger needles, after blocking
Composition:
100% Baby Yak
Number of skeins:
8 (9, 10, 10, 11, 13, 14, 15, 17) skeins mYak Baby Yak Medium
Sizes 1 (2, 3, 4, 5, 6, 7, 8, 9)
Finished Measurements:
1 (2, 3, 4, 5, 6, 7, 8, 9)
Finished bust circumference: 81 (91, 101, 111, 121, 131, 141, 151, 161) cm / 32 (35.75, 39.75, 43.57, 47.75, 51.5, 55.5 59.5, 63.5) inches including the intended ease of 5-7.5 cm / 2-3 inches
Length from hem to underarm (adjustable): 30 (30, 30, 33, 33, 33, 35, 35, 35) cm / 11.75 (11.75, 11.75, 13, 13, 13, 13.75, 13.75, 13.75) inches
Yoke length: 23 (23, 23, 24, 24, 24, 25, 25, 26) cm / 9 (9, 9, 9.5, 9.5, 9.5, 9.75, 9.75, 10.25) inches
Sleeve length from cuff to underarm (adjustable): 44 (44, 44, 46, 46, 46, 48, 48, 48) cm / 17.25 (17.25, 17.25, 18, 18, 18, 19, 19, 19) inches
Upper arm circumference: 37 (38, 40, 42, 46, 51, 56, 59, 61) cm / 14.5 (15, 15.75, 16.5, 18, 20, 21.75, 23.25, 24) inches
Cuff circumference: 22 (22, 25, 25, 25, 25, 26, 26, 26) cm / 8.75 (8.75, 9.75, 9.75, 9.75, 9.75, 10.25, 10.25, 10.25) inches
Needles:
3.25 mm / US3 DPNs or a circular needle with a cable suitable for small circumference knitting for cuffs
3.25 mm / US3 circular needle with a cable length of 40 cm / 16 inches for the neckline
3.25 mm / US3 circular needle with a cable length of 80 cm / 32 inches for smaller sizes and 100 cm / 40 inches for larger sizes for the hem
4.0 mm / US6 DPNs or a circular needle with a cable suitable for small circumference knitting for sleeves
4.0 mm / US6 circular needle with a cable length of 80 cm / 32 inches for smaller sizes and 100 cm / 40 inches for larger sizes for the main part
Gauge:
19 sts and 27 rounds = 10 cm / 4 inches of Stockinette stitch in the round on larger needles, after blocking
Composition:
100% Baby Yak
Number of skeins:
8 (9, 10, 10, 11, 13, 14, 15, 17) skeins mYak Baby Yak Medium
Sizes 1 (2, 3, 4, 5, 6, 7, 8, 9)
Finished Measurements:
1 (2, 3, 4, 5, 6, 7, 8, 9)
Finished bust circumference: 81 (91, 101, 111, 121, 131, 141, 151, 161) cm / 32 (35.75, 39.75, 43.57, 47.75, 51.5, 55.5 59.5, 63.5) inches including the intended ease of 5-7.5 cm / 2-3 inches
Length from hem to underarm (adjustable): 30 (30, 30, 33, 33, 33, 35, 35, 35) cm / 11.75 (11.75, 11.75, 13, 13, 13, 13.75, 13.75, 13.75) inches
Yoke length: 23 (23, 23, 24, 24, 24, 25, 25, 26) cm / 9 (9, 9, 9.5, 9.5, 9.5, 9.75, 9.75, 10.25) inches
Sleeve length from cuff to underarm (adjustable): 44 (44, 44, 46, 46, 46, 48, 48, 48) cm / 17.25 (17.25, 17.25, 18, 18, 18, 19, 19, 19) inches
Upper arm circumference: 37 (38, 40, 42, 46, 51, 56, 59, 61) cm / 14.5 (15, 15.75, 16.5, 18, 20, 21.75, 23.25, 24) inches
Cuff circumference: 22 (22, 25, 25, 25, 25, 26, 26, 26) cm / 8.75 (8.75, 9.75, 9.75, 9.75, 9.75, 10.25, 10.25, 10.25) inches
Needles:
3.25 mm / US3 DPNs or a circular needle with a cable suitable for small circumference knitting for cuffs
3.25 mm / US3 circular needle with a cable length of 40 cm / 16 inches for the neckline
3.25 mm / US3 circular needle with a cable length of 80 cm / 32 inches for smaller sizes and 100 cm / 40 inches for larger sizes for the hem
4.0 mm / US6 DPNs or a circular needle with a cable suitable for small circumference knitting for sleeves
4.0 mm / US6 circular needle with a cable length of 80 cm / 32 inches for smaller sizes and 100 cm / 40 inches for larger sizes for the main part
Gauge:
19 sts and 27 rounds = 10 cm / 4 inches of Stockinette stitch in the round on larger needles, after blocking
Composition:
100% Baby Yak
Number of skeins:
8 (9, 10, 10, 11, 13, 14, 15, 17) skeins mYak Baby Yak Medium
Sizes 1 (2, 3, 4, 5, 6, 7, 8, 9)
Finished Measurements:
1 (2, 3, 4, 5, 6, 7, 8, 9)
Finished bust circumference: 81 (91, 101, 111, 121, 131, 141, 151, 161) cm / 32 (35.75, 39.75, 43.57, 47.75, 51.5, 55.5 59.5, 63.5) inches including the intended ease of 5-7.5 cm / 2-3 inches
Length from hem to underarm (adjustable): 30 (30, 30, 33, 33, 33, 35, 35, 35) cm / 11.75 (11.75, 11.75, 13, 13, 13, 13.75, 13.75, 13.75) inches
Yoke length: 23 (23, 23, 24, 24, 24, 25, 25, 26) cm / 9 (9, 9, 9.5, 9.5, 9.5, 9.75, 9.75, 10.25) inches
Sleeve length from cuff to underarm (adjustable): 44 (44, 44, 46, 46, 46, 48, 48, 48) cm / 17.25 (17.25, 17.25, 18, 18, 18, 19, 19, 19) inches
Upper arm circumference: 37 (38, 40, 42, 46, 51, 56, 59, 61) cm / 14.5 (15, 15.75, 16.5, 18, 20, 21.75, 23.25, 24) inches
Cuff circumference: 22 (22, 25, 25, 25, 25, 26, 26, 26) cm / 8.75 (8.75, 9.75, 9.75, 9.75, 9.75, 10.25, 10.25, 10.25) inches
Needles:
3.25 mm / US3 DPNs or a circular needle with a cable suitable for small circumference knitting for cuffs
3.25 mm / US3 circular needle with a cable length of 40 cm / 16 inches for the neckline
3.25 mm / US3 circular needle with a cable length of 80 cm / 32 inches for smaller sizes and 100 cm / 40 inches for larger sizes for the hem
4.0 mm / US6 DPNs or a circular needle with a cable suitable for small circumference knitting for sleeves
4.0 mm / US6 circular needle with a cable length of 80 cm / 32 inches for smaller sizes and 100 cm / 40 inches for larger sizes for the main part
Gauge:
19 sts and 27 rounds = 10 cm / 4 inches of Stockinette stitch in the round on larger needles, after blocking
Composition:
100% Baby Yak
Number of skeins:
8 (9, 10, 10, 11, 13, 14, 15, 17) skeins mYak Baby Yak Medium
Sizes 1 (2, 3, 4, 5, 6, 7, 8, 9)
Finished Measurements:
1 (2, 3, 4, 5, 6, 7, 8, 9)
Finished bust circumference: 81 (91, 101, 111, 121, 131, 141, 151, 161) cm / 32 (35.75, 39.75, 43.57, 47.75, 51.5, 55.5 59.5, 63.5) inches including the intended ease of 5-7.5 cm / 2-3 inches
Length from hem to underarm (adjustable): 30 (30, 30, 33, 33, 33, 35, 35, 35) cm / 11.75 (11.75, 11.75, 13, 13, 13, 13.75, 13.75, 13.75) inches
Yoke length: 23 (23, 23, 24, 24, 24, 25, 25, 26) cm / 9 (9, 9, 9.5, 9.5, 9.5, 9.75, 9.75, 10.25) inches
Sleeve length from cuff to underarm (adjustable): 44 (44, 44, 46, 46, 46, 48, 48, 48) cm / 17.25 (17.25, 17.25, 18, 18, 18, 19, 19, 19) inches
Upper arm circumference: 37 (38, 40, 42, 46, 51, 56, 59, 61) cm / 14.5 (15, 15.75, 16.5, 18, 20, 21.75, 23.25, 24) inches
Cuff circumference: 22 (22, 25, 25, 25, 25, 26, 26, 26) cm / 8.75 (8.75, 9.75, 9.75, 9.75, 9.75, 10.25, 10.25, 10.25) inches
Needles:
3.25 mm / US3 DPNs or a circular needle with a cable suitable for small circumference knitting for cuffs
3.25 mm / US3 circular needle with a cable length of 40 cm / 16 inches for the neckline
3.25 mm / US3 circular needle with a cable length of 80 cm / 32 inches for smaller sizes and 100 cm / 40 inches for larger sizes for the hem
4.0 mm / US6 DPNs or a circular needle with a cable suitable for small circumference knitting for sleeves
4.0 mm / US6 circular needle with a cable length of 80 cm / 32 inches for smaller sizes and 100 cm / 40 inches for larger sizes for the main part
Gauge:
19 sts and 27 rounds = 10 cm / 4 inches of Stockinette stitch in the round on larger needles, after blocking
Composition:
100% Baby Yak
Number of skeins:
8 (9, 10, 10, 11, 13, 14, 15, 17) skeins mYak Baby Yak Medium
Sizes 1 (2, 3, 4, 5, 6, 7, 8, 9)
Finished Measurements:
1 (2, 3, 4, 5, 6, 7, 8, 9)
Finished bust circumference: 81 (91, 101, 111, 121, 131, 141, 151, 161) cm / 32 (35.75, 39.75, 43.57, 47.75, 51.5, 55.5 59.5, 63.5) inches including the intended ease of 5-7.5 cm / 2-3 inches
Length from hem to underarm (adjustable): 30 (30, 30, 33, 33, 33, 35, 35, 35) cm / 11.75 (11.75, 11.75, 13, 13, 13, 13.75, 13.75, 13.75) inches
Yoke length: 23 (23, 23, 24, 24, 24, 25, 25, 26) cm / 9 (9, 9, 9.5, 9.5, 9.5, 9.75, 9.75, 10.25) inches
Sleeve length from cuff to underarm (adjustable): 44 (44, 44, 46, 46, 46, 48, 48, 48) cm / 17.25 (17.25, 17.25, 18, 18, 18, 19, 19, 19) inches
Upper arm circumference: 37 (38, 40, 42, 46, 51, 56, 59, 61) cm / 14.5 (15, 15.75, 16.5, 18, 20, 21.75, 23.25, 24) inches
Cuff circumference: 22 (22, 25, 25, 25, 25, 26, 26, 26) cm / 8.75 (8.75, 9.75, 9.75, 9.75, 9.75, 10.25, 10.25, 10.25) inches
Needles:
3.25 mm / US3 DPNs or a circular needle with a cable suitable for small circumference knitting for cuffs
3.25 mm / US3 circular needle with a cable length of 40 cm / 16 inches for the neckline
3.25 mm / US3 circular needle with a cable length of 80 cm / 32 inches for smaller sizes and 100 cm / 40 inches for larger sizes for the hem
4.0 mm / US6 DPNs or a circular needle with a cable suitable for small circumference knitting for sleeves
4.0 mm / US6 circular needle with a cable length of 80 cm / 32 inches for smaller sizes and 100 cm / 40 inches for larger sizes for the main part
Gauge:
19 sts and 27 rounds = 10 cm / 4 inches of Stockinette stitch in the round on larger needles, after blocking
Composition:
100% Baby Yak
Number of skeins:
8 (9, 10, 10, 11, 13, 14, 15, 17) skeins mYak Baby Yak Medium
Sizes 1 (2, 3, 4, 5, 6, 7, 8, 9)
Finished Measurements:
1 (2, 3, 4, 5, 6, 7, 8, 9)
Finished bust circumference: 81 (91, 101, 111, 121, 131, 141, 151, 161) cm / 32 (35.75, 39.75, 43.57, 47.75, 51.5, 55.5 59.5, 63.5) inches including the intended ease of 5-7.5 cm / 2-3 inches
Length from hem to underarm (adjustable): 30 (30, 30, 33, 33, 33, 35, 35, 35) cm / 11.75 (11.75, 11.75, 13, 13, 13, 13.75, 13.75, 13.75) inches
Yoke length: 23 (23, 23, 24, 24, 24, 25, 25, 26) cm / 9 (9, 9, 9.5, 9.5, 9.5, 9.75, 9.75, 10.25) inches
Sleeve length from cuff to underarm (adjustable): 44 (44, 44, 46, 46, 46, 48, 48, 48) cm / 17.25 (17.25, 17.25, 18, 18, 18, 19, 19, 19) inches
Upper arm circumference: 37 (38, 40, 42, 46, 51, 56, 59, 61) cm / 14.5 (15, 15.75, 16.5, 18, 20, 21.75, 23.25, 24) inches
Cuff circumference: 22 (22, 25, 25, 25, 25, 26, 26, 26) cm / 8.75 (8.75, 9.75, 9.75, 9.75, 9.75, 10.25, 10.25, 10.25) inches
Needles:
3.25 mm / US3 DPNs or a circular needle with a cable suitable for small circumference knitting for cuffs
3.25 mm / US3 circular needle with a cable length of 40 cm / 16 inches for the neckline
3.25 mm / US3 circular needle with a cable length of 80 cm / 32 inches for smaller sizes and 100 cm / 40 inches for larger sizes for the hem
4.0 mm / US6 DPNs or a circular needle with a cable suitable for small circumference knitting for sleeves
4.0 mm / US6 circular needle with a cable length of 80 cm / 32 inches for smaller sizes and 100 cm / 40 inches for larger sizes for the main part
Gauge:
19 sts and 27 rounds = 10 cm / 4 inches of Stockinette stitch in the round on larger needles, after blocking
Composition:
100% Baby Yak
Number of skeins:
8 (9, 10, 10, 11, 13, 14, 15, 17) skeins mYak Baby Yak Medium
Sizes 1 (2, 3, 4, 5, 6, 7, 8, 9)
Finished Measurements:
1 (2, 3, 4, 5, 6, 7, 8, 9)
Finished bust circumference: 81 (91, 101, 111, 121, 131, 141, 151, 161) cm / 32 (35.75, 39.75, 43.57, 47.75, 51.5, 55.5 59.5, 63.5) inches including the intended ease of 5-7.5 cm / 2-3 inches
Length from hem to underarm (adjustable): 30 (30, 30, 33, 33, 33, 35, 35, 35) cm / 11.75 (11.75, 11.75, 13, 13, 13, 13.75, 13.75, 13.75) inches
Yoke length: 23 (23, 23, 24, 24, 24, 25, 25, 26) cm / 9 (9, 9, 9.5, 9.5, 9.5, 9.75, 9.75, 10.25) inches
Sleeve length from cuff to underarm (adjustable): 44 (44, 44, 46, 46, 46, 48, 48, 48) cm / 17.25 (17.25, 17.25, 18, 18, 18, 19, 19, 19) inches
Upper arm circumference: 37 (38, 40, 42, 46, 51, 56, 59, 61) cm / 14.5 (15, 15.75, 16.5, 18, 20, 21.75, 23.25, 24) inches
Cuff circumference: 22 (22, 25, 25, 25, 25, 26, 26, 26) cm / 8.75 (8.75, 9.75, 9.75, 9.75, 9.75, 10.25, 10.25, 10.25) inches
Needles:
3.25 mm / US3 DPNs or a circular needle with a cable suitable for small circumference knitting for cuffs
3.25 mm / US3 circular needle with a cable length of 40 cm / 16 inches for the neckline
3.25 mm / US3 circular needle with a cable length of 80 cm / 32 inches for smaller sizes and 100 cm / 40 inches for larger sizes for the hem
4.0 mm / US6 DPNs or a circular needle with a cable suitable for small circumference knitting for sleeves
4.0 mm / US6 circular needle with a cable length of 80 cm / 32 inches for smaller sizes and 100 cm / 40 inches for larger sizes for the main part
Gauge:
19 sts and 27 rounds = 10 cm / 4 inches of Stockinette stitch in the round on larger needles, after blocking
Composition:
100% Baby Yak
Number of skeins:
8 (9, 10, 10, 11, 13, 14, 15, 17) skeins mYak Baby Yak Medium
Sizes 1 (2, 3, 4, 5, 6, 7, 8, 9)
Finished Measurements:
1 (2, 3, 4, 5, 6, 7, 8, 9)
Finished bust circumference: 81 (91, 101, 111, 121, 131, 141, 151, 161) cm / 32 (35.75, 39.75, 43.57, 47.75, 51.5, 55.5 59.5, 63.5) inches including the intended ease of 5-7.5 cm / 2-3 inches
Length from hem to underarm (adjustable): 30 (30, 30, 33, 33, 33, 35, 35, 35) cm / 11.75 (11.75, 11.75, 13, 13, 13, 13.75, 13.75, 13.75) inches
Yoke length: 23 (23, 23, 24, 24, 24, 25, 25, 26) cm / 9 (9, 9, 9.5, 9.5, 9.5, 9.75, 9.75, 10.25) inches
Sleeve length from cuff to underarm (adjustable): 44 (44, 44, 46, 46, 46, 48, 48, 48) cm / 17.25 (17.25, 17.25, 18, 18, 18, 19, 19, 19) inches
Upper arm circumference: 37 (38, 40, 42, 46, 51, 56, 59, 61) cm / 14.5 (15, 15.75, 16.5, 18, 20, 21.75, 23.25, 24) inches
Cuff circumference: 22 (22, 25, 25, 25, 25, 26, 26, 26) cm / 8.75 (8.75, 9.75, 9.75, 9.75, 9.75, 10.25, 10.25, 10.25) inches
Needles:
3.25 mm / US3 DPNs or a circular needle with a cable suitable for small circumference knitting for cuffs
3.25 mm / US3 circular needle with a cable length of 40 cm / 16 inches for the neckline
3.25 mm / US3 circular needle with a cable length of 80 cm / 32 inches for smaller sizes and 100 cm / 40 inches for larger sizes for the hem
4.0 mm / US6 DPNs or a circular needle with a cable suitable for small circumference knitting for sleeves
4.0 mm / US6 circular needle with a cable length of 80 cm / 32 inches for smaller sizes and 100 cm / 40 inches for larger sizes for the main part
Gauge:
19 sts and 27 rounds = 10 cm / 4 inches of Stockinette stitch in the round on larger needles, after blocking
Composition:
100% Baby Yak
Number of skeins:
8 (9, 10, 10, 11, 13, 14, 15, 17) skeins mYak Baby Yak Medium
Sizes 1 (2, 3, 4, 5, 6, 7, 8, 9)
Finished Measurements:
1 (2, 3, 4, 5, 6, 7, 8, 9)
Finished bust circumference: 81 (91, 101, 111, 121, 131, 141, 151, 161) cm / 32 (35.75, 39.75, 43.57, 47.75, 51.5, 55.5 59.5, 63.5) inches including the intended ease of 5-7.5 cm / 2-3 inches
Length from hem to underarm (adjustable): 30 (30, 30, 33, 33, 33, 35, 35, 35) cm / 11.75 (11.75, 11.75, 13, 13, 13, 13.75, 13.75, 13.75) inches
Yoke length: 23 (23, 23, 24, 24, 24, 25, 25, 26) cm / 9 (9, 9, 9.5, 9.5, 9.5, 9.75, 9.75, 10.25) inches
Sleeve length from cuff to underarm (adjustable): 44 (44, 44, 46, 46, 46, 48, 48, 48) cm / 17.25 (17.25, 17.25, 18, 18, 18, 19, 19, 19) inches
Upper arm circumference: 37 (38, 40, 42, 46, 51, 56, 59, 61) cm / 14.5 (15, 15.75, 16.5, 18, 20, 21.75, 23.25, 24) inches
Cuff circumference: 22 (22, 25, 25, 25, 25, 26, 26, 26) cm / 8.75 (8.75, 9.75, 9.75, 9.75, 9.75, 10.25, 10.25, 10.25) inches
Needles:
3.25 mm / US3 DPNs or a circular needle with a cable suitable for small circumference knitting for cuffs
3.25 mm / US3 circular needle with a cable length of 40 cm / 16 inches for the neckline
3.25 mm / US3 circular needle with a cable length of 80 cm / 32 inches for smaller sizes and 100 cm / 40 inches for larger sizes for the hem
4.0 mm / US6 DPNs or a circular needle with a cable suitable for small circumference knitting for sleeves
4.0 mm / US6 circular needle with a cable length of 80 cm / 32 inches for smaller sizes and 100 cm / 40 inches for larger sizes for the main part
Gauge:
19 sts and 27 rounds = 10 cm / 4 inches of Stockinette stitch in the round on larger needles, after blocking
Composition:
100% Baby Yak
Number of skeins:
8 (9, 10, 10, 11, 13, 14, 15, 17) skeins mYak Baby Yak Medium
Sizes 1 (2, 3, 4, 5, 6, 7, 8, 9)
Finished Measurements:
1 (2, 3, 4, 5, 6, 7, 8, 9)
Finished bust circumference: 81 (91, 101, 111, 121, 131, 141, 151, 161) cm / 32 (35.75, 39.75, 43.57, 47.75, 51.5, 55.5 59.5, 63.5) inches including the intended ease of 5-7.5 cm / 2-3 inches
Length from hem to underarm (adjustable): 30 (30, 30, 33, 33, 33, 35, 35, 35) cm / 11.75 (11.75, 11.75, 13, 13, 13, 13.75, 13.75, 13.75) inches
Yoke length: 23 (23, 23, 24, 24, 24, 25, 25, 26) cm / 9 (9, 9, 9.5, 9.5, 9.5, 9.75, 9.75, 10.25) inches
Sleeve length from cuff to underarm (adjustable): 44 (44, 44, 46, 46, 46, 48, 48, 48) cm / 17.25 (17.25, 17.25, 18, 18, 18, 19, 19, 19) inches
Upper arm circumference: 37 (38, 40, 42, 46, 51, 56, 59, 61) cm / 14.5 (15, 15.75, 16.5, 18, 20, 21.75, 23.25, 24) inches
Cuff circumference: 22 (22, 25, 25, 25, 25, 26, 26, 26) cm / 8.75 (8.75, 9.75, 9.75, 9.75, 9.75, 10.25, 10.25, 10.25) inches
Needles:
3.25 mm / US3 DPNs or a circular needle with a cable suitable for small circumference knitting for cuffs
3.25 mm / US3 circular needle with a cable length of 40 cm / 16 inches for the neckline
3.25 mm / US3 circular needle with a cable length of 80 cm / 32 inches for smaller sizes and 100 cm / 40 inches for larger sizes for the hem
4.0 mm / US6 DPNs or a circular needle with a cable suitable for small circumference knitting for sleeves
4.0 mm / US6 circular needle with a cable length of 80 cm / 32 inches for smaller sizes and 100 cm / 40 inches for larger sizes for the main part
Gauge:
19 sts and 27 rounds = 10 cm / 4 inches of Stockinette stitch in the round on larger needles, after blocking
Composition:
100% Baby Yak
Number of skeins:
8 (9, 10, 10, 11, 13, 14, 15, 17) skeins mYak Baby Yak Medium
Sizes 1 (2, 3, 4, 5, 6, 7, 8, 9)
Finished Measurements:
1 (2, 3, 4, 5, 6, 7, 8, 9)
Finished bust circumference: 81 (91, 101, 111, 121, 131, 141, 151, 161) cm / 32 (35.75, 39.75, 43.57, 47.75, 51.5, 55.5 59.5, 63.5) inches including the intended ease of 5-7.5 cm / 2-3 inches
Length from hem to underarm (adjustable): 30 (30, 30, 33, 33, 33, 35, 35, 35) cm / 11.75 (11.75, 11.75, 13, 13, 13, 13.75, 13.75, 13.75) inches
Yoke length: 23 (23, 23, 24, 24, 24, 25, 25, 26) cm / 9 (9, 9, 9.5, 9.5, 9.5, 9.75, 9.75, 10.25) inches
Sleeve length from cuff to underarm (adjustable): 44 (44, 44, 46, 46, 46, 48, 48, 48) cm / 17.25 (17.25, 17.25, 18, 18, 18, 19, 19, 19) inches
Upper arm circumference: 37 (38, 40, 42, 46, 51, 56, 59, 61) cm / 14.5 (15, 15.75, 16.5, 18, 20, 21.75, 23.25, 24) inches
Cuff circumference: 22 (22, 25, 25, 25, 25, 26, 26, 26) cm / 8.75 (8.75, 9.75, 9.75, 9.75, 9.75, 10.25, 10.25, 10.25) inches
Needles:
3.25 mm / US3 DPNs or a circular needle with a cable suitable for small circumference knitting for cuffs
3.25 mm / US3 circular needle with a cable length of 40 cm / 16 inches for the neckline
3.25 mm / US3 circular needle with a cable length of 80 cm / 32 inches for smaller sizes and 100 cm / 40 inches for larger sizes for the hem
4.0 mm / US6 DPNs or a circular needle with a cable suitable for small circumference knitting for sleeves
4.0 mm / US6 circular needle with a cable length of 80 cm / 32 inches for smaller sizes and 100 cm / 40 inches for larger sizes for the main part
Gauge:
19 sts and 27 rounds = 10 cm / 4 inches of Stockinette stitch in the round on larger needles, after blocking
Composition:
100% Baby Yak
Number of skeins:
8 (9, 10, 10, 11, 13, 14, 15, 17) skeins mYak Baby Yak Medium
Sizes 1 (2, 3, 4, 5, 6, 7, 8, 9)
Finished Measurements:
1 (2, 3, 4, 5, 6, 7, 8, 9)
Finished bust circumference: 81 (91, 101, 111, 121, 131, 141, 151, 161) cm / 32 (35.75, 39.75, 43.57, 47.75, 51.5, 55.5 59.5, 63.5) inches including the intended ease of 5-7.5 cm / 2-3 inches
Length from hem to underarm (adjustable): 30 (30, 30, 33, 33, 33, 35, 35, 35) cm / 11.75 (11.75, 11.75, 13, 13, 13, 13.75, 13.75, 13.75) inches
Yoke length: 23 (23, 23, 24, 24, 24, 25, 25, 26) cm / 9 (9, 9, 9.5, 9.5, 9.5, 9.75, 9.75, 10.25) inches
Sleeve length from cuff to underarm (adjustable): 44 (44, 44, 46, 46, 46, 48, 48, 48) cm / 17.25 (17.25, 17.25, 18, 18, 18, 19, 19, 19) inches
Upper arm circumference: 37 (38, 40, 42, 46, 51, 56, 59, 61) cm / 14.5 (15, 15.75, 16.5, 18, 20, 21.75, 23.25, 24) inches
Cuff circumference: 22 (22, 25, 25, 25, 25, 26, 26, 26) cm / 8.75 (8.75, 9.75, 9.75, 9.75, 9.75, 10.25, 10.25, 10.25) inches
Needles:
3.25 mm / US3 DPNs or a circular needle with a cable suitable for small circumference knitting for cuffs
3.25 mm / US3 circular needle with a cable length of 40 cm / 16 inches for the neckline
3.25 mm / US3 circular needle with a cable length of 80 cm / 32 inches for smaller sizes and 100 cm / 40 inches for larger sizes for the hem
4.0 mm / US6 DPNs or a circular needle with a cable suitable for small circumference knitting for sleeves
4.0 mm / US6 circular needle with a cable length of 80 cm / 32 inches for smaller sizes and 100 cm / 40 inches for larger sizes for the main part
Gauge:
19 sts and 27 rounds = 10 cm / 4 inches of Stockinette stitch in the round on larger needles, after blocking
Composition:
100% Baby Yak
Number of skeins:
8 (9, 10, 10, 11, 13, 14, 15, 17) skeins mYak Baby Yak Medium
Sizes 1 (2, 3, 4, 5, 6, 7, 8, 9)
Finished Measurements:
1 (2, 3, 4, 5, 6, 7, 8, 9)
Finished bust circumference: 81 (91, 101, 111, 121, 131, 141, 151, 161) cm / 32 (35.75, 39.75, 43.57, 47.75, 51.5, 55.5 59.5, 63.5) inches including the intended ease of 5-7.5 cm / 2-3 inches
Length from hem to underarm (adjustable): 30 (30, 30, 33, 33, 33, 35, 35, 35) cm / 11.75 (11.75, 11.75, 13, 13, 13, 13.75, 13.75, 13.75) inches
Yoke length: 23 (23, 23, 24, 24, 24, 25, 25, 26) cm / 9 (9, 9, 9.5, 9.5, 9.5, 9.75, 9.75, 10.25) inches
Sleeve length from cuff to underarm (adjustable): 44 (44, 44, 46, 46, 46, 48, 48, 48) cm / 17.25 (17.25, 17.25, 18, 18, 18, 19, 19, 19) inches
Upper arm circumference: 37 (38, 40, 42, 46, 51, 56, 59, 61) cm / 14.5 (15, 15.75, 16.5, 18, 20, 21.75, 23.25, 24) inches
Cuff circumference: 22 (22, 25, 25, 25, 25, 26, 26, 26) cm / 8.75 (8.75, 9.75, 9.75, 9.75, 9.75, 10.25, 10.25, 10.25) inches
Needles:
3.25 mm / US3 DPNs or a circular needle with a cable suitable for small circumference knitting for cuffs
3.25 mm / US3 circular needle with a cable length of 40 cm / 16 inches for the neckline
3.25 mm / US3 circular needle with a cable length of 80 cm / 32 inches for smaller sizes and 100 cm / 40 inches for larger sizes for the hem
4.0 mm / US6 DPNs or a circular needle with a cable suitable for small circumference knitting for sleeves
4.0 mm / US6 circular needle with a cable length of 80 cm / 32 inches for smaller sizes and 100 cm / 40 inches for larger sizes for the main part
Gauge:
19 sts and 27 rounds = 10 cm / 4 inches of Stockinette stitch in the round on larger needles, after blocking
Composition:
100% Baby Yak
Number of skeins:
8 (9, 10, 10, 11, 13, 14, 15, 17) skeins mYak Baby Yak Medium
Sizes 1 (2, 3, 4, 5, 6, 7, 8, 9)
Finished Measurements:
1 (2, 3, 4, 5, 6, 7, 8, 9)
Finished bust circumference: 81 (91, 101, 111, 121, 131, 141, 151, 161) cm / 32 (35.75, 39.75, 43.57, 47.75, 51.5, 55.5 59.5, 63.5) inches including the intended ease of 5-7.5 cm / 2-3 inches
Length from hem to underarm (adjustable): 30 (30, 30, 33, 33, 33, 35, 35, 35) cm / 11.75 (11.75, 11.75, 13, 13, 13, 13.75, 13.75, 13.75) inches
Yoke length: 23 (23, 23, 24, 24, 24, 25, 25, 26) cm / 9 (9, 9, 9.5, 9.5, 9.5, 9.75, 9.75, 10.25) inches
Sleeve length from cuff to underarm (adjustable): 44 (44, 44, 46, 46, 46, 48, 48, 48) cm / 17.25 (17.25, 17.25, 18, 18, 18, 19, 19, 19) inches
Upper arm circumference: 37 (38, 40, 42, 46, 51, 56, 59, 61) cm / 14.5 (15, 15.75, 16.5, 18, 20, 21.75, 23.25, 24) inches
Cuff circumference: 22 (22, 25, 25, 25, 25, 26, 26, 26) cm / 8.75 (8.75, 9.75, 9.75, 9.75, 9.75, 10.25, 10.25, 10.25) inches
Needles:
3.25 mm / US3 DPNs or a circular needle with a cable suitable for small circumference knitting for cuffs
3.25 mm / US3 circular needle with a cable length of 40 cm / 16 inches for the neckline
3.25 mm / US3 circular needle with a cable length of 80 cm / 32 inches for smaller sizes and 100 cm / 40 inches for larger sizes for the hem
4.0 mm / US6 DPNs or a circular needle with a cable suitable for small circumference knitting for sleeves
4.0 mm / US6 circular needle with a cable length of 80 cm / 32 inches for smaller sizes and 100 cm / 40 inches for larger sizes for the main part
Gauge:
19 sts and 27 rounds = 10 cm / 4 inches of Stockinette stitch in the round on larger needles, after blocking
Composition:
100% Baby Yak
Number of skeins:
8 (9, 10, 10, 11, 13, 14, 15, 17) skeins mYak Baby Yak Medium
Sizes 1 (2, 3, 4, 5, 6, 7, 8, 9)
Finished Measurements:
1 (2, 3, 4, 5, 6, 7, 8, 9)
Finished bust circumference: 81 (91, 101, 111, 121, 131, 141, 151, 161) cm / 32 (35.75, 39.75, 43.57, 47.75, 51.5, 55.5 59.5, 63.5) inches including the intended ease of 5-7.5 cm / 2-3 inches
Length from hem to underarm (adjustable): 30 (30, 30, 33, 33, 33, 35, 35, 35) cm / 11.75 (11.75, 11.75, 13, 13, 13, 13.75, 13.75, 13.75) inches
Yoke length: 23 (23, 23, 24, 24, 24, 25, 25, 26) cm / 9 (9, 9, 9.5, 9.5, 9.5, 9.75, 9.75, 10.25) inches
Sleeve length from cuff to underarm (adjustable): 44 (44, 44, 46, 46, 46, 48, 48, 48) cm / 17.25 (17.25, 17.25, 18, 18, 18, 19, 19, 19) inches
Upper arm circumference: 37 (38, 40, 42, 46, 51, 56, 59, 61) cm / 14.5 (15, 15.75, 16.5, 18, 20, 21.75, 23.25, 24) inches
Cuff circumference: 22 (22, 25, 25, 25, 25, 26, 26, 26) cm / 8.75 (8.75, 9.75, 9.75, 9.75, 9.75, 10.25, 10.25, 10.25) inches
Needles:
3.25 mm / US3 DPNs or a circular needle with a cable suitable for small circumference knitting for cuffs
3.25 mm / US3 circular needle with a cable length of 40 cm / 16 inches for the neckline
3.25 mm / US3 circular needle with a cable length of 80 cm / 32 inches for smaller sizes and 100 cm / 40 inches for larger sizes for the hem
4.0 mm / US6 DPNs or a circular needle with a cable suitable for small circumference knitting for sleeves
4.0 mm / US6 circular needle with a cable length of 80 cm / 32 inches for smaller sizes and 100 cm / 40 inches for larger sizes for the main part
Gauge:
19 sts and 27 rounds = 10 cm / 4 inches of Stockinette stitch in the round on larger needles, after blocking
Composition:
100% Baby Yak
Number of skeins:
8 (9, 10, 10, 11, 13, 14, 15, 17) skeins mYak Baby Yak Medium
Sizes 1 (2, 3, 4, 5, 6, 7, 8, 9)
Finished Measurements:
1 (2, 3, 4, 5, 6, 7, 8, 9)
Finished bust circumference: 81 (91, 101, 111, 121, 131, 141, 151, 161) cm / 32 (35.75, 39.75, 43.57, 47.75, 51.5, 55.5 59.5, 63.5) inches including the intended ease of 5-7.5 cm / 2-3 inches
Length from hem to underarm (adjustable): 30 (30, 30, 33, 33, 33, 35, 35, 35) cm / 11.75 (11.75, 11.75, 13, 13, 13, 13.75, 13.75, 13.75) inches
Yoke length: 23 (23, 23, 24, 24, 24, 25, 25, 26) cm / 9 (9, 9, 9.5, 9.5, 9.5, 9.75, 9.75, 10.25) inches
Sleeve length from cuff to underarm (adjustable): 44 (44, 44, 46, 46, 46, 48, 48, 48) cm / 17.25 (17.25, 17.25, 18, 18, 18, 19, 19, 19) inches
Upper arm circumference: 37 (38, 40, 42, 46, 51, 56, 59, 61) cm / 14.5 (15, 15.75, 16.5, 18, 20, 21.75, 23.25, 24) inches
Cuff circumference: 22 (22, 25, 25, 25, 25, 26, 26, 26) cm / 8.75 (8.75, 9.75, 9.75, 9.75, 9.75, 10.25, 10.25, 10.25) inches
Needles:
3.25 mm / US3 DPNs or a circular needle with a cable suitable for small circumference knitting for cuffs
3.25 mm / US3 circular needle with a cable length of 40 cm / 16 inches for the neckline
3.25 mm / US3 circular needle with a cable length of 80 cm / 32 inches for smaller sizes and 100 cm / 40 inches for larger sizes for the hem
4.0 mm / US6 DPNs or a circular needle with a cable suitable for small circumference knitting for sleeves
4.0 mm / US6 circular needle with a cable length of 80 cm / 32 inches for smaller sizes and 100 cm / 40 inches for larger sizes for the main part
Gauge:
19 sts and 27 rounds = 10 cm / 4 inches of Stockinette stitch in the round on larger needles, after blocking
Composition:
100% Baby Yak
Number of skeins:
8 (9, 10, 10, 11, 13, 14, 15, 17) skeins mYak Baby Yak Medium
Sizes 1 (2, 3, 4, 5, 6, 7, 8, 9)
Finished Measurements:
1 (2, 3, 4, 5, 6, 7, 8, 9)
Finished bust circumference: 81 (91, 101, 111, 121, 131, 141, 151, 161) cm / 32 (35.75, 39.75, 43.57, 47.75, 51.5, 55.5 59.5, 63.5) inches including the intended ease of 5-7.5 cm / 2-3 inches
Length from hem to underarm (adjustable): 30 (30, 30, 33, 33, 33, 35, 35, 35) cm / 11.75 (11.75, 11.75, 13, 13, 13, 13.75, 13.75, 13.75) inches
Yoke length: 23 (23, 23, 24, 24, 24, 25, 25, 26) cm / 9 (9, 9, 9.5, 9.5, 9.5, 9.75, 9.75, 10.25) inches
Sleeve length from cuff to underarm (adjustable): 44 (44, 44, 46, 46, 46, 48, 48, 48) cm / 17.25 (17.25, 17.25, 18, 18, 18, 19, 19, 19) inches
Upper arm circumference: 37 (38, 40, 42, 46, 51, 56, 59, 61) cm / 14.5 (15, 15.75, 16.5, 18, 20, 21.75, 23.25, 24) inches
Cuff circumference: 22 (22, 25, 25, 25, 25, 26, 26, 26) cm / 8.75 (8.75, 9.75, 9.75, 9.75, 9.75, 10.25, 10.25, 10.25) inches
Needles:
3.25 mm / US3 DPNs or a circular needle with a cable suitable for small circumference knitting for cuffs
3.25 mm / US3 circular needle with a cable length of 40 cm / 16 inches for the neckline
3.25 mm / US3 circular needle with a cable length of 80 cm / 32 inches for smaller sizes and 100 cm / 40 inches for larger sizes for the hem
4.0 mm / US6 DPNs or a circular needle with a cable suitable for small circumference knitting for sleeves
4.0 mm / US6 circular needle with a cable length of 80 cm / 32 inches for smaller sizes and 100 cm / 40 inches for larger sizes for the main part
Gauge:
19 sts and 27 rounds = 10 cm / 4 inches of Stockinette stitch in the round on larger needles, after blocking
Composition:
100% Baby Yak
Number of skeins:
8 (9, 10, 10, 11, 13, 14, 15, 17) skeins mYak Baby Yak Medium
Sizes 1 (2, 3, 4, 5, 6, 7, 8, 9)
Finished Measurements:
1 (2, 3, 4, 5, 6, 7, 8, 9)
Finished bust circumference: 81 (91, 101, 111, 121, 131, 141, 151, 161) cm / 32 (35.75, 39.75, 43.57, 47.75, 51.5, 55.5 59.5, 63.5) inches including the intended ease of 5-7.5 cm / 2-3 inches
Length from hem to underarm (adjustable): 30 (30, 30, 33, 33, 33, 35, 35, 35) cm / 11.75 (11.75, 11.75, 13, 13, 13, 13.75, 13.75, 13.75) inches
Yoke length: 23 (23, 23, 24, 24, 24, 25, 25, 26) cm / 9 (9, 9, 9.5, 9.5, 9.5, 9.75, 9.75, 10.25) inches
Sleeve length from cuff to underarm (adjustable): 44 (44, 44, 46, 46, 46, 48, 48, 48) cm / 17.25 (17.25, 17.25, 18, 18, 18, 19, 19, 19) inches
Upper arm circumference: 37 (38, 40, 42, 46, 51, 56, 59, 61) cm / 14.5 (15, 15.75, 16.5, 18, 20, 21.75, 23.25, 24) inches
Cuff circumference: 22 (22, 25, 25, 25, 25, 26, 26, 26) cm / 8.75 (8.75, 9.75, 9.75, 9.75, 9.75, 10.25, 10.25, 10.25) inches
Needles:
3.25 mm / US3 DPNs or a circular needle with a cable suitable for small circumference knitting for cuffs
3.25 mm / US3 circular needle with a cable length of 40 cm / 16 inches for the neckline
3.25 mm / US3 circular needle with a cable length of 80 cm / 32 inches for smaller sizes and 100 cm / 40 inches for larger sizes for the hem
4.0 mm / US6 DPNs or a circular needle with a cable suitable for small circumference knitting for sleeves
4.0 mm / US6 circular needle with a cable length of 80 cm / 32 inches for smaller sizes and 100 cm / 40 inches for larger sizes for the main part
Gauge:
19 sts and 27 rounds = 10 cm / 4 inches of Stockinette stitch in the round on larger needles, after blocking
Composition:
100% Baby Yak
Number of skeins:
8 (9, 10, 10, 11, 13, 14, 15, 17) skeins mYak Baby Yak Medium
Sizes 1 (2, 3, 4, 5, 6, 7, 8, 9)
Finished Measurements:
1 (2, 3, 4, 5, 6, 7, 8, 9)
Finished bust circumference: 81 (91, 101, 111, 121, 131, 141, 151, 161) cm / 32 (35.75, 39.75, 43.57, 47.75, 51.5, 55.5 59.5, 63.5) inches including the intended ease of 5-7.5 cm / 2-3 inches
Length from hem to underarm (adjustable): 30 (30, 30, 33, 33, 33, 35, 35, 35) cm / 11.75 (11.75, 11.75, 13, 13, 13, 13.75, 13.75, 13.75) inches
Yoke length: 23 (23, 23, 24, 24, 24, 25, 25, 26) cm / 9 (9, 9, 9.5, 9.5, 9.5, 9.75, 9.75, 10.25) inches
Sleeve length from cuff to underarm (adjustable): 44 (44, 44, 46, 46, 46, 48, 48, 48) cm / 17.25 (17.25, 17.25, 18, 18, 18, 19, 19, 19) inches
Upper arm circumference: 37 (38, 40, 42, 46, 51, 56, 59, 61) cm / 14.5 (15, 15.75, 16.5, 18, 20, 21.75, 23.25, 24) inches
Cuff circumference: 22 (22, 25, 25, 25, 25, 26, 26, 26) cm / 8.75 (8.75, 9.75, 9.75, 9.75, 9.75, 10.25, 10.25, 10.25) inches
Needles:
3.25 mm / US3 DPNs or a circular needle with a cable suitable for small circumference knitting for cuffs
3.25 mm / US3 circular needle with a cable length of 40 cm / 16 inches for the neckline
3.25 mm / US3 circular needle with a cable length of 80 cm / 32 inches for smaller sizes and 100 cm / 40 inches for larger sizes for the hem
4.0 mm / US6 DPNs or a circular needle with a cable suitable for small circumference knitting for sleeves
4.0 mm / US6 circular needle with a cable length of 80 cm / 32 inches for smaller sizes and 100 cm / 40 inches for larger sizes for the main part
Gauge:
19 sts and 27 rounds = 10 cm / 4 inches of Stockinette stitch in the round on larger needles, after blocking
Composition:
100% Baby Yak
Number of skeins:
8 (9, 10, 10, 11, 13, 14, 15, 17) skeins mYak Baby Yak Medium
Sizes 1 (2, 3, 4, 5, 6, 7, 8, 9)
Finished Measurements:
1 (2, 3, 4, 5, 6, 7, 8, 9)
Finished bust circumference: 81 (91, 101, 111, 121, 131, 141, 151, 161) cm / 32 (35.75, 39.75, 43.57, 47.75, 51.5, 55.5 59.5, 63.5) inches including the intended ease of 5-7.5 cm / 2-3 inches
Length from hem to underarm (adjustable): 30 (30, 30, 33, 33, 33, 35, 35, 35) cm / 11.75 (11.75, 11.75, 13, 13, 13, 13.75, 13.75, 13.75) inches
Yoke length: 23 (23, 23, 24, 24, 24, 25, 25, 26) cm / 9 (9, 9, 9.5, 9.5, 9.5, 9.75, 9.75, 10.25) inches
Sleeve length from cuff to underarm (adjustable): 44 (44, 44, 46, 46, 46, 48, 48, 48) cm / 17.25 (17.25, 17.25, 18, 18, 18, 19, 19, 19) inches
Upper arm circumference: 37 (38, 40, 42, 46, 51, 56, 59, 61) cm / 14.5 (15, 15.75, 16.5, 18, 20, 21.75, 23.25, 24) inches
Cuff circumference: 22 (22, 25, 25, 25, 25, 26, 26, 26) cm / 8.75 (8.75, 9.75, 9.75, 9.75, 9.75, 10.25, 10.25, 10.25) inches
Needles:
3.25 mm / US3 DPNs or a circular needle with a cable suitable for small circumference knitting for cuffs
3.25 mm / US3 circular needle with a cable length of 40 cm / 16 inches for the neckline
3.25 mm / US3 circular needle with a cable length of 80 cm / 32 inches for smaller sizes and 100 cm / 40 inches for larger sizes for the hem
4.0 mm / US6 DPNs or a circular needle with a cable suitable for small circumference knitting for sleeves
4.0 mm / US6 circular needle with a cable length of 80 cm / 32 inches for smaller sizes and 100 cm / 40 inches for larger sizes for the main part
Gauge:
19 sts and 27 rounds = 10 cm / 4 inches of Stockinette stitch in the round on larger needles, after blocking
Composition:
100% Baby Yak
Number of skeins:
8 (9, 10, 10, 11, 13, 14, 15, 17) skeins mYak Baby Yak Medium
Sizes 1 (2, 3, 4, 5, 6, 7, 8, 9)
Finished Measurements:
1 (2, 3, 4, 5, 6, 7, 8, 9)
Finished bust circumference: 81 (91, 101, 111, 121, 131, 141, 151, 161) cm / 32 (35.75, 39.75, 43.57, 47.75, 51.5, 55.5 59.5, 63.5) inches including the intended ease of 5-7.5 cm / 2-3 inches
Length from hem to underarm (adjustable): 30 (30, 30, 33, 33, 33, 35, 35, 35) cm / 11.75 (11.75, 11.75, 13, 13, 13, 13.75, 13.75, 13.75) inches
Yoke length: 23 (23, 23, 24, 24, 24, 25, 25, 26) cm / 9 (9, 9, 9.5, 9.5, 9.5, 9.75, 9.75, 10.25) inches
Sleeve length from cuff to underarm (adjustable): 44 (44, 44, 46, 46, 46, 48, 48, 48) cm / 17.25 (17.25, 17.25, 18, 18, 18, 19, 19, 19) inches
Upper arm circumference: 37 (38, 40, 42, 46, 51, 56, 59, 61) cm / 14.5 (15, 15.75, 16.5, 18, 20, 21.75, 23.25, 24) inches
Cuff circumference: 22 (22, 25, 25, 25, 25, 26, 26, 26) cm / 8.75 (8.75, 9.75, 9.75, 9.75, 9.75, 10.25, 10.25, 10.25) inches
Needles:
3.25 mm / US3 DPNs or a circular needle with a cable suitable for small circumference knitting for cuffs
3.25 mm / US3 circular needle with a cable length of 40 cm / 16 inches for the neckline
3.25 mm / US3 circular needle with a cable length of 80 cm / 32 inches for smaller sizes and 100 cm / 40 inches for larger sizes for the hem
4.0 mm / US6 DPNs or a circular needle with a cable suitable for small circumference knitting for sleeves
4.0 mm / US6 circular needle with a cable length of 80 cm / 32 inches for smaller sizes and 100 cm / 40 inches for larger sizes for the main part
Gauge:
19 sts and 27 rounds = 10 cm / 4 inches of Stockinette stitch in the round on larger needles, after blocking
Composition:
100% Baby Yak
Number of skeins:
8 (9, 10, 10, 11, 13, 14, 15, 17) skeins mYak Baby Yak Medium
Sizes 1 (2, 3, 4, 5, 6, 7, 8, 9)
Finished Measurements:
1 (2, 3, 4, 5, 6, 7, 8, 9)
Finished bust circumference: 81 (91, 101, 111, 121, 131, 141, 151, 161) cm / 32 (35.75, 39.75, 43.57, 47.75, 51.5, 55.5 59.5, 63.5) inches including the intended ease of 5-7.5 cm / 2-3 inches
Length from hem to underarm (adjustable): 30 (30, 30, 33, 33, 33, 35, 35, 35) cm / 11.75 (11.75, 11.75, 13, 13, 13, 13.75, 13.75, 13.75) inches
Yoke length: 23 (23, 23, 24, 24, 24, 25, 25, 26) cm / 9 (9, 9, 9.5, 9.5, 9.5, 9.75, 9.75, 10.25) inches
Sleeve length from cuff to underarm (adjustable): 44 (44, 44, 46, 46, 46, 48, 48, 48) cm / 17.25 (17.25, 17.25, 18, 18, 18, 19, 19, 19) inches
Upper arm circumference: 37 (38, 40, 42, 46, 51, 56, 59, 61) cm / 14.5 (15, 15.75, 16.5, 18, 20, 21.75, 23.25, 24) inches
Cuff circumference: 22 (22, 25, 25, 25, 25, 26, 26, 26) cm / 8.75 (8.75, 9.75, 9.75, 9.75, 9.75, 10.25, 10.25, 10.25) inches
Needles:
3.25 mm / US3 DPNs or a circular needle with a cable suitable for small circumference knitting for cuffs
3.25 mm / US3 circular needle with a cable length of 40 cm / 16 inches for the neckline
3.25 mm / US3 circular needle with a cable length of 80 cm / 32 inches for smaller sizes and 100 cm / 40 inches for larger sizes for the hem
4.0 mm / US6 DPNs or a circular needle with a cable suitable for small circumference knitting for sleeves
4.0 mm / US6 circular needle with a cable length of 80 cm / 32 inches for smaller sizes and 100 cm / 40 inches for larger sizes for the main part
Gauge:
19 sts and 27 rounds = 10 cm / 4 inches of Stockinette stitch in the round on larger needles, after blocking
Composition:
100% Baby Yak
Number of skeins:
8 (9, 10, 10, 11, 13, 14, 15, 17) skeins mYak Baby Yak Medium
Sizes 1 (2, 3, 4, 5, 6, 7, 8, 9)
Finished Measurements:
1 (2, 3, 4, 5, 6, 7, 8, 9)
Finished bust circumference: 81 (91, 101, 111, 121, 131, 141, 151, 161) cm / 32 (35.75, 39.75, 43.57, 47.75, 51.5, 55.5 59.5, 63.5) inches including the intended ease of 5-7.5 cm / 2-3 inches
Length from hem to underarm (adjustable): 30 (30, 30, 33, 33, 33, 35, 35, 35) cm / 11.75 (11.75, 11.75, 13, 13, 13, 13.75, 13.75, 13.75) inches
Yoke length: 23 (23, 23, 24, 24, 24, 25, 25, 26) cm / 9 (9, 9, 9.5, 9.5, 9.5, 9.75, 9.75, 10.25) inches
Sleeve length from cuff to underarm (adjustable): 44 (44, 44, 46, 46, 46, 48, 48, 48) cm / 17.25 (17.25, 17.25, 18, 18, 18, 19, 19, 19) inches
Upper arm circumference: 37 (38, 40, 42, 46, 51, 56, 59, 61) cm / 14.5 (15, 15.75, 16.5, 18, 20, 21.75, 23.25, 24) inches
Cuff circumference: 22 (22, 25, 25, 25, 25, 26, 26, 26) cm / 8.75 (8.75, 9.75, 9.75, 9.75, 9.75, 10.25, 10.25, 10.25) inches
Needles:
3.25 mm / US3 DPNs or a circular needle with a cable suitable for small circumference knitting for cuffs
3.25 mm / US3 circular needle with a cable length of 40 cm / 16 inches for the neckline
3.25 mm / US3 circular needle with a cable length of 80 cm / 32 inches for smaller sizes and 100 cm / 40 inches for larger sizes for the hem
4.0 mm / US6 DPNs or a circular needle with a cable suitable for small circumference knitting for sleeves
4.0 mm / US6 circular needle with a cable length of 80 cm / 32 inches for smaller sizes and 100 cm / 40 inches for larger sizes for the main part
Gauge:
19 sts and 27 rounds = 10 cm / 4 inches of Stockinette stitch in the round on larger needles, after blocking
Composition:
100% Baby Yak
Number of skeins:
8 (9, 10, 10, 11, 13, 14, 15, 17) skeins mYak Baby Yak Medium
Sizes 1 (2, 3, 4, 5, 6, 7, 8, 9)
Finished Measurements:
1 (2, 3, 4, 5, 6, 7, 8, 9)
Finished bust circumference: 81 (91, 101, 111, 121, 131, 141, 151, 161) cm / 32 (35.75, 39.75, 43.57, 47.75, 51.5, 55.5 59.5, 63.5) inches including the intended ease of 5-7.5 cm / 2-3 inches
Length from hem to underarm (adjustable): 30 (30, 30, 33, 33, 33, 35, 35, 35) cm / 11.75 (11.75, 11.75, 13, 13, 13, 13.75, 13.75, 13.75) inches
Yoke length: 23 (23, 23, 24, 24, 24, 25, 25, 26) cm / 9 (9, 9, 9.5, 9.5, 9.5, 9.75, 9.75, 10.25) inches
Sleeve length from cuff to underarm (adjustable): 44 (44, 44, 46, 46, 46, 48, 48, 48) cm / 17.25 (17.25, 17.25, 18, 18, 18, 19, 19, 19) inches
Upper arm circumference: 37 (38, 40, 42, 46, 51, 56, 59, 61) cm / 14.5 (15, 15.75, 16.5, 18, 20, 21.75, 23.25, 24) inches
Cuff circumference: 22 (22, 25, 25, 25, 25, 26, 26, 26) cm / 8.75 (8.75, 9.75, 9.75, 9.75, 9.75, 10.25, 10.25, 10.25) inches
Needles:
3.25 mm / US3 DPNs or a circular needle with a cable suitable for small circumference knitting for cuffs
3.25 mm / US3 circular needle with a cable length of 40 cm / 16 inches for the neckline
3.25 mm / US3 circular needle with a cable length of 80 cm / 32 inches for smaller sizes and 100 cm / 40 inches for larger sizes for the hem
4.0 mm / US6 DPNs or a circular needle with a cable suitable for small circumference knitting for sleeves
4.0 mm / US6 circular needle with a cable length of 80 cm / 32 inches for smaller sizes and 100 cm / 40 inches for larger sizes for the main part
Gauge:
19 sts and 27 rounds = 10 cm / 4 inches of Stockinette stitch in the round on larger needles, after blocking
Composition:
100% Baby Yak
Number of skeins:
8 (9, 10, 10, 11, 13, 14, 15, 17) skeins mYak Baby Yak Medium
Sizes 1 (2, 3, 4, 5, 6, 7, 8, 9)
Finished Measurements:
1 (2, 3, 4, 5, 6, 7, 8, 9)
Finished bust circumference: 81 (91, 101, 111, 121, 131, 141, 151, 161) cm / 32 (35.75, 39.75, 43.57, 47.75, 51.5, 55.5 59.5, 63.5) inches including the intended ease of 5-7.5 cm / 2-3 inches
Length from hem to underarm (adjustable): 30 (30, 30, 33, 33, 33, 35, 35, 35) cm / 11.75 (11.75, 11.75, 13, 13, 13, 13.75, 13.75, 13.75) inches
Yoke length: 23 (23, 23, 24, 24, 24, 25, 25, 26) cm / 9 (9, 9, 9.5, 9.5, 9.5, 9.75, 9.75, 10.25) inches
Sleeve length from cuff to underarm (adjustable): 44 (44, 44, 46, 46, 46, 48, 48, 48) cm / 17.25 (17.25, 17.25, 18, 18, 18, 19, 19, 19) inches
Upper arm circumference: 37 (38, 40, 42, 46, 51, 56, 59, 61) cm / 14.5 (15, 15.75, 16.5, 18, 20, 21.75, 23.25, 24) inches
Cuff circumference: 22 (22, 25, 25, 25, 25, 26, 26, 26) cm / 8.75 (8.75, 9.75, 9.75, 9.75, 9.75, 10.25, 10.25, 10.25) inches
Needles:
3.25 mm / US3 DPNs or a circular needle with a cable suitable for small circumference knitting for cuffs
3.25 mm / US3 circular needle with a cable length of 40 cm / 16 inches for the neckline
3.25 mm / US3 circular needle with a cable length of 80 cm / 32 inches for smaller sizes and 100 cm / 40 inches for larger sizes for the hem
4.0 mm / US6 DPNs or a circular needle with a cable suitable for small circumference knitting for sleeves
4.0 mm / US6 circular needle with a cable length of 80 cm / 32 inches for smaller sizes and 100 cm / 40 inches for larger sizes for the main part
Gauge:
19 sts and 27 rounds = 10 cm / 4 inches of Stockinette stitch in the round on larger needles, after blocking
Composition:
100% Baby Yak
Number of skeins:
8 (9, 10, 10, 11, 13, 14, 15, 17) skeins mYak Baby Yak Medium
Sizes 1 (2, 3, 4, 5, 6, 7, 8, 9)
Finished Measurements:
1 (2, 3, 4, 5, 6, 7, 8, 9)
Finished bust circumference: 81 (91, 101, 111, 121, 131, 141, 151, 161) cm / 32 (35.75, 39.75, 43.57, 47.75, 51.5, 55.5 59.5, 63.5) inches including the intended ease of 5-7.5 cm / 2-3 inches
Length from hem to underarm (adjustable): 30 (30, 30, 33, 33, 33, 35, 35, 35) cm / 11.75 (11.75, 11.75, 13, 13, 13, 13.75, 13.75, 13.75) inches
Yoke length: 23 (23, 23, 24, 24, 24, 25, 25, 26) cm / 9 (9, 9, 9.5, 9.5, 9.5, 9.75, 9.75, 10.25) inches
Sleeve length from cuff to underarm (adjustable): 44 (44, 44, 46, 46, 46, 48, 48, 48) cm / 17.25 (17.25, 17.25, 18, 18, 18, 19, 19, 19) inches
Upper arm circumference: 37 (38, 40, 42, 46, 51, 56, 59, 61) cm / 14.5 (15, 15.75, 16.5, 18, 20, 21.75, 23.25, 24) inches
Cuff circumference: 22 (22, 25, 25, 25, 25, 26, 26, 26) cm / 8.75 (8.75, 9.75, 9.75, 9.75, 9.75, 10.25, 10.25, 10.25) inches
Needles:
3.25 mm / US3 DPNs or a circular needle with a cable suitable for small circumference knitting for cuffs
3.25 mm / US3 circular needle with a cable length of 40 cm / 16 inches for the neckline
3.25 mm / US3 circular needle with a cable length of 80 cm / 32 inches for smaller sizes and 100 cm / 40 inches for larger sizes for the hem
4.0 mm / US6 DPNs or a circular needle with a cable suitable for small circumference knitting for sleeves
4.0 mm / US6 circular needle with a cable length of 80 cm / 32 inches for smaller sizes and 100 cm / 40 inches for larger sizes for the main part
Gauge:
19 sts and 27 rounds = 10 cm / 4 inches of Stockinette stitch in the round on larger needles, after blocking
Composition:
100% Baby Yak
Number of skeins:
8 (9, 10, 10, 11, 13, 14, 15, 17) skeins mYak Baby Yak Medium
Sizes 1 (2, 3, 4, 5, 6, 7, 8, 9)
Finished Measurements:
1 (2, 3, 4, 5, 6, 7, 8, 9)
Finished bust circumference: 81 (91, 101, 111, 121, 131, 141, 151, 161) cm / 32 (35.75, 39.75, 43.57, 47.75, 51.5, 55.5 59.5, 63.5) inches including the intended ease of 5-7.5 cm / 2-3 inches
Length from hem to underarm (adjustable): 30 (30, 30, 33, 33, 33, 35, 35, 35) cm / 11.75 (11.75, 11.75, 13, 13, 13, 13.75, 13.75, 13.75) inches
Yoke length: 23 (23, 23, 24, 24, 24, 25, 25, 26) cm / 9 (9, 9, 9.5, 9.5, 9.5, 9.75, 9.75, 10.25) inches
Sleeve length from cuff to underarm (adjustable): 44 (44, 44, 46, 46, 46, 48, 48, 48) cm / 17.25 (17.25, 17.25, 18, 18, 18, 19, 19, 19) inches
Upper arm circumference: 37 (38, 40, 42, 46, 51, 56, 59, 61) cm / 14.5 (15, 15.75, 16.5, 18, 20, 21.75, 23.25, 24) inches
Cuff circumference: 22 (22, 25, 25, 25, 25, 26, 26, 26) cm / 8.75 (8.75, 9.75, 9.75, 9.75, 9.75, 10.25, 10.25, 10.25) inches
Needles:
3.25 mm / US3 DPNs or a circular needle with a cable suitable for small circumference knitting for cuffs
3.25 mm / US3 circular needle with a cable length of 40 cm / 16 inches for the neckline
3.25 mm / US3 circular needle with a cable length of 80 cm / 32 inches for smaller sizes and 100 cm / 40 inches for larger sizes for the hem
4.0 mm / US6 DPNs or a circular needle with a cable suitable for small circumference knitting for sleeves
4.0 mm / US6 circular needle with a cable length of 80 cm / 32 inches for smaller sizes and 100 cm / 40 inches for larger sizes for the main part
Gauge:
19 sts and 27 rounds = 10 cm / 4 inches of Stockinette stitch in the round on larger needles, after blocking
Composition:
100% Baby Yak
Number of skeins:
8 (9, 10, 10, 11, 13, 14, 15, 17) skeins mYak Baby Yak Medium
Sizes 1 (2, 3, 4, 5, 6, 7, 8, 9)
Finished Measurements:
1 (2, 3, 4, 5, 6, 7, 8, 9)
Finished bust circumference: 81 (91, 101, 111, 121, 131, 141, 151, 161) cm / 32 (35.75, 39.75, 43.57, 47.75, 51.5, 55.5 59.5, 63.5) inches including the intended ease of 5-7.5 cm / 2-3 inches
Length from hem to underarm (adjustable): 30 (30, 30, 33, 33, 33, 35, 35, 35) cm / 11.75 (11.75, 11.75, 13, 13, 13, 13.75, 13.75, 13.75) inches
Yoke length: 23 (23, 23, 24, 24, 24, 25, 25, 26) cm / 9 (9, 9, 9.5, 9.5, 9.5, 9.75, 9.75, 10.25) inches
Sleeve length from cuff to underarm (adjustable): 44 (44, 44, 46, 46, 46, 48, 48, 48) cm / 17.25 (17.25, 17.25, 18, 18, 18, 19, 19, 19) inches
Upper arm circumference: 37 (38, 40, 42, 46, 51, 56, 59, 61) cm / 14.5 (15, 15.75, 16.5, 18, 20, 21.75, 23.25, 24) inches
Cuff circumference: 22 (22, 25, 25, 25, 25, 26, 26, 26) cm / 8.75 (8.75, 9.75, 9.75, 9.75, 9.75, 10.25, 10.25, 10.25) inches
Needles:
3.25 mm / US3 DPNs or a circular needle with a cable suitable for small circumference knitting for cuffs
3.25 mm / US3 circular needle with a cable length of 40 cm / 16 inches for the neckline
3.25 mm / US3 circular needle with a cable length of 80 cm / 32 inches for smaller sizes and 100 cm / 40 inches for larger sizes for the hem
4.0 mm / US6 DPNs or a circular needle with a cable suitable for small circumference knitting for sleeves
4.0 mm / US6 circular needle with a cable length of 80 cm / 32 inches for smaller sizes and 100 cm / 40 inches for larger sizes for the main part
Gauge:
19 sts and 27 rounds = 10 cm / 4 inches of Stockinette stitch in the round on larger needles, after blocking
Composition:
100% Baby Yak
Number of skeins:
8 (9, 10, 10, 11, 13, 14, 15, 17) skeins mYak Baby Yak Medium
Sizes 1 (2, 3, 4, 5, 6, 7, 8, 9)
Finished Measurements:
1 (2, 3, 4, 5, 6, 7, 8, 9)
Finished bust circumference: 81 (91, 101, 111, 121, 131, 141, 151, 161) cm / 32 (35.75, 39.75, 43.57, 47.75, 51.5, 55.5 59.5, 63.5) inches including the intended ease of 5-7.5 cm / 2-3 inches
Length from hem to underarm (adjustable): 30 (30, 30, 33, 33, 33, 35, 35, 35) cm / 11.75 (11.75, 11.75, 13, 13, 13, 13.75, 13.75, 13.75) inches
Yoke length: 23 (23, 23, 24, 24, 24, 25, 25, 26) cm / 9 (9, 9, 9.5, 9.5, 9.5, 9.75, 9.75, 10.25) inches
Sleeve length from cuff to underarm (adjustable): 44 (44, 44, 46, 46, 46, 48, 48, 48) cm / 17.25 (17.25, 17.25, 18, 18, 18, 19, 19, 19) inches
Upper arm circumference: 37 (38, 40, 42, 46, 51, 56, 59, 61) cm / 14.5 (15, 15.75, 16.5, 18, 20, 21.75, 23.25, 24) inches
Cuff circumference: 22 (22, 25, 25, 25, 25, 26, 26, 26) cm / 8.75 (8.75, 9.75, 9.75, 9.75, 9.75, 10.25, 10.25, 10.25) inches
Needles:
3.25 mm / US3 DPNs or a circular needle with a cable suitable for small circumference knitting for cuffs
3.25 mm / US3 circular needle with a cable length of 40 cm / 16 inches for the neckline
3.25 mm / US3 circular needle with a cable length of 80 cm / 32 inches for smaller sizes and 100 cm / 40 inches for larger sizes for the hem
4.0 mm / US6 DPNs or a circular needle with a cable suitable for small circumference knitting for sleeves
4.0 mm / US6 circular needle with a cable length of 80 cm / 32 inches for smaller sizes and 100 cm / 40 inches for larger sizes for the main part
Gauge:
19 sts and 27 rounds = 10 cm / 4 inches of Stockinette stitch in the round on larger needles, after blocking
Composition:
100% Baby Yak
Number of skeins:
8 (9, 10, 10, 11, 13, 14, 15, 17) skeins mYak Baby Yak Medium
Sizes 1 (2, 3, 4, 5, 6, 7, 8, 9)
Finished Measurements:
1 (2, 3, 4, 5, 6, 7, 8, 9)
Finished bust circumference: 81 (91, 101, 111, 121, 131, 141, 151, 161) cm / 32 (35.75, 39.75, 43.57, 47.75, 51.5, 55.5 59.5, 63.5) inches including the intended ease of 5-7.5 cm / 2-3 inches
Length from hem to underarm (adjustable): 30 (30, 30, 33, 33, 33, 35, 35, 35) cm / 11.75 (11.75, 11.75, 13, 13, 13, 13.75, 13.75, 13.75) inches
Yoke length: 23 (23, 23, 24, 24, 24, 25, 25, 26) cm / 9 (9, 9, 9.5, 9.5, 9.5, 9.75, 9.75, 10.25) inches
Sleeve length from cuff to underarm (adjustable): 44 (44, 44, 46, 46, 46, 48, 48, 48) cm / 17.25 (17.25, 17.25, 18, 18, 18, 19, 19, 19) inches
Upper arm circumference: 37 (38, 40, 42, 46, 51, 56, 59, 61) cm / 14.5 (15, 15.75, 16.5, 18, 20, 21.75, 23.25, 24) inches
Cuff circumference: 22 (22, 25, 25, 25, 25, 26, 26, 26) cm / 8.75 (8.75, 9.75, 9.75, 9.75, 9.75, 10.25, 10.25, 10.25) inches
Needles:
3.25 mm / US3 DPNs or a circular needle with a cable suitable for small circumference knitting for cuffs
3.25 mm / US3 circular needle with a cable length of 40 cm / 16 inches for the neckline
3.25 mm / US3 circular needle with a cable length of 80 cm / 32 inches for smaller sizes and 100 cm / 40 inches for larger sizes for the hem
4.0 mm / US6 DPNs or a circular needle with a cable suitable for small circumference knitting for sleeves
4.0 mm / US6 circular needle with a cable length of 80 cm / 32 inches for smaller sizes and 100 cm / 40 inches for larger sizes for the main part
Gauge:
19 sts and 27 rounds = 10 cm / 4 inches of Stockinette stitch in the round on larger needles, after blocking
Composition:
100% Baby Yak
Number of skeins:
8 (9, 10, 10, 11, 13, 14, 15, 17) skeins mYak Baby Yak Medium
Sizes 1 (2, 3, 4, 5, 6, 7, 8, 9)
Finished Measurements:
1 (2, 3, 4, 5, 6, 7, 8, 9)
Finished bust circumference: 81 (91, 101, 111, 121, 131, 141, 151, 161) cm / 32 (35.75, 39.75, 43.57, 47.75, 51.5, 55.5 59.5, 63.5) inches including the intended ease of 5-7.5 cm / 2-3 inches
Length from hem to underarm (adjustable): 30 (30, 30, 33, 33, 33, 35, 35, 35) cm / 11.75 (11.75, 11.75, 13, 13, 13, 13.75, 13.75, 13.75) inches
Yoke length: 23 (23, 23, 24, 24, 24, 25, 25, 26) cm / 9 (9, 9, 9.5, 9.5, 9.5, 9.75, 9.75, 10.25) inches
Sleeve length from cuff to underarm (adjustable): 44 (44, 44, 46, 46, 46, 48, 48, 48) cm / 17.25 (17.25, 17.25, 18, 18, 18, 19, 19, 19) inches
Upper arm circumference: 37 (38, 40, 42, 46, 51, 56, 59, 61) cm / 14.5 (15, 15.75, 16.5, 18, 20, 21.75, 23.25, 24) inches
Cuff circumference: 22 (22, 25, 25, 25, 25, 26, 26, 26) cm / 8.75 (8.75, 9.75, 9.75, 9.75, 9.75, 10.25, 10.25, 10.25) inches
Needles:
3.25 mm / US3 DPNs or a circular needle with a cable suitable for small circumference knitting for cuffs
3.25 mm / US3 circular needle with a cable length of 40 cm / 16 inches for the neckline
3.25 mm / US3 circular needle with a cable length of 80 cm / 32 inches for smaller sizes and 100 cm / 40 inches for larger sizes for the hem
4.0 mm / US6 DPNs or a circular needle with a cable suitable for small circumference knitting for sleeves
4.0 mm / US6 circular needle with a cable length of 80 cm / 32 inches for smaller sizes and 100 cm / 40 inches for larger sizes for the main part
Gauge:
19 sts and 27 rounds = 10 cm / 4 inches of Stockinette stitch in the round on larger needles, after blocking
Composition:
100% Baby Yak
Number of skeins:
8 (9, 10, 10, 11, 13, 14, 15, 17) skeins mYak Baby Yak Medium
Sizes 1 (2, 3, 4, 5, 6, 7, 8, 9)
Finished Measurements:
1 (2, 3, 4, 5, 6, 7, 8, 9)
Finished bust circumference: 81 (91, 101, 111, 121, 131, 141, 151, 161) cm / 32 (35.75, 39.75, 43.57, 47.75, 51.5, 55.5 59.5, 63.5) inches including the intended ease of 5-7.5 cm / 2-3 inches
Length from hem to underarm (adjustable): 30 (30, 30, 33, 33, 33, 35, 35, 35) cm / 11.75 (11.75, 11.75, 13, 13, 13, 13.75, 13.75, 13.75) inches
Yoke length: 23 (23, 23, 24, 24, 24, 25, 25, 26) cm / 9 (9, 9, 9.5, 9.5, 9.5, 9.75, 9.75, 10.25) inches
Sleeve length from cuff to underarm (adjustable): 44 (44, 44, 46, 46, 46, 48, 48, 48) cm / 17.25 (17.25, 17.25, 18, 18, 18, 19, 19, 19) inches
Upper arm circumference: 37 (38, 40, 42, 46, 51, 56, 59, 61) cm / 14.5 (15, 15.75, 16.5, 18, 20, 21.75, 23.25, 24) inches
Cuff circumference: 22 (22, 25, 25, 25, 25, 26, 26, 26) cm / 8.75 (8.75, 9.75, 9.75, 9.75, 9.75, 10.25, 10.25, 10.25) inches
Needles:
3.25 mm / US3 DPNs or a circular needle with a cable suitable for small circumference knitting for cuffs
3.25 mm / US3 circular needle with a cable length of 40 cm / 16 inches for the neckline
3.25 mm / US3 circular needle with a cable length of 80 cm / 32 inches for smaller sizes and 100 cm / 40 inches for larger sizes for the hem
4.0 mm / US6 DPNs or a circular needle with a cable suitable for small circumference knitting for sleeves
4.0 mm / US6 circular needle with a cable length of 80 cm / 32 inches for smaller sizes and 100 cm / 40 inches for larger sizes for the main part
Gauge:
19 sts and 27 rounds = 10 cm / 4 inches of Stockinette stitch in the round on larger needles, after blocking
Composition:
100% Baby Yak
Number of skeins:
8 (9, 10, 10, 11, 13, 14, 15, 17) skeins mYak Baby Yak Medium
Sizes 1 (2, 3, 4, 5, 6, 7, 8, 9)
Finished Measurements:
1 (2, 3, 4, 5, 6, 7, 8, 9)
Finished bust circumference: 81 (91, 101, 111, 121, 131, 141, 151, 161) cm / 32 (35.75, 39.75, 43.57, 47.75, 51.5, 55.5 59.5, 63.5) inches including the intended ease of 5-7.5 cm / 2-3 inches
Length from hem to underarm (adjustable): 30 (30, 30, 33, 33, 33, 35, 35, 35) cm / 11.75 (11.75, 11.75, 13, 13, 13, 13.75, 13.75, 13.75) inches
Yoke length: 23 (23, 23, 24, 24, 24, 25, 25, 26) cm / 9 (9, 9, 9.5, 9.5, 9.5, 9.75, 9.75, 10.25) inches
Sleeve length from cuff to underarm (adjustable): 44 (44, 44, 46, 46, 46, 48, 48, 48) cm / 17.25 (17.25, 17.25, 18, 18, 18, 19, 19, 19) inches
Upper arm circumference: 37 (38, 40, 42, 46, 51, 56, 59, 61) cm / 14.5 (15, 15.75, 16.5, 18, 20, 21.75, 23.25, 24) inches
Cuff circumference: 22 (22, 25, 25, 25, 25, 26, 26, 26) cm / 8.75 (8.75, 9.75, 9.75, 9.75, 9.75, 10.25, 10.25, 10.25) inches
Needles:
3.25 mm / US3 DPNs or a circular needle with a cable suitable for small circumference knitting for cuffs
3.25 mm / US3 circular needle with a cable length of 40 cm / 16 inches for the neckline
3.25 mm / US3 circular needle with a cable length of 80 cm / 32 inches for smaller sizes and 100 cm / 40 inches for larger sizes for the hem
4.0 mm / US6 DPNs or a circular needle with a cable suitable for small circumference knitting for sleeves
4.0 mm / US6 circular needle with a cable length of 80 cm / 32 inches for smaller sizes and 100 cm / 40 inches for larger sizes for the main part
Gauge:
19 sts and 27 rounds = 10 cm / 4 inches of Stockinette stitch in the round on larger needles, after blocking
You may also like
Pàs Pullover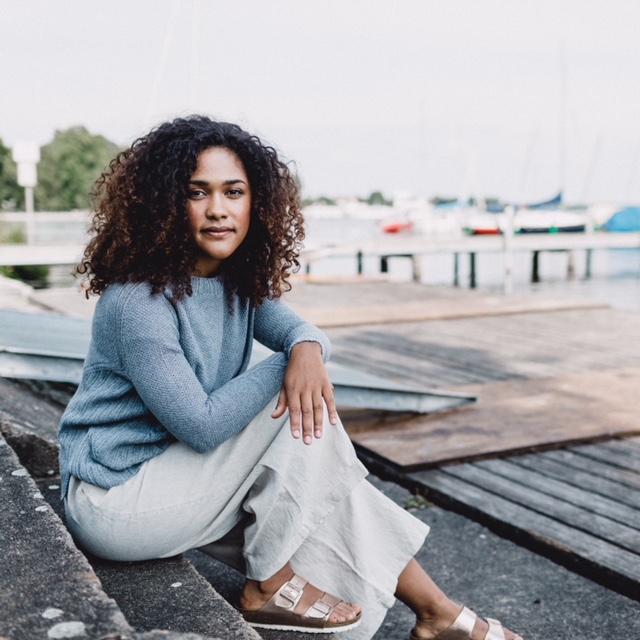 chevron_right
Farnese Shawl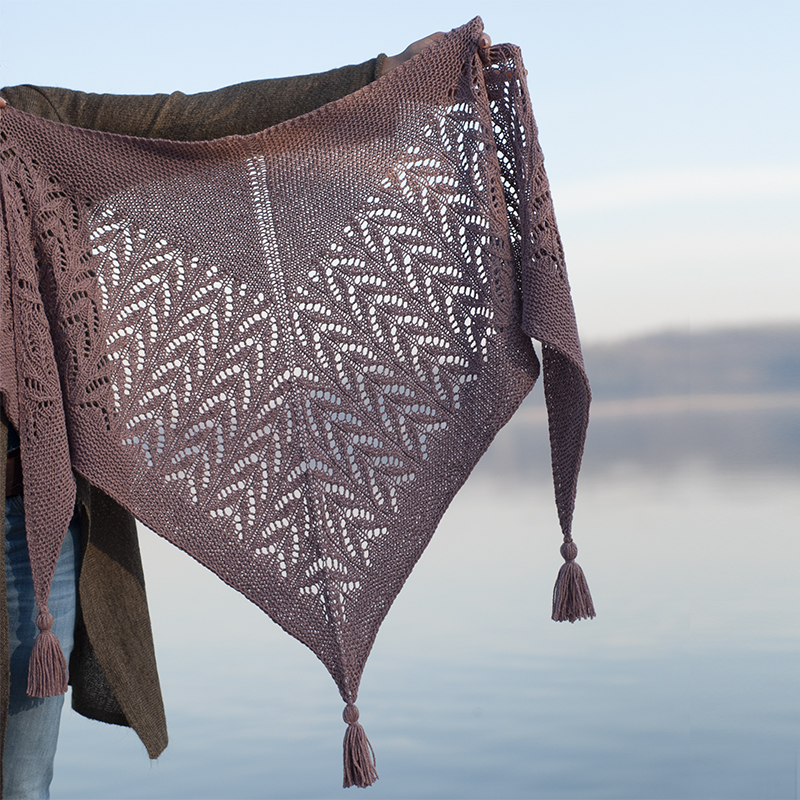 chevron_right
Silverlining Sweater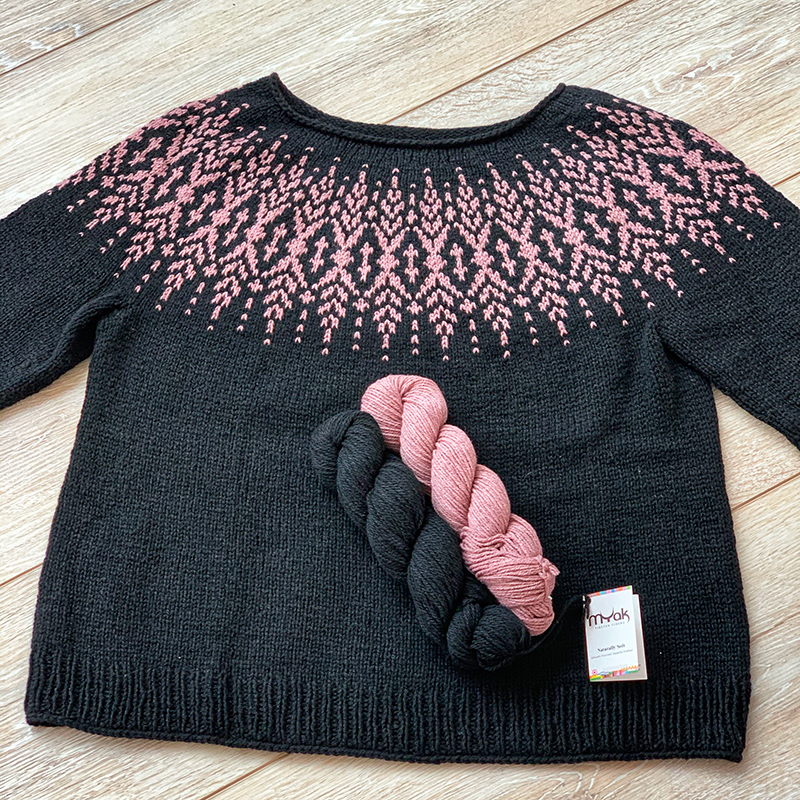 chevron_right