Sei Cowl
From: $81.00
by Olga Buraya-Kefelian 
清 (Japanese) – calm, pure, stillness
Created in collaboration with the mYak yarn company for KORA club, this design originated with the color, Healing Blue, which represents healing and is an embodiment of the Tibetan Medicine Buddha, as he creates a sense of serenity and healing with his deep lapis blue halo. The cowl is comprised of series of meditative slip-stitch pattern motifs and worked top down as the repeats grow progressively in size, forming a slight trapeze shape, while baby yak fibers comfortably envelop your neck and shoulders to keep you snug and protected.
(Olga Buraya-Kefelian)
Each kit contains the yarn you will need to complete your project.
The pattern is not included.
You can purchase the pattern on Ravelry here.
You can also create your own color of this shawl. Just click here and get your skeins.
©Olga Buraya-Kefelian
Category:
Shawls & Cowls
Composition:
100% Baby Yak
Number of skeins:
CC1 2 Skeins Dusty Pink / Desert / Black / Black / Lazy Day / Midnight Blue
CC2 2 Skeins Midnight Blue / Saffron / Ochre / Night Flower / Oatmeal / Tibetan Sky
Finished Measurements:
FINISHED MEASUREMENTS
Circumference on top at narrow end 26" / 66.5 cm
Circumference on the bottom at wide end 42" / 107 cm
Height 12½" / 32 cm
Yarn:
4 Skeins in mYak Baby Yak Medium
Needles:
US 6 (4mm) circular, 16" / 40 cm and 24" / 61 cm
OR use size to obtain gauge
Gauge:
20 sts and 26 rows=4" /10 cm in St st worked flat, measured once dry after washing and blocking.
(This gauge is provided to get the correct yarn weight to create the right fabric for this stitch pattern)
1 10-st rep measures approx 1⅞" / 4.75 cm wide worked in pattern A
1 12-st rep measures approx 2¼" / 5.75 cm wide worked in pattern B
1 14-st rep measures approx 2⅝" / 6.35 cm wide worked in pattern C
1 16-st rep measures approx 3" / 7.5 cm wide worked in pattern D
Composition:
100% Baby Yak
Number of skeins:
CC1 2 Skeins Dusty Pink / Desert / Black / Black / Lazy Day / Midnight Blue
CC2 2 Skeins Midnight Blue / Saffron / Ochre / Night Flower / Oatmeal / Tibetan Sky
Finished Measurements:
FINISHED MEASUREMENTS
Circumference on top at narrow end 26" / 66.5 cm
Circumference on the bottom at wide end 42" / 107 cm
Height 12½" / 32 cm
Yarn:
4 Skeins in mYak Baby Yak Medium
Needles:
US 6 (4mm) circular, 16" / 40 cm and 24" / 61 cm
OR use size to obtain gauge
Gauge:
20 sts and 26 rows=4" /10 cm in St st worked flat, measured once dry after washing and blocking.
(This gauge is provided to get the correct yarn weight to create the right fabric for this stitch pattern)
1 10-st rep measures approx 1⅞" / 4.75 cm wide worked in pattern A
1 12-st rep measures approx 2¼" / 5.75 cm wide worked in pattern B
1 14-st rep measures approx 2⅝" / 6.35 cm wide worked in pattern C
1 16-st rep measures approx 3" / 7.5 cm wide worked in pattern D
Composition:
100% Baby Yak
Number of skeins:
CC1 2 Skeins Dusty Pink / Desert / Black / Black / Lazy Day / Midnight Blue
CC2 2 Skeins Midnight Blue / Saffron / Ochre / Night Flower / Oatmeal / Tibetan Sky
Finished Measurements:
FINISHED MEASUREMENTS
Circumference on top at narrow end 26" / 66.5 cm
Circumference on the bottom at wide end 42" / 107 cm
Height 12½" / 32 cm
Yarn:
4 Skeins in mYak Baby Yak Medium
Needles:
US 6 (4mm) circular, 16" / 40 cm and 24" / 61 cm
OR use size to obtain gauge
Gauge:
20 sts and 26 rows=4" /10 cm in St st worked flat, measured once dry after washing and blocking.
(This gauge is provided to get the correct yarn weight to create the right fabric for this stitch pattern)
1 10-st rep measures approx 1⅞" / 4.75 cm wide worked in pattern A
1 12-st rep measures approx 2¼" / 5.75 cm wide worked in pattern B
1 14-st rep measures approx 2⅝" / 6.35 cm wide worked in pattern C
1 16-st rep measures approx 3" / 7.5 cm wide worked in pattern D
Composition:
100% Baby Yak
Number of skeins:
CC1 2 Skeins Dusty Pink / Desert / Black / Black / Lazy Day / Midnight Blue
CC2 2 Skeins Midnight Blue / Saffron / Ochre / Night Flower / Oatmeal / Tibetan Sky
Finished Measurements:
FINISHED MEASUREMENTS
Circumference on top at narrow end 26" / 66.5 cm
Circumference on the bottom at wide end 42" / 107 cm
Height 12½" / 32 cm
Yarn:
4 Skeins in mYak Baby Yak Medium
Needles:
US 6 (4mm) circular, 16" / 40 cm and 24" / 61 cm
OR use size to obtain gauge
Gauge:
20 sts and 26 rows=4" /10 cm in St st worked flat, measured once dry after washing and blocking.
(This gauge is provided to get the correct yarn weight to create the right fabric for this stitch pattern)
1 10-st rep measures approx 1⅞" / 4.75 cm wide worked in pattern A
1 12-st rep measures approx 2¼" / 5.75 cm wide worked in pattern B
1 14-st rep measures approx 2⅝" / 6.35 cm wide worked in pattern C
1 16-st rep measures approx 3" / 7.5 cm wide worked in pattern D
Composition:
100% Baby Yak
Number of skeins:
CC1 2 Skeins Dusty Pink / Desert / Black / Black / Lazy Day / Midnight Blue
CC2 2 Skeins Midnight Blue / Saffron / Ochre / Night Flower / Oatmeal / Tibetan Sky
Finished Measurements:
FINISHED MEASUREMENTS
Circumference on top at narrow end 26" / 66.5 cm
Circumference on the bottom at wide end 42" / 107 cm
Height 12½" / 32 cm
Yarn:
4 Skeins in mYak Baby Yak Medium
Needles:
US 6 (4mm) circular, 16" / 40 cm and 24" / 61 cm
OR use size to obtain gauge
Gauge:
20 sts and 26 rows=4" /10 cm in St st worked flat, measured once dry after washing and blocking.
(This gauge is provided to get the correct yarn weight to create the right fabric for this stitch pattern)
1 10-st rep measures approx 1⅞" / 4.75 cm wide worked in pattern A
1 12-st rep measures approx 2¼" / 5.75 cm wide worked in pattern B
1 14-st rep measures approx 2⅝" / 6.35 cm wide worked in pattern C
1 16-st rep measures approx 3" / 7.5 cm wide worked in pattern D
Composition:
100% Baby Yak
Number of skeins:
CC1 2 Skeins Dusty Pink / Desert / Black / Black / Lazy Day / Midnight Blue
CC2 2 Skeins Midnight Blue / Saffron / Ochre / Night Flower / Oatmeal / Tibetan Sky
Finished Measurements:
FINISHED MEASUREMENTS
Circumference on top at narrow end 26" / 66.5 cm
Circumference on the bottom at wide end 42" / 107 cm
Height 12½" / 32 cm
Yarn:
4 Skeins in mYak Baby Yak Medium
Needles:
US 6 (4mm) circular, 16" / 40 cm and 24" / 61 cm
OR use size to obtain gauge
Gauge:
20 sts and 26 rows=4" /10 cm in St st worked flat, measured once dry after washing and blocking.
(This gauge is provided to get the correct yarn weight to create the right fabric for this stitch pattern)
1 10-st rep measures approx 1⅞" / 4.75 cm wide worked in pattern A
1 12-st rep measures approx 2¼" / 5.75 cm wide worked in pattern B
1 14-st rep measures approx 2⅝" / 6.35 cm wide worked in pattern C
1 16-st rep measures approx 3" / 7.5 cm wide worked in pattern D
Composition:
100% Baby Yak
Finished Measurements:
FINISHED MEASUREMENTS
Circumference on top at narrow end 22½ (26)" / 57 (66.5) cm
Circumference on the bottom at wide end 36 (42)" / 91.5 (107) cm
Height 12½" / 32 cm
Yarn:
3 (4) Skeins in mYak Baby Yak Medium
Needles:
US 6 (4mm) circular, 16" / 40 cm and 24" / 61 cm
OR use size to obtain gauge
Gauge:
20 sts and 26 rows=4" /10 cm in St st worked flat, measured once dry after washing and blocking.
(This gauge is provided to get the correct yarn weight to create the right fabric for this stitch pattern)
1 10-st rep measures approx 1⅞" / 4.75 cm wide worked in pattern A
1 12-st rep measures approx 2¼" / 5.75 cm wide worked in pattern B
1 14-st rep measures approx 2⅝" / 6.35 cm wide worked in pattern C
1 16-st rep measures approx 3" / 7.5 cm wide worked in pattern D
Composition:
100% Baby Yak
Finished Measurements:
FINISHED MEASUREMENTS
Circumference on top at narrow end 22½ (26)" / 57 (66.5) cm
Circumference on the bottom at wide end 36 (42)" / 91.5 (107) cm
Height 12½" / 32 cm
Yarn:
3 (4) Skeins in mYak Baby Yak Medium
Needles:
US 6 (4mm) circular, 16" / 40 cm and 24" / 61 cm
OR use size to obtain gauge
Gauge:
20 sts and 26 rows=4" /10 cm in St st worked flat, measured once dry after washing and blocking.
(This gauge is provided to get the correct yarn weight to create the right fabric for this stitch pattern)
1 10-st rep measures approx 1⅞" / 4.75 cm wide worked in pattern A
1 12-st rep measures approx 2¼" / 5.75 cm wide worked in pattern B
1 14-st rep measures approx 2⅝" / 6.35 cm wide worked in pattern C
1 16-st rep measures approx 3" / 7.5 cm wide worked in pattern D
Composition:
100% Baby Yak
Finished Measurements:
FINISHED MEASUREMENTS
Circumference on top at narrow end 22½ (26)" / 57 (66.5) cm
Circumference on the bottom at wide end 36 (42)" / 91.5 (107) cm
Height 12½" / 32 cm
Yarn:
3 (4) Skeins in mYak Baby Yak Medium
Needles:
US 6 (4mm) circular, 16" / 40 cm and 24" / 61 cm
OR use size to obtain gauge
Gauge:
20 sts and 26 rows=4" /10 cm in St st worked flat, measured once dry after washing and blocking.
(This gauge is provided to get the correct yarn weight to create the right fabric for this stitch pattern)
1 10-st rep measures approx 1⅞" / 4.75 cm wide worked in pattern A
1 12-st rep measures approx 2¼" / 5.75 cm wide worked in pattern B
1 14-st rep measures approx 2⅝" / 6.35 cm wide worked in pattern C
1 16-st rep measures approx 3" / 7.5 cm wide worked in pattern D
Composition:
100% Baby Yak
Finished Measurements:
FINISHED MEASUREMENTS
Circumference on top at narrow end 22½ (26)" / 57 (66.5) cm
Circumference on the bottom at wide end 36 (42)" / 91.5 (107) cm
Height 12½" / 32 cm
Yarn:
3 (4) Skeins in mYak Baby Yak Medium
Needles:
US 6 (4mm) circular, 16" / 40 cm and 24" / 61 cm
OR use size to obtain gauge
Gauge:
20 sts and 26 rows=4" /10 cm in St st worked flat, measured once dry after washing and blocking.
(This gauge is provided to get the correct yarn weight to create the right fabric for this stitch pattern)
1 10-st rep measures approx 1⅞" / 4.75 cm wide worked in pattern A
1 12-st rep measures approx 2¼" / 5.75 cm wide worked in pattern B
1 14-st rep measures approx 2⅝" / 6.35 cm wide worked in pattern C
1 16-st rep measures approx 3" / 7.5 cm wide worked in pattern D
Composition:
100% Baby Yak
Finished Measurements:
FINISHED MEASUREMENTS
Circumference on top at narrow end 22½ (26)" / 57 (66.5) cm
Circumference on the bottom at wide end 36 (42)" / 91.5 (107) cm
Height 12½" / 32 cm
Yarn:
3 (4) Skeins in mYak Baby Yak Medium
Needles:
US 6 (4mm) circular, 16" / 40 cm and 24" / 61 cm
OR use size to obtain gauge
Gauge:
20 sts and 26 rows=4" /10 cm in St st worked flat, measured once dry after washing and blocking.
(This gauge is provided to get the correct yarn weight to create the right fabric for this stitch pattern)
1 10-st rep measures approx 1⅞" / 4.75 cm wide worked in pattern A
1 12-st rep measures approx 2¼" / 5.75 cm wide worked in pattern B
1 14-st rep measures approx 2⅝" / 6.35 cm wide worked in pattern C
1 16-st rep measures approx 3" / 7.5 cm wide worked in pattern D
Composition:
100% Baby Yak
Finished Measurements:
FINISHED MEASUREMENTS
Circumference on top at narrow end 22½ (26)" / 57 (66.5) cm
Circumference on the bottom at wide end 36 (42)" / 91.5 (107) cm
Height 12½" / 32 cm
Yarn:
3 (4) Skeins in mYak Baby Yak Medium
Needles:
US 6 (4mm) circular, 16" / 40 cm and 24" / 61 cm
OR use size to obtain gauge
Gauge:
20 sts and 26 rows=4" /10 cm in St st worked flat, measured once dry after washing and blocking.
(This gauge is provided to get the correct yarn weight to create the right fabric for this stitch pattern)
1 10-st rep measures approx 1⅞" / 4.75 cm wide worked in pattern A
1 12-st rep measures approx 2¼" / 5.75 cm wide worked in pattern B
1 14-st rep measures approx 2⅝" / 6.35 cm wide worked in pattern C
1 16-st rep measures approx 3" / 7.5 cm wide worked in pattern D
Composition:
100% Baby Yak
Finished Measurements:
FINISHED MEASUREMENTS
Circumference on top at narrow end 22½ (26)" / 57 (66.5) cm
Circumference on the bottom at wide end 36 (42)" / 91.5 (107) cm
Height 12½" / 32 cm
Yarn:
3 (4) Skeins in mYak Baby Yak Medium
Needles:
US 6 (4mm) circular, 16" / 40 cm and 24" / 61 cm
OR use size to obtain gauge
Gauge:
20 sts and 26 rows=4" /10 cm in St st worked flat, measured once dry after washing and blocking.
(This gauge is provided to get the correct yarn weight to create the right fabric for this stitch pattern)
1 10-st rep measures approx 1⅞" / 4.75 cm wide worked in pattern A
1 12-st rep measures approx 2¼" / 5.75 cm wide worked in pattern B
1 14-st rep measures approx 2⅝" / 6.35 cm wide worked in pattern C
1 16-st rep measures approx 3" / 7.5 cm wide worked in pattern D
Composition:
100% Baby Yak
Finished Measurements:
FINISHED MEASUREMENTS
Circumference on top at narrow end 22½ (26)" / 57 (66.5) cm
Circumference on the bottom at wide end 36 (42)" / 91.5 (107) cm
Height 12½" / 32 cm
Yarn:
3 (4) Skeins in mYak Baby Yak Medium
Needles:
US 6 (4mm) circular, 16" / 40 cm and 24" / 61 cm
OR use size to obtain gauge
Gauge:
20 sts and 26 rows=4" /10 cm in St st worked flat, measured once dry after washing and blocking.
(This gauge is provided to get the correct yarn weight to create the right fabric for this stitch pattern)
1 10-st rep measures approx 1⅞" / 4.75 cm wide worked in pattern A
1 12-st rep measures approx 2¼" / 5.75 cm wide worked in pattern B
1 14-st rep measures approx 2⅝" / 6.35 cm wide worked in pattern C
1 16-st rep measures approx 3" / 7.5 cm wide worked in pattern D
Composition:
100% Baby Yak
Finished Measurements:
FINISHED MEASUREMENTS
Circumference on top at narrow end 22½ (26)" / 57 (66.5) cm
Circumference on the bottom at wide end 36 (42)" / 91.5 (107) cm
Height 12½" / 32 cm
Yarn:
3 (4) Skeins in mYak Baby Yak Medium
Needles:
US 6 (4mm) circular, 16" / 40 cm and 24" / 61 cm
OR use size to obtain gauge
Gauge:
20 sts and 26 rows=4" /10 cm in St st worked flat, measured once dry after washing and blocking.
(This gauge is provided to get the correct yarn weight to create the right fabric for this stitch pattern)
1 10-st rep measures approx 1⅞" / 4.75 cm wide worked in pattern A
1 12-st rep measures approx 2¼" / 5.75 cm wide worked in pattern B
1 14-st rep measures approx 2⅝" / 6.35 cm wide worked in pattern C
1 16-st rep measures approx 3" / 7.5 cm wide worked in pattern D
Composition:
100% Baby Yak
Finished Measurements:
FINISHED MEASUREMENTS
Circumference on top at narrow end 22½ (26)" / 57 (66.5) cm
Circumference on the bottom at wide end 36 (42)" / 91.5 (107) cm
Height 12½" / 32 cm
Yarn:
3 (4) Skeins in mYak Baby Yak Medium
Needles:
US 6 (4mm) circular, 16" / 40 cm and 24" / 61 cm
OR use size to obtain gauge
Gauge:
20 sts and 26 rows=4" /10 cm in St st worked flat, measured once dry after washing and blocking.
(This gauge is provided to get the correct yarn weight to create the right fabric for this stitch pattern)
1 10-st rep measures approx 1⅞" / 4.75 cm wide worked in pattern A
1 12-st rep measures approx 2¼" / 5.75 cm wide worked in pattern B
1 14-st rep measures approx 2⅝" / 6.35 cm wide worked in pattern C
1 16-st rep measures approx 3" / 7.5 cm wide worked in pattern D
Composition:
100% Baby Yak
Finished Measurements:
FINISHED MEASUREMENTS
Circumference on top at narrow end 22½ (26)" / 57 (66.5) cm
Circumference on the bottom at wide end 36 (42)" / 91.5 (107) cm
Height 12½" / 32 cm
Yarn:
3 (4) Skeins in mYak Baby Yak Medium
Needles:
US 6 (4mm) circular, 16" / 40 cm and 24" / 61 cm
OR use size to obtain gauge
Gauge:
20 sts and 26 rows=4" /10 cm in St st worked flat, measured once dry after washing and blocking.
(This gauge is provided to get the correct yarn weight to create the right fabric for this stitch pattern)
1 10-st rep measures approx 1⅞" / 4.75 cm wide worked in pattern A
1 12-st rep measures approx 2¼" / 5.75 cm wide worked in pattern B
1 14-st rep measures approx 2⅝" / 6.35 cm wide worked in pattern C
1 16-st rep measures approx 3" / 7.5 cm wide worked in pattern D
Composition:
100% Baby Yak
Finished Measurements:
FINISHED MEASUREMENTS
Circumference on top at narrow end 22½ (26)" / 57 (66.5) cm
Circumference on the bottom at wide end 36 (42)" / 91.5 (107) cm
Height 12½" / 32 cm
Yarn:
3 (4) Skeins in mYak Baby Yak Medium
Needles:
US 6 (4mm) circular, 16" / 40 cm and 24" / 61 cm
OR use size to obtain gauge
Gauge:
20 sts and 26 rows=4" /10 cm in St st worked flat, measured once dry after washing and blocking.
(This gauge is provided to get the correct yarn weight to create the right fabric for this stitch pattern)
1 10-st rep measures approx 1⅞" / 4.75 cm wide worked in pattern A
1 12-st rep measures approx 2¼" / 5.75 cm wide worked in pattern B
1 14-st rep measures approx 2⅝" / 6.35 cm wide worked in pattern C
1 16-st rep measures approx 3" / 7.5 cm wide worked in pattern D
Composition:
100% Baby Yak
Finished Measurements:
FINISHED MEASUREMENTS
Circumference on top at narrow end 22½ (26)" / 57 (66.5) cm
Circumference on the bottom at wide end 36 (42)" / 91.5 (107) cm
Height 12½" / 32 cm
Yarn:
3 (4) Skeins in mYak Baby Yak Medium
Needles:
US 6 (4mm) circular, 16" / 40 cm and 24" / 61 cm
OR use size to obtain gauge
Gauge:
20 sts and 26 rows=4" /10 cm in St st worked flat, measured once dry after washing and blocking.
(This gauge is provided to get the correct yarn weight to create the right fabric for this stitch pattern)
1 10-st rep measures approx 1⅞" / 4.75 cm wide worked in pattern A
1 12-st rep measures approx 2¼" / 5.75 cm wide worked in pattern B
1 14-st rep measures approx 2⅝" / 6.35 cm wide worked in pattern C
1 16-st rep measures approx 3" / 7.5 cm wide worked in pattern D
Composition:
100% Baby Yak
Finished Measurements:
FINISHED MEASUREMENTS
Circumference on top at narrow end 22½ (26)" / 57 (66.5) cm
Circumference on the bottom at wide end 36 (42)" / 91.5 (107) cm
Height 12½" / 32 cm
Yarn:
3 (4) Skeins in mYak Baby Yak Medium
Needles:
US 6 (4mm) circular, 16" / 40 cm and 24" / 61 cm
OR use size to obtain gauge
Gauge:
20 sts and 26 rows=4" /10 cm in St st worked flat, measured once dry after washing and blocking.
(This gauge is provided to get the correct yarn weight to create the right fabric for this stitch pattern)
1 10-st rep measures approx 1⅞" / 4.75 cm wide worked in pattern A
1 12-st rep measures approx 2¼" / 5.75 cm wide worked in pattern B
1 14-st rep measures approx 2⅝" / 6.35 cm wide worked in pattern C
1 16-st rep measures approx 3" / 7.5 cm wide worked in pattern D
You may also like
Koko Wrap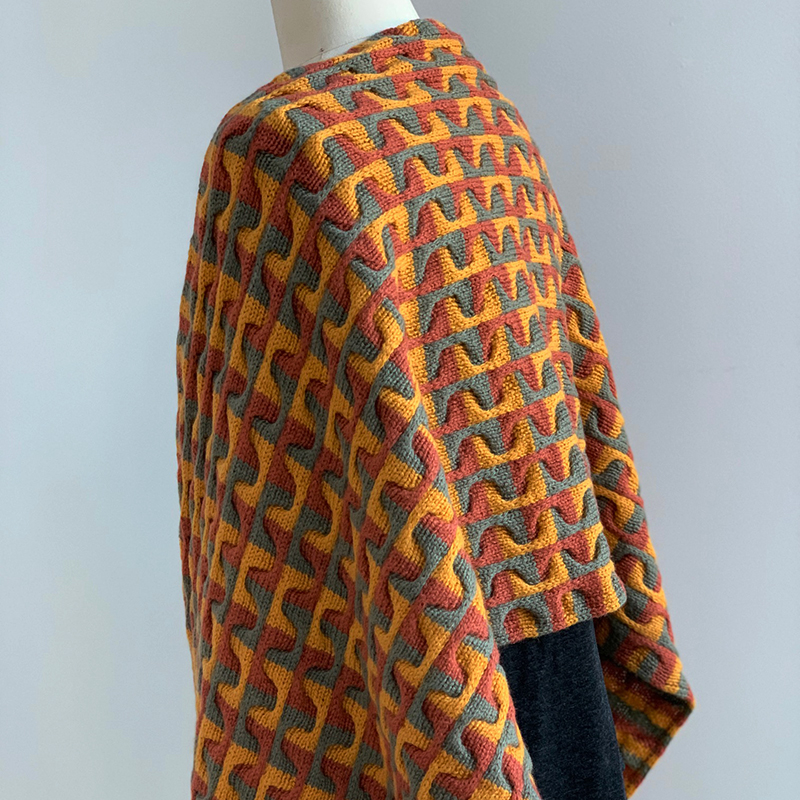 chevron_right
Hisho Shawl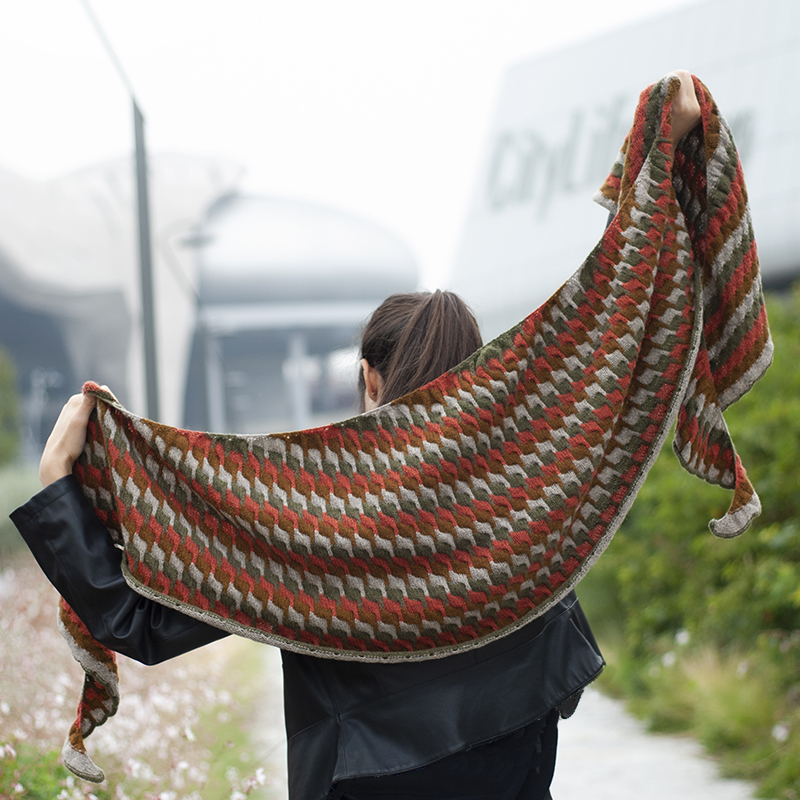 chevron_right
Juko Cowl
chevron_right